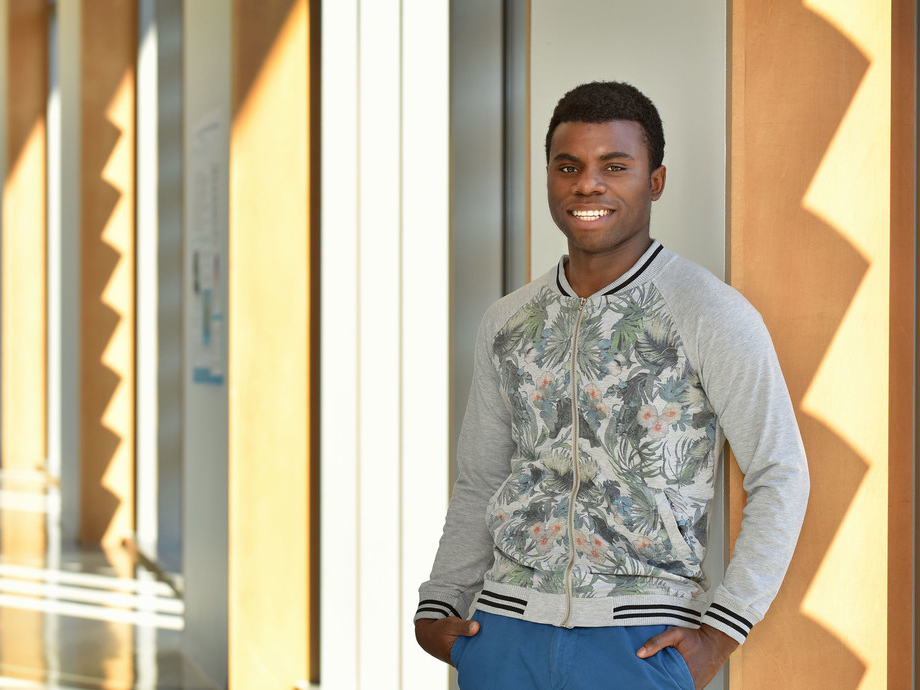 Helder Prece '22 wins Projects for Peace grant
Helder Prece '22 sees every day as a new opportunity. Each morning, he watches inspirational videos on YouTube and thinks about all the ways he can make an impact.
"If I don't make the best of every day, then I don't think I'm living my life fully. Every second of my life is important," Prece said.
The freshman already is making progress in his quest to make a difference: he is the recipient of a $10,000 Projects for Peace grant, which he will use to support programs in a refugee camp in Zambia that aim to stop the cycle of poverty by reducing early pregnancies and marriages and by providing opportunities to grow and harvest crops.
"Without peace, people are not empowered by their own choices; they act out of desperation without understanding the consequences. One of these consequences is early marriage and pregnancy. My project focuses on developing educational programs and opportunities that will help end the cycle of poverty and ignorance by preventing early marriage," he said.
Prece, who was born in Angola and lived for some time in a refugee camp in the landlocked African country of Zambia, speaks an impressive 13 languages and is an actor and dancer. Through a series of scholarships, Prece has been able to receive a good education and travel the world.
But Prece said his greatest passion is for community service and building healthier communities. (He most recently participated in Wheaton's alternative spring break in New Orleans, helping people impacted by Hurricane Katrina.) He is majoring in biochemistry at Wheaton and hopes to eventually go to medical school and become a doctor.
"My dream is opening my own hospital," Prece said, noting that he is driven by the desire to save lives. "I've seen people die from diseases that can be easily prevented."
Prece became interested in reducing pregnancies and early marriages in refugee camps after witnessing what happened to many of his peers, who quit school, married and had children in their teens. A health survey found that in Zambian refugee camps, nearly 30 percent of girls ages 15 to 19 are either mothers or pregnant with their first child; this number grows annually, according to his proposal.
Looking for ways to make a difference, Prece shared his ideas with David Murcko, program coordinator at Wheaton's Center for Global Education. Murcko is partnered with Prece through the Community Ambassador program, which connects staff and faculty with first-year international students.
"Helder is a very driven, passionate, and energetic person," Murcko said, adding that Prece—a charismatic student who easily makes friends and connects with others—frequently stops by the center just to say 'hello.'
During these conversations, Murcko told him about the grant, and steered him toward the Filene Center for Academic Advising and Career Services, which provided him with assistance in applying for the grant.
This summer, with funding from the Projects for Peace grant, Prece will work in the Mayukwayukwa Refugee Camp in Zambia—an environment he understands intimately from firsthand experience.
Prece said a key focus of his sex education program is encouraging young people not to give up on education while planting a seed of hope despite their difficult circumstances. The grant will support training staff and five student teachers (who will be compensated by having their school fees covered), who will work with Prece to lead seminars for young people ages 15 to 21 and their parents.
The seminars will feature inspirational talks and offer an opportunity for individuals to communicate their stories without fear or stigma. Prece also plans to use arts—both visual and performing—to convey his message.
"My hope is creating bonds so we can share our problems and trust each other. That way, we can offer solutions to every problem we face as a community. I think working together is the best thing we can achieve, especially in remote areas like this refugee camp," Prece said.
The grant also supports an agricultural program; an acre of fertile, cheap land will be bought, and participants will be able to cultivate crops in high demand, such as corn, groundnuts and tomatoes.
"This will not only sustain the program but make food available to local people and provide simple employment. It also gives something productive for people to do," Prece said.
The whole program will be supported by partnerships with the local refugee officers (U.S. federal workers who assist persecuted refugees) and companies including Khan Academy, and other connections Prece has established through prior initiatives.
The Projects for Peace grant calls on youth to design sustainable grassroots projects that promote peace building. The grant is possible thanks to funding from the late Kathryn Wasserman Davis, who chose to celebrate her 100th birthday by committing $1 million for Projects for Peace. She was the mother of alumna Diana Davis Spencer '60 and received an honorary degree from Wheaton in 2008.