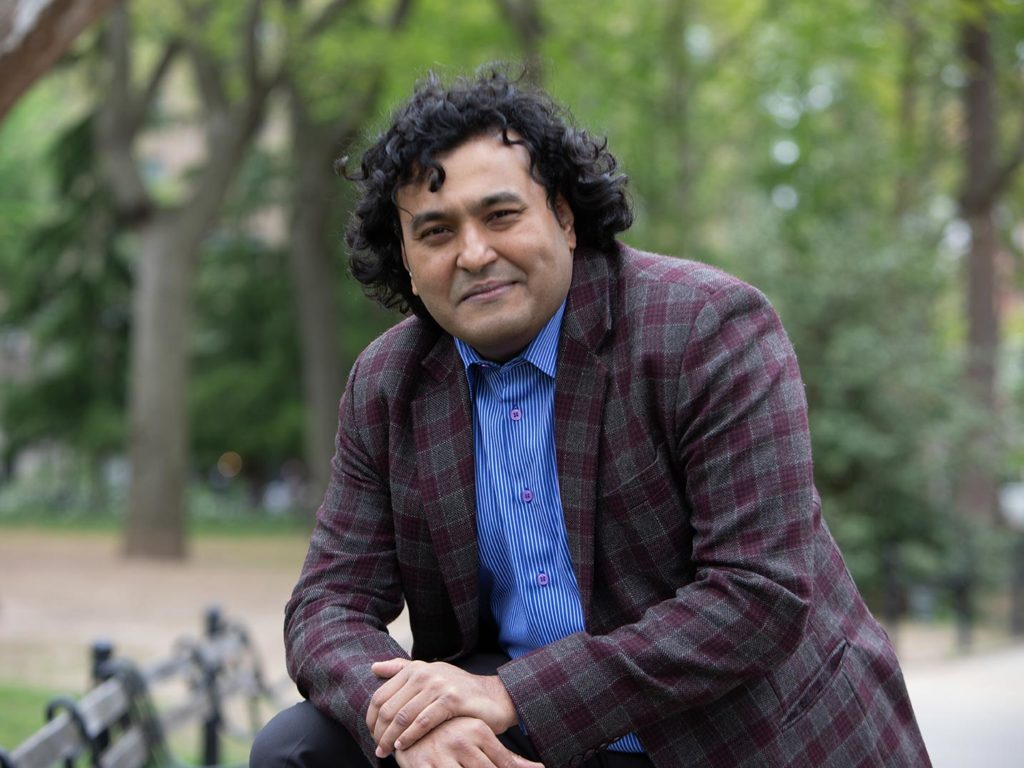 Chowdhury appointed to endowed chair in social entrepreneurship
A distinguished researcher and teacher whose scholarship examines issues at the intersection of business and society has been appointed to serve as the inaugural Diana Davis Spencer Professor of Social Entrepreneurship at Wheaton College in Norton, Mass.
Imran G. Chowdhury, who is currently an associate professor of management in the Lubin School of Business at Pace University in New York, NY, will join Wheaton's faculty at the start of the 2019-20 academic year with the charge of integrating the college's burgeoning social entrepreneurship programs with its liberal arts and sciences curriculum.
The appointment is made possible by an endowment established through the support of the Diana Davis Spencer Foundation, the namesake of Wheaton College Trustee Emerita Diana Davis Spencer who is also a 1960 graduate of the institution.
Wheaton is one of the few liberal arts colleges nationwide, and the first in the Northeast, to appoint a professor for an endowed chair in social entrepreneurship.
"We are thrilled that Professor Chowdhury will be leading our efforts to expand and strengthen Wheaton's emphasis on addressing critical social issues through our programs in social entrepreneurship," said Wheaton President Dennis M. Hanno. "His experiences in the social enterprise sector, and as a scholar, dedicated teacher and mentor to undergraduates, make him the perfect person to push forward Wheaton's leadership in this area."
Wheaton's commitment to social entrepreneurship education and social innovation within the liberal arts is embedded in the institution's 2016 strategic plan, Wheaton Means Impact: Growing Our Influence on the World. The effort builds upon the college's historic emphasis on experiential learning as a means for helping students to connect liberal arts study to the needs and concerns of the wider world.
"This is a dream job—integrating social entrepreneurship into the study of the liberal arts and sciences," Chowdhury said. "I am extremely excited to have the opportunity to work with Wheaton's committed scholar-teachers. They share my commitment to the idea of a personalized education, wherein faculty work with students as collaborators, helping provide each of them opportunities to explore their own unique interests, and offering guidance and support as needed."
Diana Davis Spencer '60, whose foundation supported this endeavor, said, "I'm thrilled that Wheaton is a leader in social enterprise and has been recognized as one of America's most innovative colleges.  Wheaton students are becoming more engaged leaders as they launch impactful enterprises that make the world a better place. Dr. Chowdhury will accelerate this strategic focus. As President Lincoln said, 'The best way to predict the future is to create it.' Wheaton students are doing just that!"
At Wheaton, Chowdhury will develop course offerings on topics in social entrepreneurship, strategic management and international management that complement the college's growing array of programs—from partnerships with external organizations to a semester-long bootcamp for social entrepreneurs and dedicated center for social entrepreneurship— that help students build their skills and refine ideas for social innovation ventures. He also will collaborate with faculty members in other departments to forge interdisciplinary connections that foster innovation among interested students in every discipline of the liberal arts and sciences.
Provost and Academic Vice President Renée T. White said connecting this work to the liberal arts is crucial to Wheaton's plans for the program. "Innovations with social impact can come from every corner of the liberal arts—from the arts and humanities to the social sciences and natural sciences. Professor Chowdhury's capacity to work with colleagues and students across interdisciplinary boundaries will help to set our social entrepreneurship programs apart."
Chowdhury has experience in building and expanding programs. He played a lead role in developing Pace's M.S. in entrepreneurship program, designing model syllabi, benchmarking the university's offerings against best-in-class graduate degrees in entrepreneurship from around the country, and teaching the first Social Entrepreneurship course within the Lubin School of Business. During his tenure at the Institute for Social Entrepreneurship & Innovation at ESSEC Business School, he was responsible for a review of the institution's social entrepreneurship program, which is recognized as a leader in the field in France.
At Pace, Chowdhury has been recognized for teaching excellence in the undergraduate program and has worked closely with a range of students, including those interested in pursuing social impact in their careers. Beyond Pace's New York City campus, he serves as a visiting professor at the Free University of Berlin's International Summer and Winter University. He is particularly active in the global social entrepreneurship education arena, having developed pedagogical materials, articles and teaching cases for his own courses as well as for instructors at business schools and universities around the world.
In his scholarship, Chowdhury examines how organizations simultaneously pursue profit and social good. In particular, he looks at how social entrepreneurs, corporations, nonprofits, and community-based organizations attempt to balance social and economic objectives while transferring knowledge, organizing for growth, and finding opportunities within their internal and external environments. Much of his work is field-based: during his doctoral studies, Chowdhury examined partnerships between social enterprises in South Asia and Latin America; subsequent projects have focused on tourism-based social entrepreneurship in Brazil, the rise of multinational enterprises during early-modern history in Asia, and the emergence of corporate philanthropy in France. His research has been published in leading journals and presented at national and international scholarly conferences, and has received a number of awards, including best paper honors from the Academy of Management, the Eastern Academy of Management, the Administrative Sciences Association of Canada and the European Doctoral Programs Association in Management and Business Administration.
Chowdhury is a member of the Editorial Review Board of Academy of Management Learning & Education, the leading teaching-related journal in the management field; he serves on the award committee of the oikos International Case Competition, an annual international competition to select the top teaching cases in social entrepreneurship and sustainability; and he is a term member at the Council on Foreign Relations think tank, where he is currently serving on the Study Group on U.S.-India Relations.
In addition to his academic work, Chowdhury has significant firsthand experience in the social enterprise sector. As a Fulbright Scholar, he worked with the National AIDS Commission in Lilongwe, Malawi and with the Malawi Field Office of Save the Children (US). He later worked as grants manager and project consultant with the International AIDS Vaccine Initiative (IAVI) in New York and in Kampala, Uganda.
A native of the borough of Queens in New York City, Chowdhury graduated from Stuyvesant High School and earned his undergraduate degree in anthropology and geography at Hunter College, where he was the recipient of an Athena Scholarship and a Jeannette K. Watson Fellowship. He completed graduate studies in France, obtaining a master's degree at L'Institut européen d'administration des affaires (INSEAD), and a Ph.D. from L'École supérieure des sciences économiques et commerciales (ESSEC Business School).