First A Cappella Fest benefits Norton High School music programs
Seven college a cappella groups battled each other for bragging rights while working together to promote music in local schools during Wheaton's first-ever A Cappella Fest in October.
Singing groups from Worcester Polytechnic Institute, the Berklee College of Music, the University of Maine, the University of Connecticut, and Wheaton faced off in Cole Memorial Chapel, filling the space with beatboxing, harmony battles and fun music—from the B-52s' "Love Shack" to Justin Timberlake's "Can't Stop the Feeling."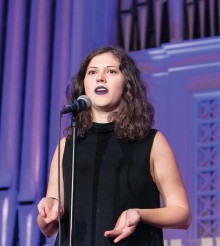 And it doesn't matter which group came out on top; the Norton High School music program was the guaranteed winner. About $2,000 in proceeds were raised from the event to support the local school's music groups—the Concert Band, the A Cappella Ensemble, the Concert Chorus and the Jazz Band.
A Cappella Fest is the brainchild of Wheaton sophomore Mary Margaret Yancey, who is a member of The Blend, Wheaton's coed a cappella group.
A double major in sociology and business and management, she earned the funding to launch the event by winning a contest herself: the Social Entrepreneurship Business Pitch Competition held in April 2016 by the college's Social Entrepreneurship Club.
"I wanted to do something that built on my interests and would contribute to the local community," Yancey said, explaining the inspiration for the benefit concert. "Raising support for Norton's music programs seemed like a very natural connection for this event."
About 300 people attended the event, including many members from the local community.
"I'm over the moon about how successful the first A Cappella Fest was," said Yancey. "I was concerned that the sales made from tickets and the donations from our GoFundMe would not be enough to break even, but we raised double the amount we spent on putting on the festival.
"It was an incredibly fulfilling experience to see the work from the past three months come to fruition, but more importantly, to see such a large turnout from the Norton community itself. That night, I realized how my innovation and hard work had transformed into something really important—making a difference. I hope to do this again next year, when I start planning spring semester."