Paying it forward in Puerto Rico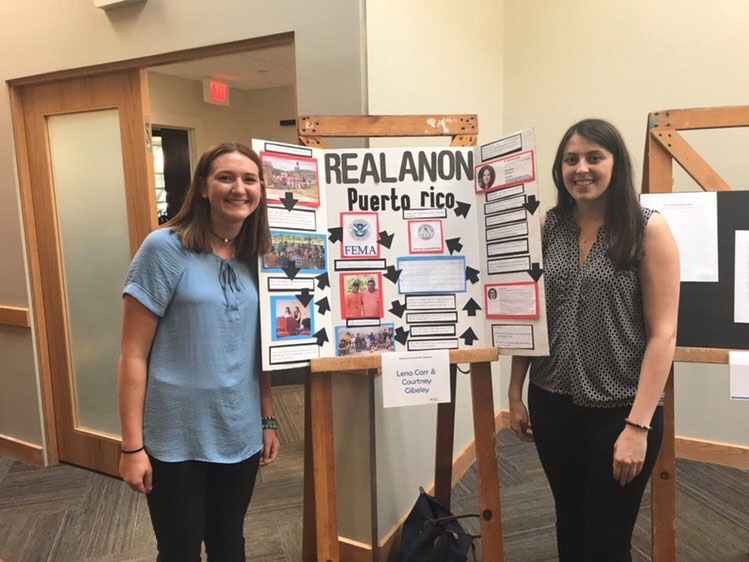 Wheaton students learned a great deal from the people of Puerto Rico during the two-week study-away summer course "Disaster and Reconstruction." Now they are working to pay it forward through a variety of projects inspired by their trip.
Among these students are Courtney Gibeley '20 and Lena Carr '22, who are both involved in an experiential learning project that aims to help a community in Puerto Rico, Real Anon, restore access to phones and internet services, which haven't worked since Hurricane Maria in 2017.
"We understood that this project would require continued investment past the end date of the course, but we wanted to help this community that had been so welcoming to us," said Carr, who is majoring in biology and minoring in public health. "As students interested in public health, we also feel like no person should be living without the ability to call for help during medical emergencies."
During the summer 2019 course—taught by Professor M. Gabriela Torres and Dean Raquel Ramos in collaboration with Professor Waleska Sanabria at the Pontificia Universidad Católica de Puerto Rico—students learned about political, social and environmental issues impacting the country during reconstruction. They visited communities impacted by the hurricane and engaged with local leaders, including activists, lawyers, professors and police officers.
In Real Anon, a town near Ponce in southern Puerto Rico, Gibeley and Carr learned from one community leader how the lack of power has resulted in serious medical emergencies, even death, when people were not able to use 911. Despite sending letters and meeting with the Federal Communications Commission (FCC), the community had seen no improvements. Gibeley and Carr decided to collaborate with a local resident on a project to put more pressure on officials to bring power back to the town.
"First, we met with the Federal Emergency Management Agency in Ponce, Puerto Rico. Additionally, we spoke to a FCC representative and then submitted an informal complaint to the FCC regarding the phone and internet services in Real Anon," said Gibeley, who is majoring in psychology and public health.
Although both students say it may take a while before their ultimate goal is achieved, they are hearing from residents that restoration work has begun.
"We heard that some of the roads in Real Anon were being measured for pole fitting," Gibeley said. "Our goal for this project is to continue working until the internet and telephone services are fully restored."
Other students in the course also are continuing projects inspired by their time and studies in Puerto Rico.
Kneeco Hanton '21, a musician and activist, developed a music composition in the style of Plena, a type of music from Puerto Rico developed in Ponce.
His Plena, "Plena Pa' Reconstrucción," encourages people within the Puerto Rican mainland, the diaspora and their allies to stay motivated in the reconstruction of Puerto Rico by highlighting the work of activists. The Plena is improvisational, so people can add their stories to the song, Hanton said.
"A lot of people understand Plena to be the 'newspaper of Puerto Rico,' but it was a lot more than just telling people stories about what was going on. Plena for Afro-Puerto Ricans within low-income communities was a source of pleasure, but the intensity of Plena's sound was like a statement of the working class cementing their presence and refusing to be silenced, and the story-telling aspect was a means of documenting the lives, experiences and struggles of marginalized identities," he said.
Another student working on a project following the study-away is Anna Fairbairn '22. She is developing a set of five narratives about individuals she met in Puerto Rico.
"My project following the trip was aimed toward curating five stories based on the lives of people we met there. Each story highlights some of the elements we learned about that are impacting Puerto Rico, such as environmentalism, domestic violence and colonialism," she said. "Through storytelling, my goal is to capture the intersection of the issues on the island."
In addition, Allison Chaves '21 and Dominick Torres '20 are putting together two films in a class collaboration with Associate Professor of Filmmaking Patrick Johnson, documenting their time in Puerto Rico. Alejandra Monje '20, a double major in visual art and anthropology, has created a painting that incorporates discarded items that she picked up through her travels and reflects on the topic of gender-based violence.