Pauri Pandian named head tennis coach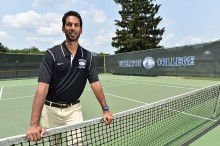 Pauri Pandian is now the head coach for Wheaton's men's and women's tennis teams, succeeding Lynn Miller, who retired in summer 2015 after 35 years at the college.
"I'm excited to be following in the footsteps of Lynn Miller, who gave everything she had to Wheaton College and Wheaton athletics throughout her career," said Pandian, who joins the staff after serving as an assistant coach at Brandeis University for the past four seasons.
"I will strive to do the same, and in the process, build the men's and women's tennis teams into perennial NEWMAC contenders. I'm excited about the potential for growth in both programs."
Lynn Miller, a member of the U.S. Tennis Association New England Hall of Fame and the Wheaton College Athletics Yowell Hall of Fame (2013), posted a 373–236–2 record with the women's tennis program and a 259–160 record at the helm of the men's tennis program during her time at Wheaton.
"We are excited to welcome Pauri to the Wheaton family as our new tennis coach. He has a clear vision for Wheaton College tennis, and I am excited to work with him as we look to regularly compete for NEWMAC championships," said John Sutyak '00, director of athletics and recreation. "His experience as an NCAA Division III student-athlete and as an assistant coach at a high-level academic institution like Brandeis provides him with the background and knowledge to recruit and coach high-achieving academic and athletic student-athletes here at Wheaton."
During his time at Brandeis, Pandian helped guide the women's team to a year-end national ranking each year. He also aided the men's squad to a No. 31 national ranking in 2014 and a No. 28 ranking in 2015.
At the conclusion of the 2014–15 academic year, Pandian was named the 2015 Wilson/Intercollegiate Tennis Association National Men's Assistant Coach of the Year and the Regional Coach of the Year for both the men's and women's programs.
A double major in English and religion, he graduated in 2008 from Wesleyan University, where he was a four-year starter and captain his senior year. He played in every spot in the singles and doubles lineup throughout his career.
Keith Nordstrom photo