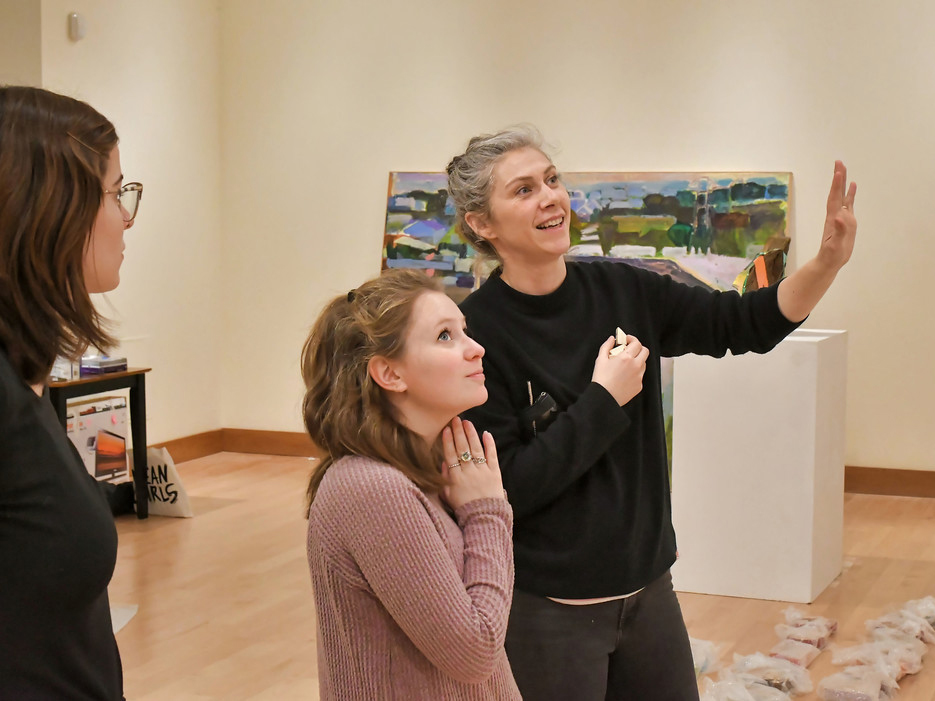 Elizabeth Hoy, new gallery director, curates first Wheaton exhibit
Elizabeth Hoy, who joined Wheaton as the gallery director this past fall, is gearing up to curate her first exhibit, which will feature a diverse range of experimental works that explore the many facets of painting.
The exhibit "Brush Coat Cover" will run from February 14 to March 8 in the Beard and Weil Galleries. This exhibition is the fourth in a series that explores a medium of art; previous shows have examined the art forms of printmaking, drawing and photography.
"The purpose of these exhibits is to push the boundaries of what the medium is," Hoy said.
Cade Tompkins, the juror who determined which artists will be featured, has been a contemporary art dealer for 30 years. For this show, she chose works including conventional paintings, sculpture, video, photography and painted objects; although some pieces are not paintings in the traditional sense, they make statements about the history of and techniques associated with painting.
Hoy chose which of the artists' pieces will be exhibited and is teaming up with Associate Professor of Art History Ellen McBreen and her "Introduction to Contemporary Art" and "Art History" students to install the artwork in the gallery. Later this semester students will meet with some of the artists and conduct research on individual pieces.
"With any exhibition, I always think about what story I want to tell when laying out the whole show. With the students, we'll explore what ideas we want to bring forward by placing certain pieces together," Hoy said, adding, "It's important to have classes invested in the show, as it brings it more to life."
Hoy said she was drawn to Wheaton as the residential liberal arts college environment makes you "feel much more part of the campus." (She completed her undergraduate studies at Wesleyan University in Connecticut.)
In her new role at Wheaton, Hoy said she is excited to work with Wheaton's Permanent Collection and hopes to include other departments—not just the arts—in future programming.
She also is exploring possible exhibits that would examine the intersection of art and the natural world (with participation from the Biology Department) and engage students, faculty and staff with the Permanent Collection.
An artist in her own right, Hoy is a painter and a sculptor. Her recent focus is painting the landscapes of Superfund sites.
Hoy most recently worked as the director of exhibitions at the Godwin-Ternbach Museum at Queens College, City University of New York, in Flushing N.Y., where the last exhibition she curated was of late antique Egyptian textiles.