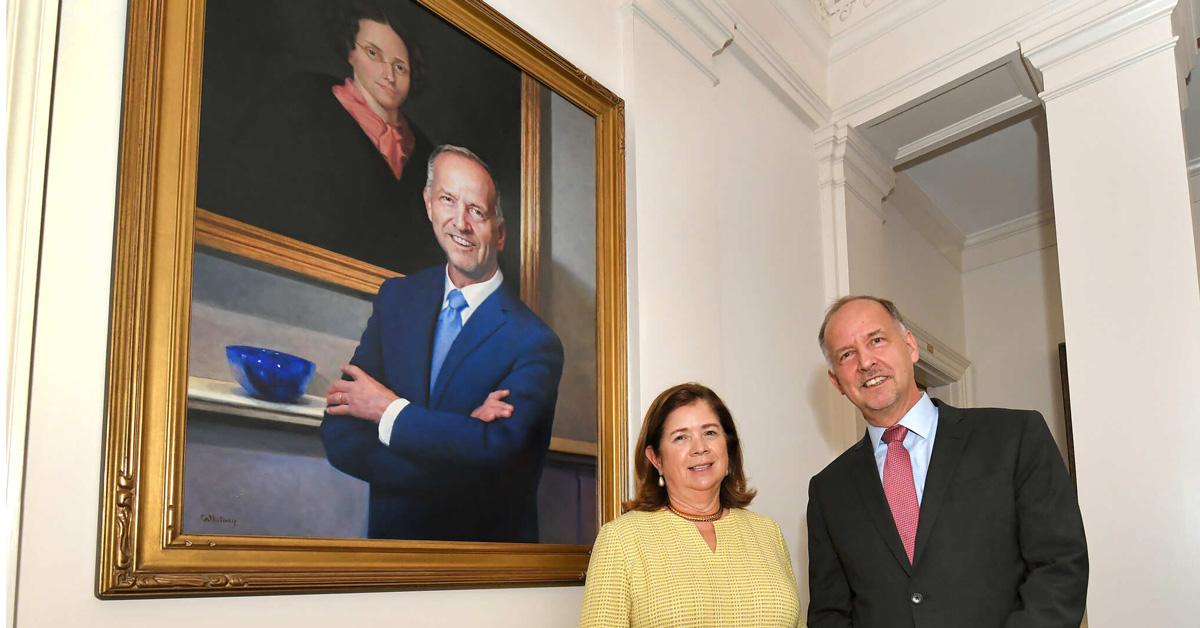 Nancy Luick Bryan '76 coordinates unique portrait for outgoing President Hanno
In celebration of President Dennis M. Hanno's legacy and impactful contributions during his tenure, the Wheaton College Board of Trustees commissioned his portrait, which was painted by New Hampshire artist Richard Whitney. This painting now hangs among the collection of portraits honoring past presidents displayed in Park Hall.
Nancy Luick Bryan '76, who serves as a sales associate with Birmingham, Ala.-based Portraits, Inc., lent her expertise in portraiture for the project. The experience, she said, was "an honor."
Bryan said Hanno immediately was drawn to the work of Richard Whitney, a talented figurative painter with a mastery of detailed drawing and composition. He has received numerous awards and his paintings hang in over 750 public and private collections throughout the United States and abroad.
She described the experience: "Richard and President Hanno met for a day in the Presidents' House getting to know one another and taking hundreds of photographs. Together they decided on an incredibly unique composition standing in front of the home's fireplace, linking the founder of the college and the most recent president by including the portrait of Mrs. Wheaton in the background. When the portrait was complete, the Hannos visited the artist's studio in New Hampshire for a final sitting. Whitney says his constant goal is 'to capture what is beautiful in each person and make it come alive.'"