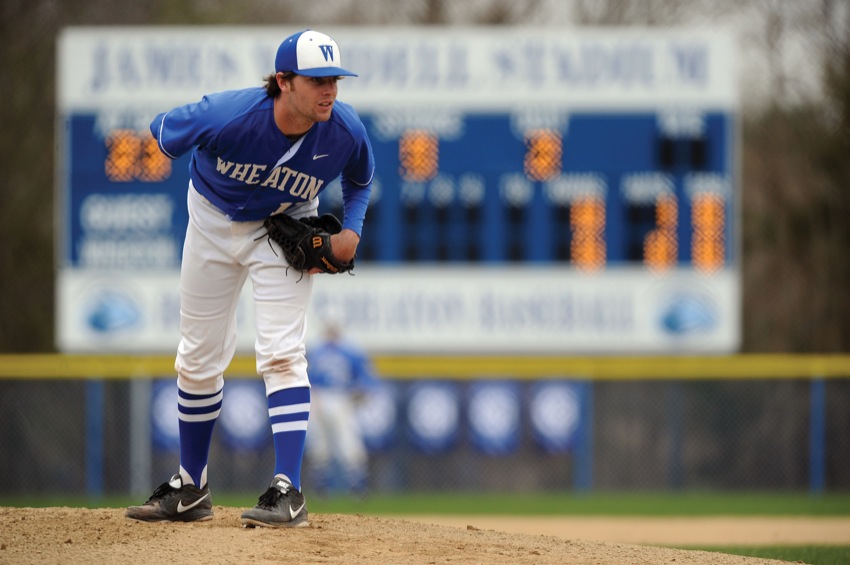 Mike Gibbons's earliest baseball memories are like those of many kids: He played catch for hours in his yard; imitated batting stances and pitching motions of his favorite players; and pursued the sport in Little League and high school at the encouragement of his parents, who had both played college sports.
But not every kid gets to live the dream of playing for a Major League Baseball team. He will. In the fall, Gibbons signed on with a major league team—the New York Mets.
"Every baseball player dreams of having a chance to play in the big leagues, so signing that contract with the Mets was certainly a big goal that I accomplished," said Gibbons, who competed for Wheaton's baseball team the past three seasons.
Gibbons, a right-handed pitcher, is the third member of Wheaton's baseball program to sign a contract with a major league ball club. Chris Denorfia '02—now a member of the Chicago Cubs—was the first to advance to the major leagues, as he was drafted by the Cincinnati Reds in the 19th round of the MLB amateur draft in June 2002. Jamie Baker '06 also inked his name on a professional contract, signing with the San Diego Padres in September 2006 after playing one full season with the Nashua Pride.
Yet, unlike Denorfia and Baker, Gibbons is the first student-athlete to be offered, and sign, a professional contract before his senior season.
"I was truly excited for Mike the day he signed," said Wheaton head coach Eric Podbelski. "Mike never played to get drafted, he just played and did the best he could for Wheaton College."
Over the past three seasons, Gibbons compiled a 9–3 record and a 2.63 earned run average (ERA) through 106 innings of work. Last spring, he appeared in 12 games—started nine contests—and posted a 4–1 record with a 1.89 ERA alongside 37 strikeouts in 57 innings pitched. He held opponents to a .203 batting average and forced numerous hitters to ground out.
"We allowed Mike to develop at a pace that was right for him," said Podbelski, "and when he was ready, the innings were there for him. Mike was humble and willing to work for what he got and he never had the expectation of anything being handed to him."
Ryan Parker '01, a former player and pitching coach for the Lyons, said, "Mike was a model of progress over his first three years in the program. He learned how to take himself seriously and how to get the most out of himself on a daily basis through preparation, routine and conditioning. All his efforts were noted by coaches and teammates alike, and now Mike gives the program another example of what is possible if you truly bear down and maximize your talent and opportunity while at Wheaton."
While Gibbons improved each spring with the Lyons, he also gained additional experience on the mound when he pitched for the Torrington Titans of the Futures Collegiate Baseball League last summer. Totaling 50 2/3 innings of work, Gibbons struck out 59 batters—third in the league—and held opposing hitters to a .240 batting average. His efforts carried the Titans to the second round of the playoffs.
It's unknown which minor league affiliate he'll pitch for; however, he is focused on proving that he belongs.
"To get to the next level is obviously everyone's goal, so I plan on just working as hard as I can, learning as much as I can and improving as much as I can."
No matter what, Gibbons, an economics major, knows that Wheaton has prepared him for future success in either baseball or business.
"Wheaton really offered the best opportunity that a school could offer as far as giving me the full package. Obviously, looking past my baseball career, I wanted a school that would challenge me in the classroom as well as on the baseball field and Wheaton did just that," he said.
Photo by Keith Nordstrom