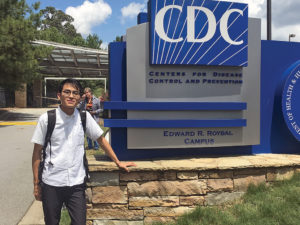 Atsuyoshi "Atsu" Ishizumi '12
ORISE (Oak Ridge Institute for Science and Education) Fellow
Centers for Disease Control and Prevention
A member of the Centers for Disease Control and Prevention's (CDC's) global immunization division, called the Demand for Immunization Team, Atsuyoshi "Atsu" Ishizumi '12 uses social and behavioral sciences to improve uptake of vaccines in various parts of the world.
With the pandemic as the CDC's top priority, Ishizumi and his colleagues have shifted their priorities in order to mobilize a response against the outbreak.
For example, Ishizumi was pulled away from his typical duties for a 30-day deployment with the Cruise Ship Response Team, which was set up as part of CDC's Emergency Operations Center. The group just published a report summarizing the work the agency is doing to contain outbreaks on cruise ships.
"I certainly did not see myself responding to a pandemic of this scale during my first year as a fellow at CDC. However, I did learn in school that a global pandemic is something that is nearly impossible to avoid. We live in a world where mass population movements across countries occur daily. Human-to-animal interactions are increasing in certain parts of the world due to factors like deforestation. Many developing countries also are seeing rapid urbanization, which means more people living in close proximity, sometimes in unhygienic environments," Ishizumi said.
The pandemic is impacting his own division's goals to ensure access to vaccines across the globe. As people refrain from using non-essential health services, some newborns and children may be unable to receive important routine immunizations. As a result, the CDC may start seeing immunity gaps in some communities, which public health officials would need to address, he said. 
Cultural understanding and insights are important tools for developing effective response strategies. For example, he said, if public health officials know there are some important health messages that need to be communicated to a particular segment of the population to slow the spread of the virus, in some cases it may be more effective to work with religious leaders or other influential public figures so that they can help relay the messages on their behalf.
"Social and behavioral sciences, which look at factors like culture and society, can potentially play an even bigger role as this pandemic continues to evolve. If people start experiencing 'behavior fatigue' and become less willing to adhere to strategies like physical distancing or home-based quarantine, behavioral data could become increasingly important and could inform future community interventions," he said. "Hopefully, the situation will improve rather quickly, but this is an example of what I've been thinking about lately in terms of the role social and behavioral sciences can play in the long run." 
Ishizumi, who is originally from Japan, said the coronavirus has impacted him personally. He is worried that travel restrictions will prevent his ability to see family in the coming months.
"One of the very few positives that have come out of this situation is the fact that I was able to work with many amazing public health professionals during my detail to the Cruise Ship Response Team," he said. 
Ishizumi graduated from Wheaton with a bachelor's degree in anthropology. He received his master of science, social anthropology, from the University of Oxford and his master's degree in public health from Emory University.