Now showing… A great career in film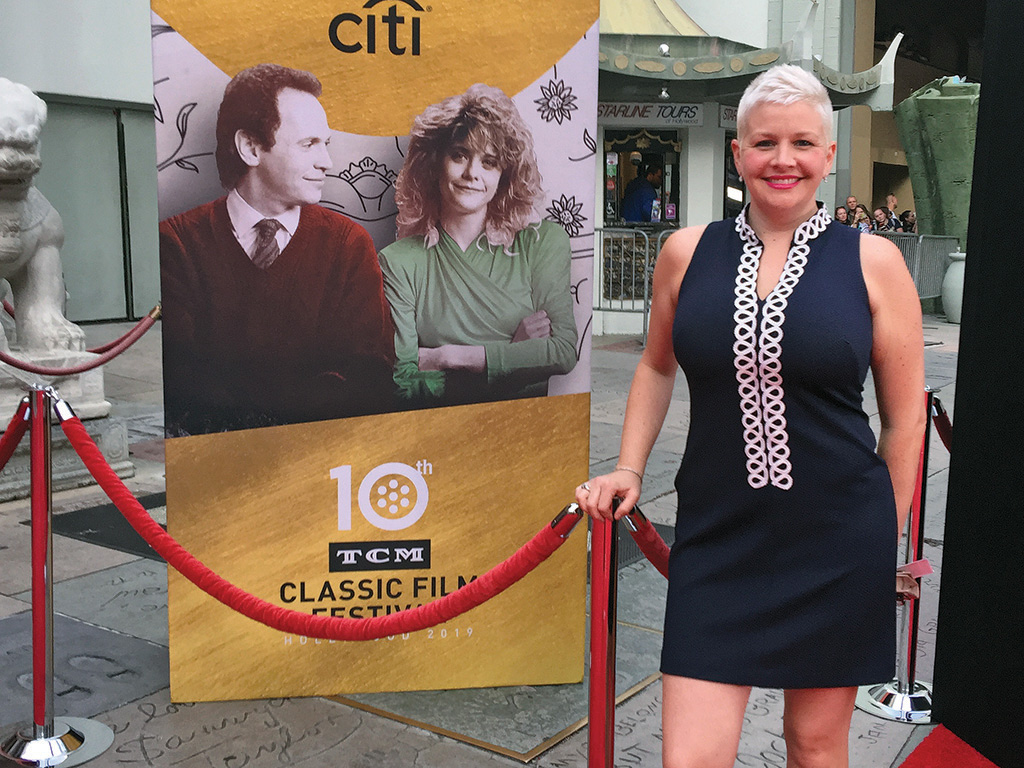 Warner Bros. executive Nicole Tasker Woods '04 brings back the magic of classic movies
Nicole "Nicki" Tasker Woods '04 is an expert at making the old "new" again.
In fact, it's her job.
As vice president of alternative content sales at Warner Bros. Entertainment Inc., Woods brings classic films and television to new audiences at venues around the world, both large and small.
At Warner Bros., she has the job of booking more than 7,000 titles at her disposal. As the company is nearly 100 years old (it was founded in 1923), there are decades worth of films from which to choose, including "The Wizard of Oz" (1939), "Citizen Kane" (1941), "Casablanca" (1942), "Cool Hand Luke" (1967), "Willy Wonka & the Chocolate Factory" (1971), "The Color Purple" (1985), "The Bodyguard" (1992), "The Shawshank Redemption" (1994), "The Lord of the Rings" trilogy (2001–03) and "Inception" (2010).
"My job is to find the right timing and marketing angle for a film, then engage our exhibitor partners to play it. Not all films are created equal. Some less mainstream, artsy films need to be placed strategically in art house cinemas instead of commercial theaters next to summer blockbusters," said Woods. "Every film can be 'eventized.' You just need to find the right audience."
Following her passions
The agility, creativity and drive in her work at Warner Bros. fueled Woods's rise from sales assistant to vice president.
Woods's imagination and expressiveness in many ways were formed at Wheaton, where she learned to put her passions first as an English major with a poetry concentration.
As a first-year student, Woods eyed a major in psychology, but a conversation with Professor of English Sue Standing led to a change of heart.
"Professor Standing listened intently to me ramble on about how I did not know what I wanted to do after college or where I wanted my life to go. Then she asked, 'What do you enjoy doing right now?' and my answer was, 'I love writing poetry.' I can still remember her smiling back at me when she said that it was more important to enjoy these four years at Wheaton doing something I love than struggling with something I thought I was supposed to do," Woods recalled.
The decision to declare an English major felt like a huge weight lifted off her shoulders, she said.
At Wheaton, her fondest classroom memories were in the English Department, working alongside Professor Standing and Professor of English Beverly Clark.
"Writing assignments for both of these professors was not a daunting task as those assignments can often be. They allowed me to perfect each project, reviewing multiple drafts before submitting the final version for grading. They challenged me to think critically, outside the box, in ways that I have utilized in my post-Wheaton life to advance my career," she said.
Standing (now professor emerita) recalls Woods's talents well.
"I remember particularly a superb analysis she wrote on Stanley Kunitz's poetic sequence, 'The Wellfleet Whale.' The poems she wrote often used fixed form in surprising ways, such as a ghazal titled 'How High.' Would I have predicted she'd end up in the film industry? Not necessarily, but she had a highly developed visual imagination and a real affinity for sensory images, along with well-honed analytical skills, so it seems a perfect fit for her," Standing said.
Woods said that everything she experienced during her time at Wheaton contributed to her growth as a career woman.
"It didn't matter my college major or my final GPA, but that I left campus with confidence in myself. I found what I love and truly love what I do," she said.
A new direction
For Woods, originally from Northwood, N.H., the stars aligned in many ways for her to land on the West Coast.
Her relationship with Wheaton sweetheart (and now husband) Ryan
Woods '03 was a big part of that move. With graduation looming and their relationship getting serious, she spent the summer before her senior year in his hometown in Westlake Village, Calif., to determine if life in California was a good fit for her.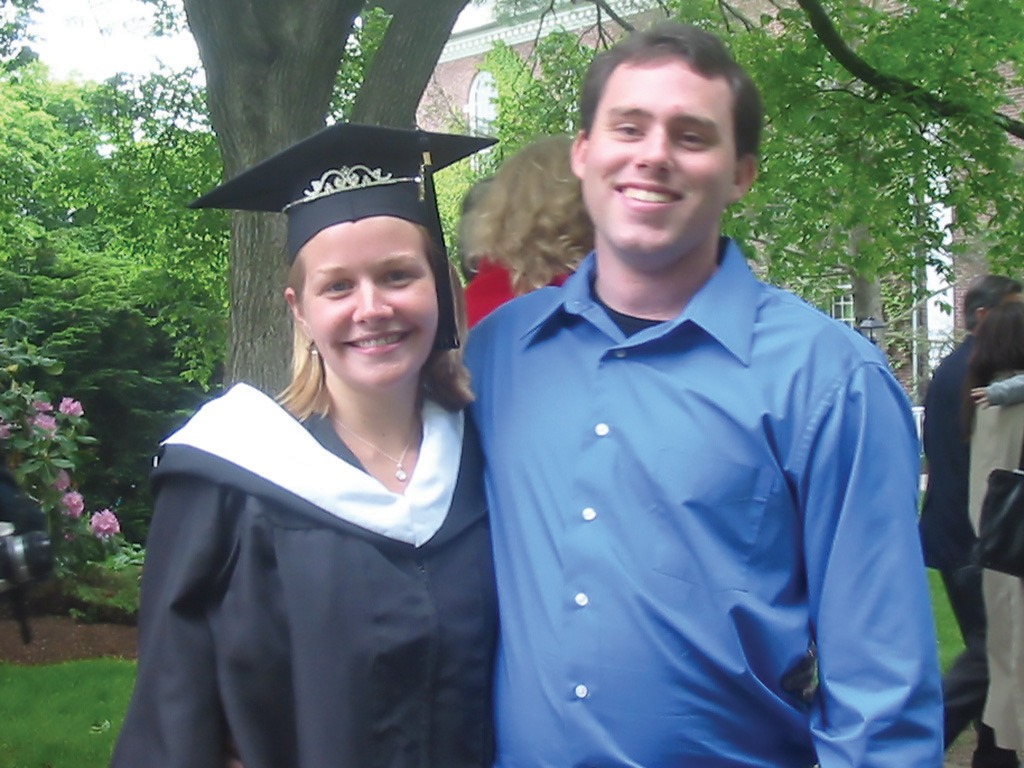 "I was an English major, but did not want to be a teacher or go to graduate school; I was still searching for what those next steps after college might be," she recalled. "In California, I got an internship at a film studio in the creative marketing division, where I was exposed to the entire process of filmmaking, marketing and distribution to theaters. That summer, I knew that I was destined to have a career in the film industry."
Two weeks after she graduated in May 2004, she boxed up her life and shipped off to California to meet up with Ryan, whom she married a year later. She secured her first post-Wheaton position at a film transportation company called ETS (Entertainment Transportation Specialists) from 2004 to 2007.
"This was back when film was exhibited in 35mm. When a movie was first released in 2,500 to 3,500–plus theaters, the studio would create one 35mm print for every screen it would be shown on. Big movies would be shown on two to five screens in a theater—sometimes more," she said.
After the first round of theaters played the film for a couple of weeks, her transportation company was responsible for circulating film, which entailed arranging to have one theater break down the 35mm film off the projector for a courier to pick it up and move to another theater.
Warner Bros. opportunity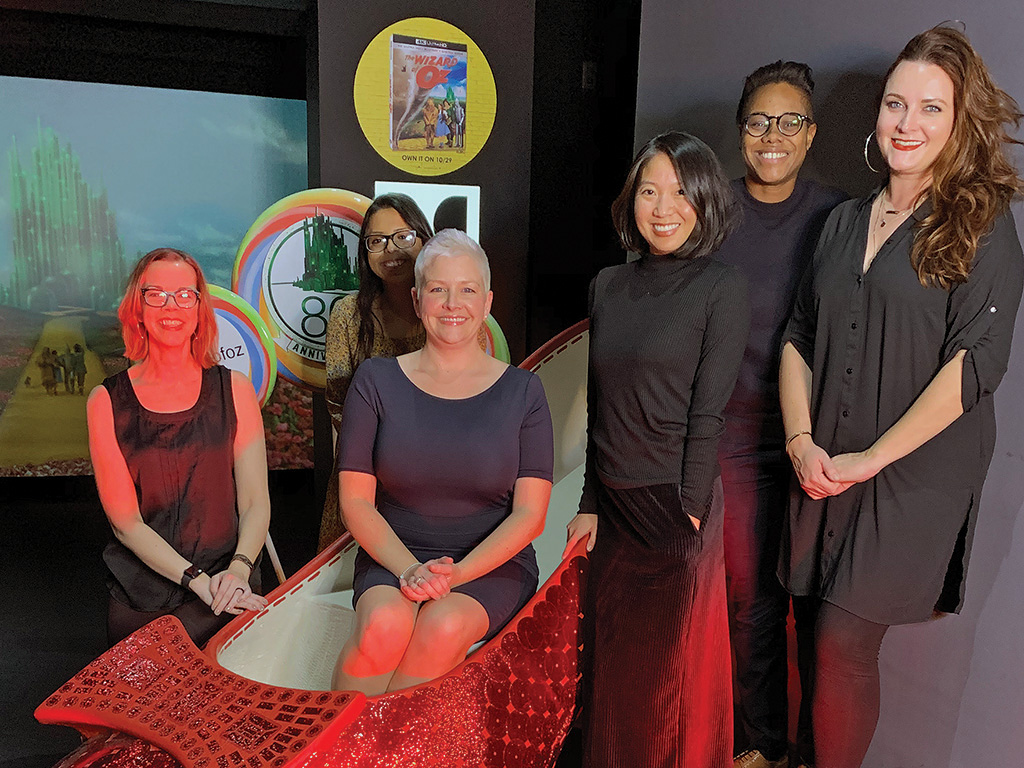 In 2007, Woods successfully pursued an opening at Warner Bros. for a sales assistant in the studio's branch office in Encino, Calif.
For the first four years, she worked in sales of first-run, new films. She then transitioned to a position at the studio's home office in Burbank.
"I was immediately interested in making the move. I loved the small sales team in Encino and the family-vibe, but needed to be exposed to the studio world," she said.
She moved to a department called Distribution Services, where she managed how many prints to order for a specific film.
"It was at this time that digital started to become more relevant and theaters started to turn in their 35mm projectors for digital projectors. The change in format was a turning point for the industry; one hard drive could be sent to one theater and played on all screens in that complex," she said.
To streamline operations, the oversight of Warner Bros. Classics was transitioned under her in the Distribution Services department for theaters in North America.
It was in this capacity that Woods harnessed her creativity to help breathe new life in an underperforming area of the business with undetermined potential.
She and her team developed and implemented an exhibitor-facing website to make it easier to book classic films. This resulted in an increase in activity—as well as revenue.
"People wanted to see classic films in theaters and now it was easier than ever for exhibitors to program it," she said.
Woods also has increased bookings by identifying titles in the Warner Bros. Classics library that could be shown again on the big screen as part of special events—making old films 'new' again.
Scott Forman, the Warner Bros. executive vice president and general sales manager who first met Woods as a sales assistant, credits her for thriving at this task.
"Nicki is an incredibly smart, talented and accomplished professional who played a huge role in the success of the classics department," Forman said.
He said she has a knack for digging deep into the company's extensive library of films and finding audiences for them. This means everything from bringing favorites like "Elf" to the theaters during the holiday season to hosting film screenings at non-traditional exhibition venues like film festivals, military bases, community centers or boutique theaters.
She also couples the screening of a feature film with something "extra"—whether that means never-before-seen onscreen content, new artwork or themed product giveaways. That results in new audiences and enthusiasm for a film.
Keeping the magic alive
Woods's responsibilities at Warner Bros. have steadily grown. Today she oversees the sales, distribution and marketing of Warner Bros. Classics films and alternative content across the globe.
Woods, whose favorite classic films are "Singin' in the Rain" and "Casablanca," said one of the things she enjoys most about her job is bringing the joy of movies to audiences around the world.
There is nothing quite like re-experiencing films on the big screen, Woods said.
"I saw one of my favorite films in a packed movie theater. Everyone was screaming with laughter together. I had seen the movie once before, but seeing it a second time with the public was so much better. It was like we were all friends for those two hours. Fully enjoying a movie is a very communal experience and the best way to do it is on the big screen," she said.