In the brightly lit Pawsmopolitan pet boutique, amid doggy birthday cookies, stuffed animals and mango-scented shampoos, five Wheaton students in the "Marketing" course gather around owner Lori Dunbar one winter afternoon to present their strategies for attracting customers.
Their client listens intently to their ideas, which include improving signage at her Norton, Mass., shop; increasing social media; and offering discounts. Later, Dunbar will dive into the carefully researched 68-page report that the students spent a semester on, employing an arsenal of skills ranging from data analysis to the use of effective communications.
Scenes like this one, featuring teams of students serving as consultants, have been playing out at businesses all over the local area since Wheaton launched its newest major, business and management, spring semester 2014.
And it's not business as usual.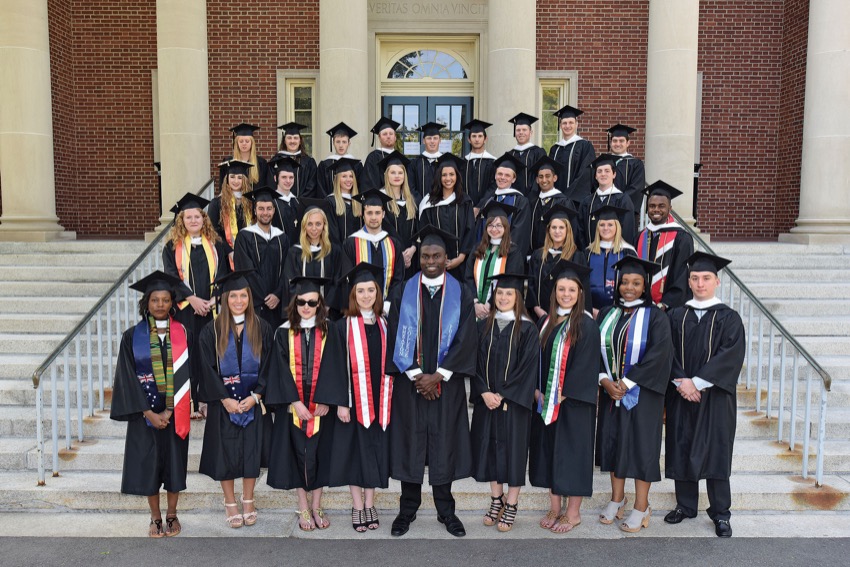 Wheaton's approach to the major draws upon the breadth and depth of the college's liberal arts interdisciplinary curriculum, commitment to experiential learning, and desire to create enterprising leaders who can meet the needs of a global marketplace that demands skilled and nimble problem solvers.
"It is a wonderful time to have a business program that truly combines the liberal arts," says Brad Sago, the major's founding faculty member.
"A lot of traditional business schools are bringing liberal arts into their business curriculum, whereas we are bringing business into our liberal arts curriculum. Our students have been taking classes in religion and English, and philosophy and the sciences, and working with different types of information throughout their college careers. More and more types of businesses are seeking people who know how to process different types of information and make sense out of it."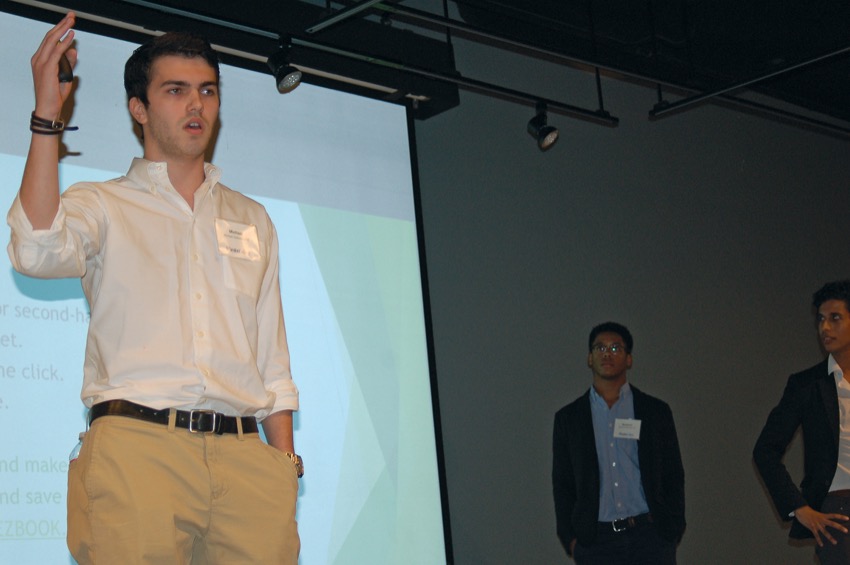 In fact, this need was the focus of a June 28 article in The Atlantic titled "Why America's Business Majors Are in Desperate Need of a Liberal-Arts Education." Based on an interview with Judy Samuelson, executive director of the Aspen Institute's Business and Society Program, writer Yoni Appelbaum notes that, while undergraduates flocking to traditional business programs are getting entry-level jobs, in the long term, businesses seeking CEOs or managers want liberal arts graduates.
"Students are clamoring for degrees that will help them secure jobs in a shifting economy, but to succeed in the long term, they'll require an education that allows them to grow, adapt, and contribute as citizens—and to build successful careers," Appelbaum writes. "And it's why many schools are shaking up their curricula to ensure that undergraduate business majors receive something they may not even know they need—a rigorous liberal arts education."
Wheaton has been providing liberal arts education since its start and now is applying it to the business and management major.
And in addition to preparing well-rounded leaders, the college's approach has created a climate in which enterprising ideas are flourishing among students across the spectrum of majors and has fueled an entrepreneurial spirit. There is a new partnership with the world's largest startup accelerator, Boston-based MassChallenge, and a new Entrepreneurship Club, for which business professor Nancy Scott serves as an advisor. The Student Business Association that was started in 2013 is going strong with guidance from faculty. Student-run businesses are cropping up, and the Wheaton Summer Institute for Social Entrepreneurship, in partnership with the Global Center for Social Entrepreneurship Network, this summer helped attendees create economic value while addressing critical social problems.
This May, the major's first class of graduates walked across the Commencement stage. There were 40 of them among the 399 total graduates, making business and management the college's second-largest major, and highlighting the kind of success Wheaton administrators and faculty had in mind when they created the program.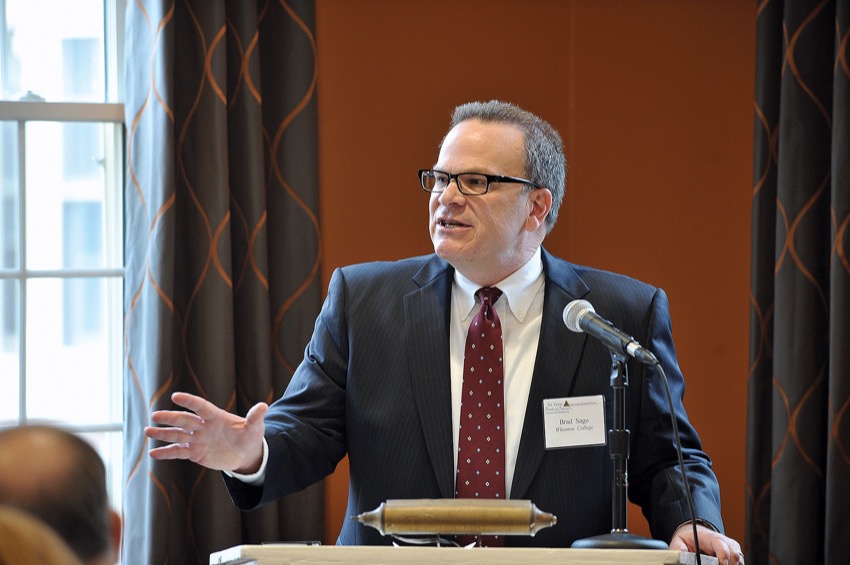 "Three things were important to me and the faculty in general when we approved the new major—students would be drawn to it; the major would connect to other programs in the liberal arts and sciences; and the business and management faculty would make themselves thoughtful partners with their colleagues," says education and history professor Linda Eisenmann, who was provost at the time the major was being created. "All of these have happened over the past few years."
"I'm excited to see how quickly the major has grown, becoming a firm part of the Wheaton curriculum," Eisenmann adds. "Many students are double majoring in business and other fields; others are seeking some management education as a minor, complementing their other arts and sciences programs. This is exactly what we intended."
English with a side of business
Evelyn Fisher '16 is a case in point. She chose to major in English because she enjoys reading and interpreting literature. She also pursued business and management as a minor, hoping to make her skills more marketable and allow her to better work in a business environment.
"After Wheaton, my ultimate goal is to get into the publishing industry. English has helped me to appreciate literature, and business and management courses have illuminated the inner workings of a business for me," Fisher says.
The "Marketing" course (taught by Sago) and the assigned team project in which Fisher and her classmates developed strategies for the Norton pet boutique drew upon knowledge from both areas of her academic study.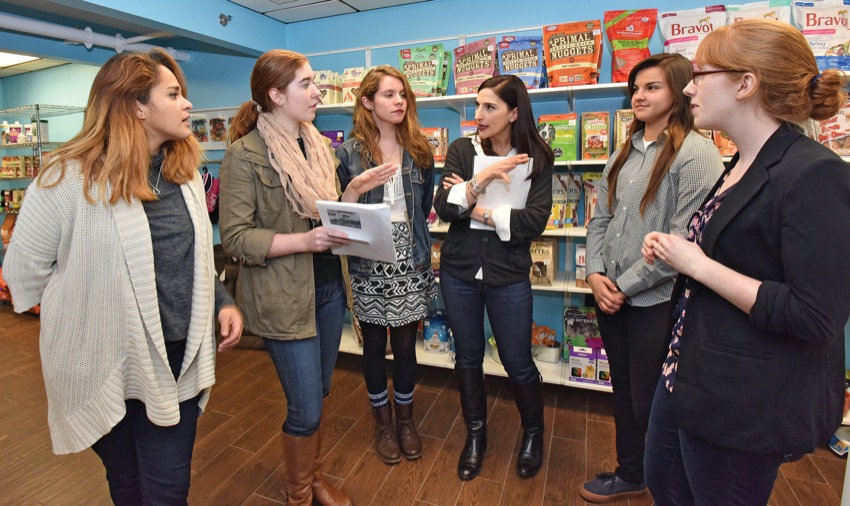 "For the project, we had to think a lot more creatively than usual to find exciting ways to promote the business. I know that I used the same kind of analytical thinking and the writing skills that I used in my English major. We also did research and applied what we learned," Fisher says.
The owner of Pawsmopolitan says she already has begun to implement some of their ideas.
"I loved their enthusiasm and great suggestions," says Dunbar, who has operated her shop for eight years. "I felt that they truly cared about helping my business."
Fisher is happy that her work has contributed to a local business while providing her with hands-on experience.
"I learned a lot about the different aspects of running a small business from Lori, as well as from the class itself. Learning about the breadth of what marketing is and does was the most interesting and helpful aspect," Fisher says.
Concentrating on the future
For Tyler Kickham '16, the business and management major provided opportunities to home in on career aspirations.
"I've never really had detailed career plans. I knew I wanted to work in business or with computers, ideally in a position that mixed the two. The business courses have helped me with the business aspect of my plans, and the structure of the major allowed me to tie my two interests together with the analytics and new media concentration," Kickham says. "The courses in the major are based on real-world application rather than just the material from the textbook, which does a lot more for preparing students for life after graduation."
The coursework and the major's required internship helped him land a full-time job just weeks after graduation at Plantation Products, LLC, a Norton, Mass.-based company where he interned as a marketing analyst.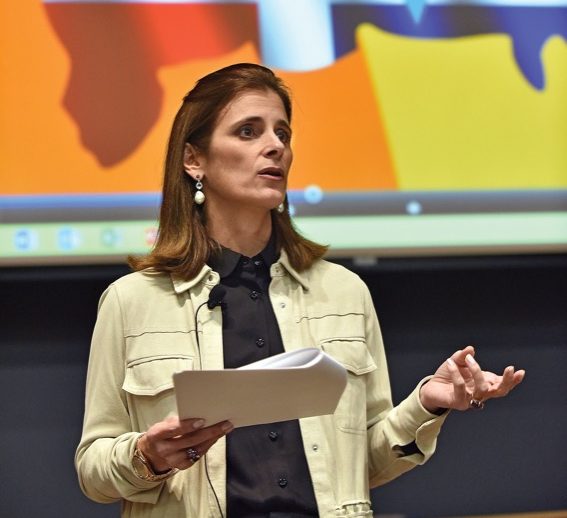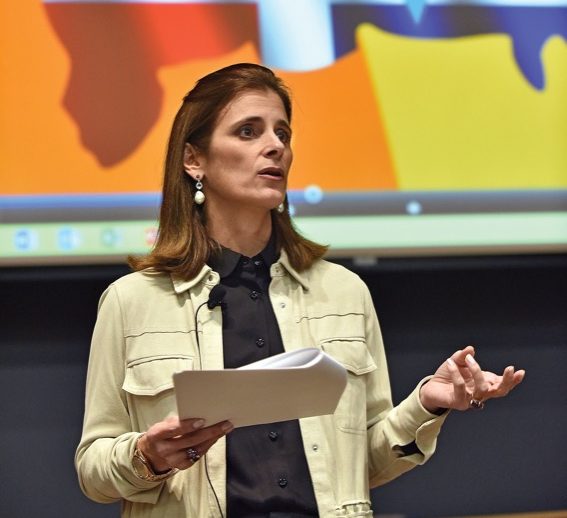 Michael Pietrasiewicz, president and CEO of Plantation Products, LLC, which offers flower, vegetable and herb seeds and planting materials, says seeing firsthand Kickham's approach to tasks during his internship was instrumental in offering him the job.
"Tyler was a perfect fit for us," says Pietrasiewicz, who became interested in Wheaton's internship program after Sago directly approached him to seek the opportunity. "I believe that college is about learning how to learn and to think critically, rather than training for a specific job. Tyler is a good example. During his internship, we had him go into retail stores and obtain consumer information through interviews. The assignment was constantly evolving based on the answers from consumers. This required Tyler to learn to ask new sets of questions on his own so that he could make assessments about consumer behavior."
Kickham now is a production planner, which involves creating plan-o-grams (schematics for merchandising), as well as teaching others about company products in a class-like environment.
"My favorite part is that most of my tasks revolve around problem-solving," says Kickham. "Whether it's mapping everything out in a plan-o-gram to ensure everything fits well, or figuring out which seed lots to send on a production run to minimize the inventory in the warehouse, I get the satisfaction of figuring things out all day. Having a liberal arts aspect to the business major helps me to see a broader picture and provides alternative ways of thinking."
Doubling up to put passions to work
Wilson Sadowski '16 fell in love with German after taking two semesters of the language, so he decided to major in it. When Wheaton's new business and management major came along, it, too, seemed perfect, so he double majored.
He says he can't wait to see where his academic studies lead him (perhaps to Germany to work someday, he hopes). For now, they already have taken the new graduate to Boston to work at Price Intelligently developing pricing strategies for Software as a Service (SaaS) companies.
"It's interesting when I consider how a liberal arts education will translate in my career and postgraduate life," says Sadowski, a former manager of the Lyon's Den. "Perhaps my most valuable learning experiences at Wheaton came from staying resilient and trying to digest the material in courses in academic areas where I was weaker as a student (in philosophy and cultural anthropology). To that end, I think a business student from a liberal arts institution is equipped with a unique understanding of how best to navigate situations where he or she feels out of his or her intellectual comfort zone."
Lauren Schiffer '16, like Sadowski, doubled up on her academic interests and majored in both business and management and music.
"I have always loved singing and performing. It is such a big part of my life, but I knew that I didn't want to be a performer for a living," says Schiffer, who was a member of the Wheaton Whims. "I have also enjoyed being behind the scenes organizing events such as my high school's summer theater productions and concerts for my a cappella group. I felt that a business major would complement my music major and give me the skills I needed to successfully run a performance organization."
Since graduating, Schiffer is temporarily working full time as an administrative assistant at the Norfolk Chamber Music Festival in Connecticut. She plans to pursue a career in arts administration with a nonprofit music organization.
"The concentration aspect of the major not only allows but requires students to explore the academic world beyond business. For example, I have taken a sociology, education, and music class as part of my business major. It has been valuable to interact with faculty from different departments and experience different expectations for writing and rhetoric. It also has been really important to take classes in different disciplines because they have challenged my pre-existing ideas of how the world works, forced me to see complex issues from multiple perspectives and strengthened my ability to defend my beliefs."
A course for success
The major is structured to provide an opportunity for students to explore connections through concentration in one of five interdisciplinary areas that range from analytics and new media to society and the environment.
Class-based, hands-on projects put them in close contact with the local community surrounding the college, while the flexibility of the program accommodates study abroad, points out Sago.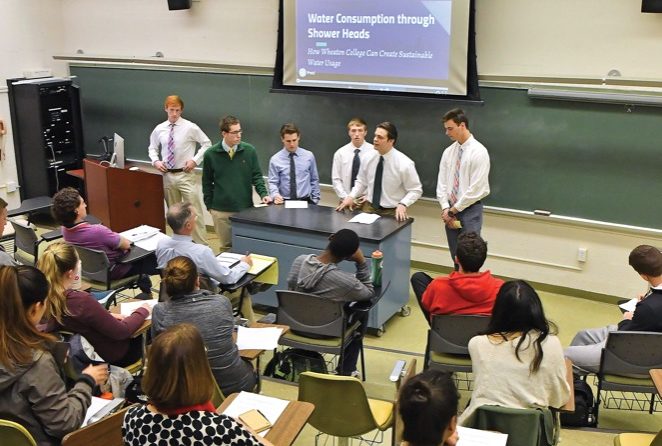 And the major goes beyond equipping students to meet business needs and to make money. It also teaches and encourages them to make change, through responsible and ethical business leadership.
In the "Business and Management Responsibility" course taught by visiting instructor Allison Richardson this spring, students researched and developed six initiatives focused on sustainability and the environment, and presented them in class to Brian Douglas, Wheaton's executive vice president for finance and administration.
"The goal was to determine whether these initiatives make sense, have a positive return on investment and seem feasible to consider for implementation," says Richardson.
Douglas, whose role includes helping to make the campus more environmentally sustainable, says he found the students' analyses of potential projects helpful and insightful.
"For instance, one of the projects was to consider increasing the number of filtered water bubblers on campus to encourage more use of reusable water bottles. This summer, through a combination of college funding, SGA support and philanthropic contributions, we are now deploying two dozen filtered-water bubblers across campus. The students blended financial analysis with social consciousness in a way that drove us to action. Great result," Douglassays.
The class also has helped business and management and economics double major Braden Marstaller '18 lead the Student Business Association (SBA), which has 85 members.
"The biggest challenges I face are communication, marketing the association and planning events," says Marstaller, SBA president. "'Business Management and Responsibility' and 'Fundamentals of Business' have been a vital part of running this club in the most efficient way possible. I've been able to take the skills needed to promote, manage and equally distribute responsibilities among the members."
Sago points out that the business and management major has been quickly accepted by students and has done well since its start.
In May 2015, the College Recruiter ranked Wheaton as No. 1 on its list of Top 12 Hidden Gem Colleges for Employers Hiring Business Majors. Last fall, the college hired two new tenure-track professors. This fall, three new courses will be added.
However, Sago stresses, the work is not done. "The growth of the program is ongoing. Identifying and further integrating methods to offer additional valuable experiences for our students will continue. We plan to continue to refine the depth and breadth of class and extracurricular offerings, and hone the experiential projects and internships with businesses and nonprofits that provide students opportunities to put skills, including critical thinking, problem-solving, creativity, decision making and communication, into action."
Top 5 majors of the Class of 2016
Business and management's first graduating class of 40 is the second-largest major among the 399 total graduates.
Major – Total
Psychology – 58
Business and management – 40
Economics – 37
English – 28
Art, studio – 24
Source: Office of the Registrar