Nicole Tadgell '91 honored for book illustration
Award presented to graphic designer for her uplifting, inclusive work in children's literature
Nicole "Nickie" Lee Tadgell '91, a graphic designer and illustrator, recently won a 2021 Christopher Award for Tiara's Hat Parade (Albert Whitman & Company, 2020).
The children's book, written by Kelly Starling Lyons and illustrated by Tadgell, is one of 12 publications for adults and young people that was recognized. Tadgell majored in studio art at Wheaton College.
Tiara's Hat Parade tells the story of an African American girl with a gift for storytelling who develops a creative plan to reignite her mother's passion for hat-making after the family hat shop closes down in the face of competition.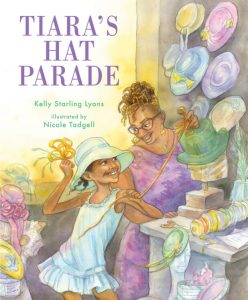 The Christopher Awards were created in 1949 to celebrate authors, illustrators, writers, producers and directors whose work "affirms the highest values of the human spirit," said Tony Rossi in a media release. Previous award winners include author David McCullough and filmmaker Ken Burns.
"Nicole brings stories to life while advocating for diversity in children's literature," said Rossi, director of communications for The Christophers, which presents the awards.
Known for creating realistic yet whimsical characters and scenes, Tadgell was born in Detroit. She said that art has been both an escape and a labor of love for her. Frequent moves challenged her natural shyness, especially in new schools where she was the only Black student in class.
"I always had pencils and paper nearby. It helped me make sense of the world around me or create imaginary worlds to live in for a while," Tadgell said.
She has won many awards for her work. Most recently Tiara's Hat Parade also was chosen to be included as part of Read Across America; Talking in Crayon was released for school and library markets; and Follow Me Down to Nicodemus Town was selected as a 2020 Kansas Notable Recipient.
The Christophers is a New York-based Catholic media organization that encourages people to fulfill their life purpose, including by pursuing excellence in creative arenas that have the potential to positively influence a mass audience.