Nick Fradiani '08 wins 'Idol'
Nick Fradiani '08 is the new American Idol.
After facing off against fellow top 2 finalist Clark Beckham on Tuesday, May 12, Fradiani was declared the victor in Wednesday's Season 14 finale.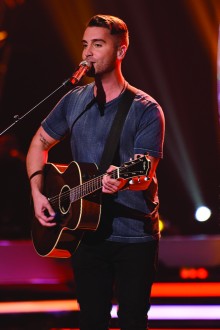 The announcement came at the end of a two-hour finale show, with both Fradiani and Beckham standing at the center of Hollywood's Dolby Theatre stage.
"Thank you so much. Today has been the best day of my life," said Fradiani, shaking his head at the surprise of his win and mouthing the word "wow."
The Wheaton community cheered him on every step of the way, including on social media.
Congrats to @wheaton's idol @nickfradiani who is now our #AmericanIdol! Your room in Prez House is reserved when you return to campus!

— Dennis Hanno (@dhanno) May 14, 2015
"Nick was one of my closest friends at Wheaton and we've remained good friends for over a decade now," said Justin Brown '08. "It's been amazing to watch his career steadily blossom and see his hard work pay off. Following his 'American Idol' journey has been so exciting and my wife Melanie Sosinski Brown '10 and I have been watching every show with bated breath.
"We were honored to have him sing at our wedding in July, and it was incredible to see more than 25 Wheaties on the dance floor," Brown said.
The finale featured performances from Echosmith, Fall Out Boy, Jamie Foxx, Pitbull and others.
On Tuesday, Fradiani sang Matchbox Twenty's "Bright Lights," Jason Mraz's "I Won't Give Up," and an original song, "Beautiful Life," the "coronation" song he also performed in Wednesday's finale in celebration of his win.
Fradiani, a Guilford, Conn., native, earned a degree in U.S. history from Wheaton in 2008. As an undergraduate, he was a regular at the Loft and the Lyon's Den, performing solo and with various student-led bands.
He also played basketball with the Lyons during his first year on campus.
Men's Basketball Head Coach Brian Walmsley recalls Fradiani's strong work ethic and love of the game.
"It was exciting to see last week's episode where he went back home to Guilford, Conn., and stopped to play hoops with his friends during all the festivities for him. Basketball seems to still be a passion for him," Walmsley said. "I know all his former Wheaton teammates and coaches are rooting hard for him."
They're not the only ones. Throughout the season, friends and fans with Wheaton connections have been celebrating Fradiani on social media, using the hashtag #TeamFradiani. They have also been showing their support where it matters most: in votes.
"Voting early and often for Nick Fradiani!" Diane Quinn Kennedy '86 wrote on a May 6 post on the Wheaton Alumnae/i Association Facebook page after Fradiani earned a spot in the top three.
After Tuesday's performance, Zoë Lees '06 commented on a link shared to the page: "I just sent this to my entire law office to get them to vote! Go Nick!"
In a recent interview with the student newspaper the Wheaton Wire, Fradiani spoke highly of his college experience, saying that seven years after graduation his Wheaton classmates are still among his best friends.
"Wheaton has you thinking a lot differently than other places," the singer told the Wire. […]  Whoever's at Wheaton, they made the right choice. If I could, I'd rewind and go back."
Fradiani was no stranger to the stage when he arrived at Wheaton. At the age of 5, he began performing regularly with his musician father, and by age 10 he was performing in talent shows.
Before his run on "American Idol," Fradiani appeared on NBC's "America's Got Talent" last July, performing with his five-member pop rock band, Beach Avenue. The group, which formed three years ago in Milford, Conn., has opened for well-known groups such as Styx, Third Eye Blind and REO Speedwagon and made it to the semifinal round of the show.
For now—at least for the summer—Fradiani will be focusing on his solo career, performing across the country with the rest of Season 14's top five contestants in the American Idol Live! tour.