Wheaton College welcomed four new tenure-track faculty members this fall. Assistant professors Brad Bishop and Aubrey Westfall will join the Political Science Department, and assistant professors Nancy Scott and Yijia "Eddie" Zhao will join the Business and Management Department.
Assistant Professor Brad Bishop
Brad Bishop comes to the Wheaton political science program after teaching at Northern Illinois University in DeKalb, Ill. He has also worked in print and television news.
"I fell in love with politics and policy while working as a newspaper reporter in New Jersey," Bishop said. "I covered local, state and national politics during my time there and gradually became interested in doing in-depth investigative reporting. However, the constant deadlines and time constraints made it difficult to do the work that interested me, so my interests shifted toward academia."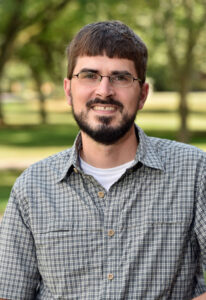 He received a bachelor's in media arts and design from James Madison University, a master's in political science from Fordham University and a Ph.D. in political science from Duke University.
"I think politics is a fascinating subject, but one that is misunderstood by most people, even those who find it interesting," Bishop said. "Research in our field has helped me to understand why the policymaking process is so dysfunctional and why the public's view of its government is so grim."
In addition to being drawn to Wheaton's focus on student learning, Bishop has close ties to the college: both his grandmother, Mary Hussey MacBride '39, and his great-grandmother, Gladys Goodhue Hussey, attended Wheaton.
Bishop said he is eager to help his students develop critical thinking skills and to become skeptical about the claims other people make. He also hopes they take advantage of the learning environment at Wheaton.
"You are surrounded by people who are experts in their fields. You can work with actual writers and learn how to becoming a good writer yourself. You can learn how to analyze data from people in the math department who have rich knowledge about the logic of inference. You can learn vital programming skills in the computer science department, or investigate the nature of the universe with scholars working in the natural sciences," Bishop said. "The opportunities to build skills and knowledge at a place like Wheaton are virtually unlimited."
When he's not teaching, Bishop enjoys exploring the outdoors—he has backpacked the entire Appalachian Trail (more than 2,100 miles from Georgia to Maine) and has hiked across the American West as well as in Alaska and New Zealand. He's also a movie buff, enjoying everything from classics to big box-office horror and action films.
Assistant Professor Aubrey Westfall
Also joining the Political Science Department is Aubrey Westfall, who previously taught political science at Virginia Wesleyan College in Norfolk Virginia for 4 1/2 years. She was drawn to Wheaton for its reputation of academic excellence and rigorous application of the liberal arts, in particular the commitment to independent research and experiential learning.
"I am looking forward to mentoring highly motivated students and enabling them to apply the knowledge they acquire in the classroom to real-world contexts," Westfall said.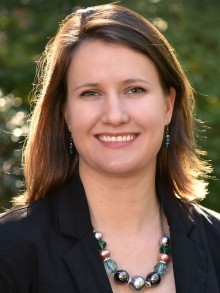 Her educational background includes a bachelor's in political science and philosophy from Westmont College and a master's and Ph.D. in political science with concentrations in comparative politics and international relations from the University of Colorado Boulder.
"When I started college, I was interested in political science because I thought it was the study of how to make a difference in the world through existing political institutions," Westfall said. "The reality is so much broader: Political science is the study of collective decision-making, which means it touches on every aspect of human interaction and is open to a wide range of avenues for making change. This provides great scope for my intellectual curiosity."
She was especially drawn to comparative and international politics and has a love of travel and an appreciation for cultural, political and human diversity.
"Learning about the way other people live opened my eyes to alternatives in my own life and, by extension, my students' lives," she said.
Westfall wants her students to not only learn to think critically but also to develop empathy—something she says follows naturally from an increased awareness about the world beyond their own experiences.
"Empathy engages the heart, and critical thinking engages the head, but you can't have one without the other," she said. "Critical thinking is more than just being skeptical; it involves approaching a problem with an open mind, giving equal weight to all relevant experiences and explanations and then skillfully analyzing and synthesizing information to reach a conclusion about the best belief or course of action."
Outside of the classroom, Westfall is a classically trained vocal performer as well as a "sucker" for well-written and -researched regency-era historical romance novels.
Assistant Professor Nancy Scott
Nancy Scott comes to Wheaton's business and management program after eight years of working in leadership development with students, managers and executives from a variety of industries through the University of Tennessee's Graduate and Executive Education program and the Tennessee Assessment Center. She holds a bachelor's of business administration from Henderson State University and an MBA from the University of Central Arkansas and is a candidate for a Ph.D. in industrial and organizational psychology from the University of Tennessee, which she expects to complete this October.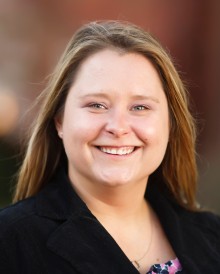 "I decided to become an educator because this field enables me to make a lasting impact through working with the leaders of tomorrow," Scott said. "It's exciting to be able to use my experience and knowledge in the classroom to challenge and stretch students' thinking. Plus, I'm able to learn and grow on a daily basis from my interactions with students."
Scott was inspired to go into this particular field by her father, an entrepreneur with what she calls a "great passion for business." She chose to teach at Wheaton because of the business and management program's entrepreneurial feel, and its grounding in interdisciplinary study.
"I believe that having the opportunity to grow a business program within a liberal arts context will help create well-rounded, diverse-thinking business leaders of the future," she said.
Another draw: "The students and faculty gave me high fives during my interview process, which excited me about the Wheaton community," she said.
Scott said she hopes her students learn the importance of being able to understand and work with people.
"Respect, communication, showing appreciation, honesty and hard work will contribute greatly to their future success," she said. "I want students to develop personal visions and values for their lives so they can be motivated by their dynamic purposes and be authentic to themselves and their values."
Scott's extracurricular activities include watching stand-up comedy, thrillers and comedies, eating seafood and sushi (but absolutely no green peas) and visiting as many countries and Major League Baseball stadiums as possible. She also once tried out for the television game show "Deal or No Deal" and won the million-dollar case during the callback stage—a victory she suspects may have prevented her from getting picked for the actual show.
Assistant Professor Yijia 'Eddie' Zhao
Wheaton is the first faculty job for Yijia "Eddie" Zhao, who has a Ph.D. in finance from the Darla Moore School of Business at the University of South Carolina, where he earned several awards for graduate student teaching. He also holds a master's in statistics from the University of Tennessee-Knoxville and a bachelor's in control science and engineering from Huazhong University of Science and Technology in China.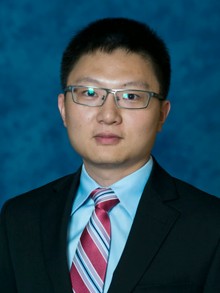 Zhao said he was attracted to Wheaton's commitment to teaching and research excellence and hopes his students discover where their passions lie and how they can use that to make a difference in the world.
"I think it is important to pass on knowledge to future generations," he said. "An educator is an incredibly important job from the social welfare perspective, and I absolutely love teaching."
Zhao also hopes his students will see how the subjects he teaches are applicable in daily life.
"Business and finance decisions are based on rigorous analysis that is supported by scientific evidence. To be able to excel in this field, solid theory foundation and quantitative skills are necessary," he said.
Outside of the classroom, Zhao is a casual but avid soccer player.
Visiting faculty members
Wheaton also welcomes a number of visiting instructors this fall. Full-time instructors include:
Allison Richardson, ​Visiting Instructor of Business and Management,
William Jamieson, ​Visiting Assistant Professor of Mathematics
Stephanie Penley, ​Visiting Assistant Professor of Psychology
Jennifer Girouard, ​Visiting Instructor of Sociology
Part-time instructors include:
Barbara Blythe, Visiting Assistant Professor of Classics
Ashley Bowen­Murphy, Brown Fellow in Public Health
Brian Brinkman, Visiting Instructor in History
Chris Csont, Visiting Assistant Professor of Art and Art History
Nicholas Ganson, Visiting Assistant Professor of History
Wanda Henry, Brown Fellow in History
Ioana Jucan, Brown Fellow in Theatre and Dance
Pelin Kadercan, Visiting Assistant Professor in History
Allison Keeler­Klunk, Visiting Assistant Professor in Biology
Joshua MacLeod, Visiting Instructor in Anthropology
Eric Marshall, Visiting Assistant Professor in English
Carole Martin, Visiting Assistant Professor in Psychology
Tara Mulder, Visiting Instructor in Classics
Mentor Mustafa, Visiting Assistant Professor in Anthropolgy
Caryl Nuñez, Visiting Instructor in African, African ­American and Diaspora Studies
Jeffrey Phelps, Visiting Assistant Professor in Art and Art History
Samantha Rosenthal, Visiting Assistant Professor of Public Health
Kerry Sonia, Visiting Instructor in Religion
Charles "Chase" Spruill, Visiting Instructor in Music
Gregory Stevens, Visiting Assistant Professor in Psychology
Angie Zapustas, Visiting Instructor in Education