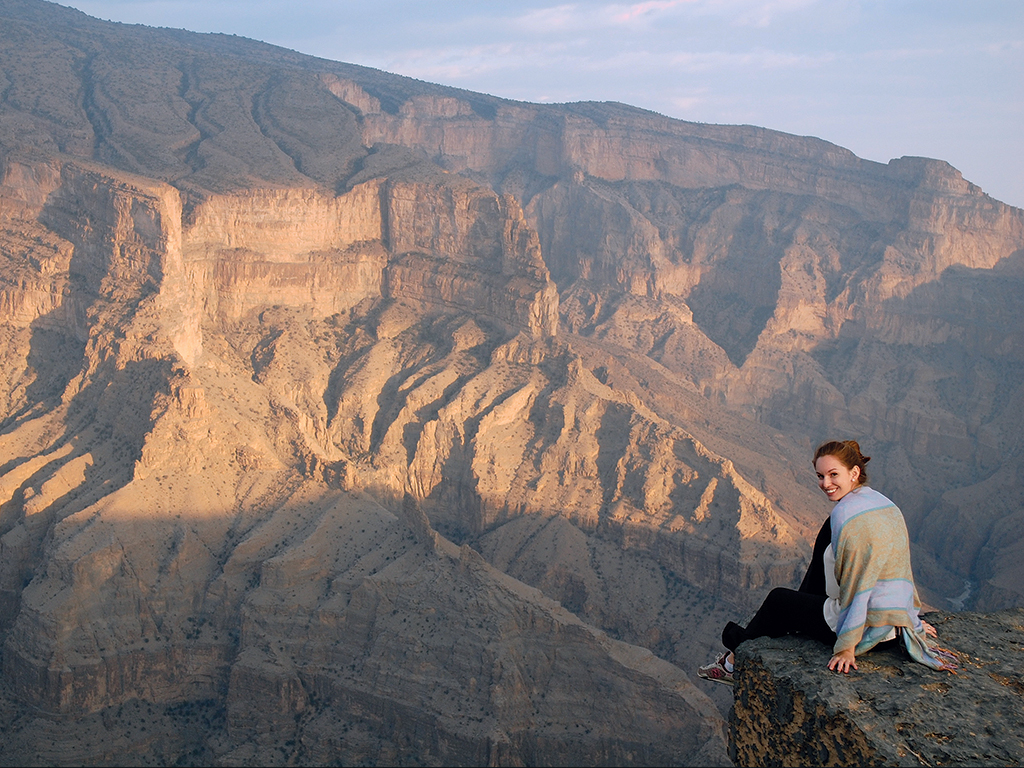 Planning a vacation? Entrepreneur and travel expert Marisa DeSalvio '10 says to think beyond popular destinations like the Caribbean or Europe.
"A lot of people have an idea in their heads that they want to go to Italy, and they always want to go in the summer," DeSalvio said. "But if you open up the picture a bit to other places, you can see how you can get the most for your budget and time."
An alternative? Try Oman, suggested DeSalvio. "It's not on the radar of most people in the U.S., but it's an off-the-beaten path, cultural experience, where you can learn about Arab culture. There is so much natural beauty: you can see the 'Grand Canyon of the Middle East' [Grand Canyon of Oman]; hidden caves, dolphins and turtles. It's really authentic."
DeSalvio, who majored in English and minored in art history, owns DeSalvio Travel, a Washington, D.C.-based agency that promises to whisk people away to the "unspoiled place no one has heard of."
At Wheaton, she deepened her knowledge and appreciation for other cultures, which she draws on daily in helping families conceptualize their dream vacation.
DeSalvio said her First-Year Seminar, "The Innocent Abroad," in which she read literature about people traveling to countries for the first time, "really opened my eyes to the possibilities of travel." She also studied abroad in Florence, Italy.
Courses in art history with Associate Professor of Museum Studies Leah Niederstadt also left a lasting impact. The professor connected DeSalvio with
internships at three museums, including the Smithsonian.
Niederstadt, who has stayed in touch with DeSalvio, describes the alumna as a gifted writer. She noted that DeSalvio's piece was selected to be performed at Wheaton's 10-minute Play Festival in 2010 and she wrote an excellent research paper on 20th-century African artists for the course "Exhibiting Africa."
"Aside from her skills as a writer and creative thinker, what I most admire about Marisa is her willingness to take risks and pursue new opportunities," she said.
After college, DeSalvio originally planned to either pursue a career in the museum field or to study for a Ph.D. in English. She applied for a Fulbright Scholarship to teach abroad—but was unsuccessful.
It ended up working out for the better.She gained a teaching position (English as a second language) at the Qatar Foundation, a large nonprofit that focuses on education, research and community.
"Over three years I got to travel, see more than 30 different countries and make friends all over the world," she said.
DeSalvio soon learned about a viable career path that would allow her to be challenged creatively and connect all of her interests: travel, culture, writing and business.
"I found out travel agents still existed —and were thriving," she said.
 She was accepted into a competitive and intensive one-year mentorship program through Brownell Travel, which teaches the ins-and-outs of running a travel agency to motivated newcomers to the industry.
Now DeSalvio spends her time planning vacations for families and couples that are truly immersive and that leverage her connections abroad and rich cultural knowledge.
"I help people discover something they can't find on Google; destinations that are up and coming, exciting and different," she said.