Nancy Pearlstine Conger '67, the co-owner and president of a financial investment firm as well as an advocate for education and the environment, has been named the chair of the Wheaton College Board of Trustees.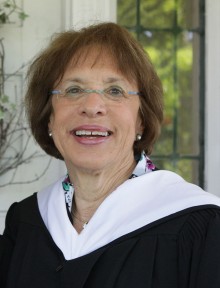 Conger joined the Board in 2002, and she has served in numerous leadership positions on the Board during her tenure, including most recently as its vice-chair.
"Nancy Conger is a thoughtful and dedicated trustee with extraordinary passion and energy for Wheaton College, and we are fortunate to have such an exceptional individual to lead the Board," said President Dennis M. Hanno.
She succeeds current chair Thomas J. Hollister, whose term as chair ends on June 30 but whose service as a trustee will continue. He was recently named chief financial officer for Harvard University.
"I am extremely honored to have this opportunity to contribute to strengthening Wheaton for the future," Conger said. "Following such exceptional board chairs as Tom Hollister, Deborah Dluhy and Patricia King is a privilege and an honor."
Conger's service as the Board chair begins as the college completes a year of transition. President Hanno took office in July 2014, and he has engaged the entire college community in a strategic planning effort that seeks to establish a strategic vision for Wheaton by the end of the 2015 calendar year.
"Right now, the college has great forward momentum," she said. "President Hanno has brought inspiring energy and enthusiasm to the campus and the community, which is evident in the ongoing strategic planning process. Wheaton has so much going for it, given the quality of the education and student experience that it offers and the pride and generous support of our alumnae/i, parents and friends."
A certified financial planner with more than 45 years of investment experience, Conger is the co-owner and president of Red Hook Management LLC, an independent registered investment advisory firm that specializes in wealth management for individuals, trusts and foundations. She owns the firm with her husband William Conger.
Conger graduated from Wheaton with a degree in history and immediately entered the investment profession as a stockbroker with the investment banking firm L.F. Rothschild. Before starting her first investment firm, Ezray Investment Advisors, Conger served as vice president and senior portfolio manager at The U.S. Trust Company of New York.
While pursuing her career, Conger also has been involved in advancing education and protecting the environment. She is a trustee of The Land Conservancy of New Jersey and trustee emerita of Ursinus College. She has previously served as a board member of the Pingry School, the Great Swamp Watershed Association and the Green Pond Environmental Foundation.
On the Wheaton Board, Conger has held a number of critical leadership positions, including as vice-chair of the Board for the past five years. She co-chaired the Campaign Steering Committee for Go Beyond: Campaign for Wheaton, a record-setting fund-raising effort that ended on June 30, 2014, with a $137 million for student scholarships, faculty and student research, the construction of the Mars Center for Science and Technology and much more. She also chaired the presidential search that led to the appointment of President Hanno and headed the Board's governance committee.
Conger and her husband Bill live in Green Pond, New Jersey, and they have three adult children.