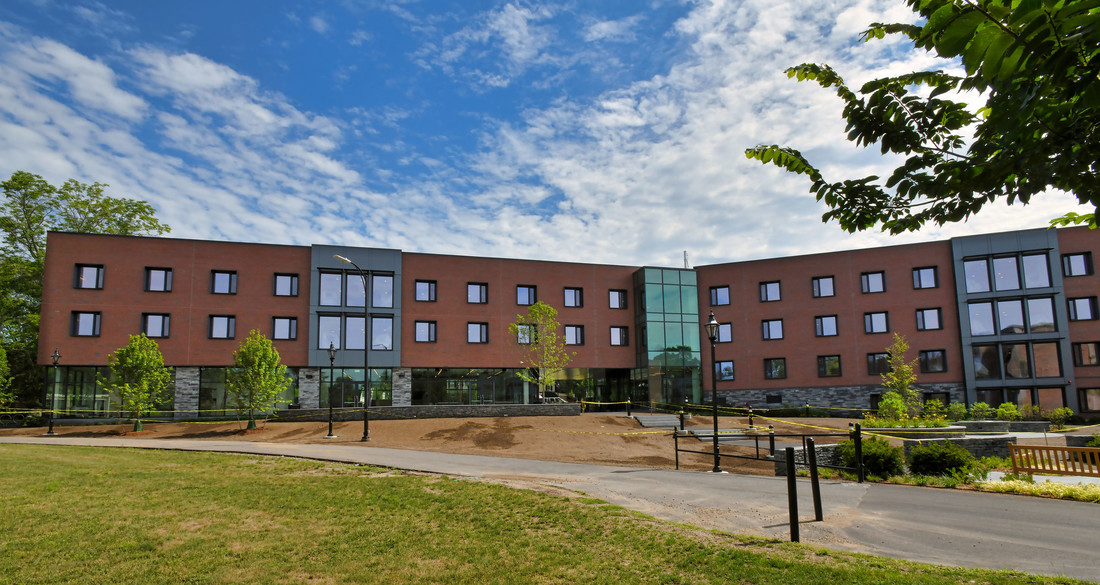 Real estate journal praises Wheaton's design of residence hall
Wheaton's newest building, Pine Hall, was highlighted as the July Project of the Month in New England Real Estate Journal, for being one of the first two Passive House residence halls in Massachusetts.
The 178-bed building on lower campus, which will open this fall, was designed by architecture firm SGA to meet strict standards in energy efficiency, using features such as an airtight envelope, high-performance windows and balanced heat- and moisture-recovery ventilation. The residence hall is expected to be about 70 percent more energy-efficient than buildings that meet the standard state code, resulting in significant cost savings over the life of the building.
"These energy savings are meaningful to us, given our deep commitment to sustainability," Wheaton Vice President of Finance and Administration Brian Douglas told the Journal.
Currently, the building is on track for students to begin moving in the second week of August. The building will house first-year and returning students and has a wellness designation—taking a new, more holistic view of wellness that incorporates the mind, body and spirit, Residence Life Director Ed Burnett said.
"Students need to apply to live in a wellness community and make a commitment to exploring and enhancing wellness in seven different dimensions [academic/professional, emotional, environmental, intellectual, physical, social and spiritual]," Burnett said.
Staff in Pine Hall will work to create intentional programming geared toward wellness exploration, he said.
Along with its residential use, Pine Hall offers a variety of resources that can be used by the entire Wheaton community, including Conger Commons (named in honor of longtime Wheaton trustee Nancy Pearlstine Conger '67). The hall also features an exterior patio and gas fire pit, creating a gathering space and college quad with the other buildings on lower campus.
Several events will be held throughout the fall semester to celebrate the opening of Pine Hall.