Mobilizing the vote for the environment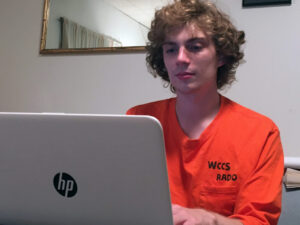 Harrison Zeiberg '22, a history and political science double major, spent the summer interning with the Environmental Voter Project (EVP), a nonprofit focused on increasing voter demand for environmental leadership.
"What drew me to EVP was that it combined the issue of combating climate change—which is one of the most important issues we all face—with voter mobilization, an effort I really care about, and something I've been involved with before," he said.
Duties of the internship varied daily. Zeiberg's tasks included conducting online research and calling different U.S. county offices to collect information on elections at various levels of government. He also did two hours of phone banking daily, during which he communicated with voters who were likely environmentalists about voting by mail.
"My favorite experiences were actually the independence that EVP gave us because it showed they trusted us, and being able to reach out to voters and help give them information," he said.
Zeiberg's biggest challenge was adapting to a virtual internship.
"Sometimes it's hard to concentrate and get all of the work done that I was tasked with when I wasn't in a work environment. Also, it was harder to connect to the other interns on a personal level," he said.
Post-graduation, Zeiberg plans to work in the field of public service.
"This internship has shown me a side of public service that I had no experience with before, and taught me what nonprofit organizing, and work, can look like. I've also learned different organizational and practical skills that I hope to bring back to campus and the different organizations I am involved with," he said.
Zeiberg previously interned at the Massachusetts State House with State Senator Jason Lewis. He serves as secretary for Model United Nations and as vice president of the campus radio station WCCS 96.5FM.