MLK Jr. Legacy Awards presented at celebration

Justin Martinez '22 and Professor M. Gabriela Torres honored for service, leadership
"Everybody can be great. …because anybody can serve," Martin Luther King Jr. is noted for saying. Wheaton College recently honored two great community members who are living up to those words: Justin Martinez '22 and Professor of Anthropology M. Gabriela Torres.
Martinez and Torres have been awarded 2022 Martin Luther King Jr. Legacy Awards, presented to a student and faculty or staff member whose actions and leadership help the campus community live in a manner that is equitable, inclusive and consistent with King's values.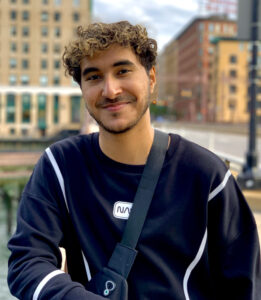 The two received the awards during the Annual Martin Luther King Legacy Celebration held virtually on February 3. President Michaele Whelan presented the faculty award and Faith Freeman '22, chair of the Intercultural Board, presented the student award.
The event was sponsored and co-hosted by Diversity, Equity and Access Leadership's (DEAL's) Education and Programming Committee, the Office for Institutional Equity and Belonging, and the Office of the President. The DEAL team reviewed nominations for the awards and selected the winners.
Martinez, who is double majoring in history and secondary education and currently a student teacher at Norton Middle School, has been involved in a long list of campus activities, including helping incoming students begin their Wheaton journey as a 2021 intercultural student early arrival assistant.
Professor Torres, associate provost for academic administration and faculty affairs, is a cultural anthropologist who specializes in the study of violence—particularly gender-based violence—and state formation. She regularly serves as a pro bono expert witness on gender-based violence and Guatemala country conditions.
Both Martinez and Torres have won prior awards at Wheaton. Torres has won the Faculty Appreciation Award three times. Martinez won the 2021 Wheaton Ujima Leadership Award, given to a junior or senior who has demonstrated dedication to issues of multicultural diversity through two or more years of service to the Wheaton community.
The nomination for the Martin Luther King Jr. Legacy Award noted that Martinez, a Posse 19 Scholar, has been a campus leader since arriving at Wheaton and has made a significant impact on inclusion and belonging on campus. Martinez's involvement on campus includes serving as an intergroup dialogue facilitator for almost four years and president of the Queer and Trans People of Color club.
Martinez, who plans to pursue a career in education, also worked to form and chair the Student Government Association's Sexuality Gender and Inclusion Board and is the manager of the First-Gen House theme residence.
"This student has approached all these roles with an intersectional lens and an openness to learning and inviting others to do the same," through coalition building and promoting collaboration among various groups on campus, the nomination stated.
"Winning this award is an absolute privilege. However, I want to make it crystal clear that this is not just a product of my own individual work; upholding Martin Luther King Jr.'s values, defined by intentional and meaningful diversity, equity and inclusion, is a community effort," Martinez said.
"Change is slow, grueling, yet rewarding, and my efforts to institutionalize Wheaton's mission of implementing DEI work across the school have been done in partnership with my peers and mentors throughout my time here. All of these lovely humans, as a unit, have given me the tools to accomplish what I have, and this overall has proven to be a testament to the power of our Wheaton community and what we can do together," Martinez added.
Torres's nomination highlighted her work researching and curating a webpage that contributes to and helps guide Wheaton's commitment to social justice and engaged scholarship; her hand in helping to develop Wheaton's Center for Collaborative Teaching and Learning, which fosters strong relationships and partnerships between staff and faculty; and her establishment of the course "Creating a Just World."
"This individual's scholarship and commitment to researching gender-based violence through an intersectional lens, serving as an expert witness for international refugee asylum seekers in cases involving gender-based violence are impressive," Torres's nomination stated.
Torres said she is honored and humbled to receive the Legacy award.
"My work on anti-racist education, advocating for a fair process for refugees and mitigating gender-based violence seeks, at its essence, to combat inequality. I do this work because I have been taught by my parents that it is my responsibility as a human to recognize and challenge inequalities," she said. "Dr. King is the model for me of how to live a life that is centered on recognizing and challenging inequality."
In addition to the award presentation, the Martin Luther King Jr. event also featured speaker Jamila Lyiscott, assistant professor of social justice education at the University of Massachusetts-Amherst. She delivered the keynote "Critical Hope in the Context of Crisis," which was followed by a question and answer session moderated by Freeman and DEAL co-chairs.
"We all have a responsibility and can play a role making our campus a more just and welcoming place," said Raquel Ramos, DEAL co-chair, along with Professor of Economics Brenda Wyss and Shaya Gregory Poku, associate vice president for institutional equity and belonging. "Taking time to recognize folks who are committed to that is really important. The MLK Legacy Celebration reminds us to take time to pause and see the progress and contributions, as we look to the ongoing work we have ahead of us."