Michael Sadowsky '18 featured in OK! magazine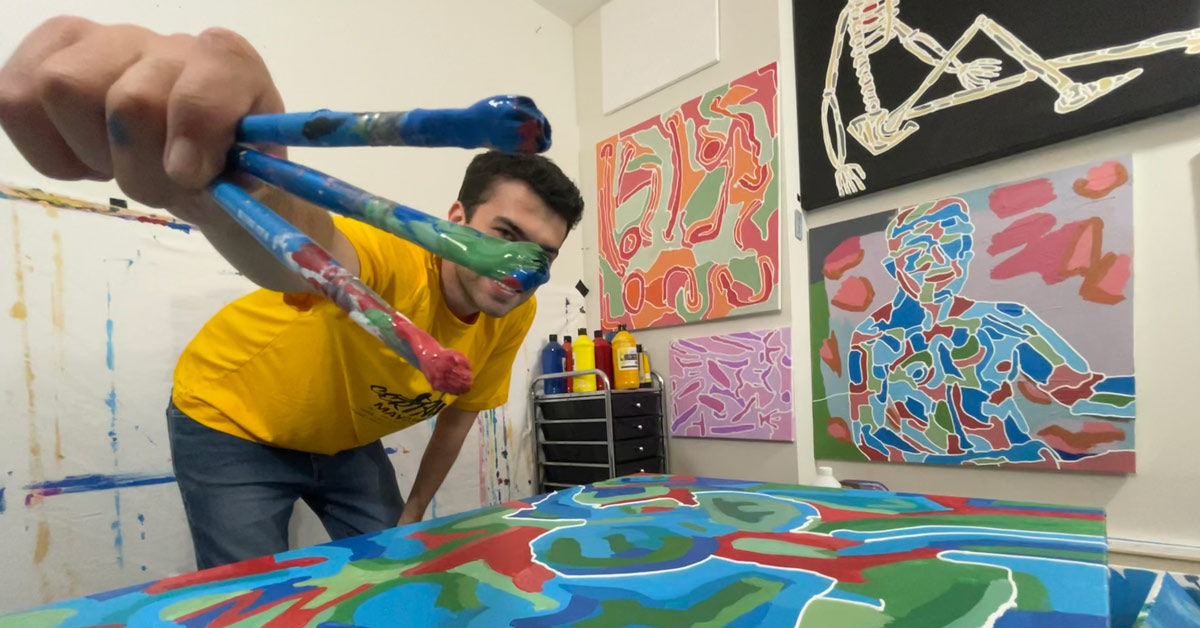 Abstract expressionist artist draws attention in New York City
When Wheaton College alum Michael Sadowsky '18 listens to music, he sees colors and shapes in his mind that directly correlate to what he is hearing. The condition, known as synesthesia, in which one sense stimulates and activates an unrelated one at the same time, is a driving force behind the abstract art he creates.
On July 24, 2023, OK! magazine, a British weekly that mainly focuses on royal and celebrity news, wrote about him and his creative process in "Artist Michael Sadowsky Takes NYC By Storm With One-of-a-Kind Immersive Art Party—Meet The Man Behind the Paintings."
"There's a new artist on the rise that is giving the word 'talent' a new meaning—and his name is Michael Sadowsky," Nikki Schuster wrote. "The New York City-based artist's work is for everyone, whether it be a young-and-hungry New Yorker eager to find the perfect piece of artwork to make their apartment a home or a stylish mom and dad looking to add that special pop of color to their abode—and who can forget about the busy employee hoping to find that one exceptional piece to hang on their office wall to remind them that there is beauty to life beyond those bland four-walls."
"Not only does Sadowsky draw people in with his bold and colorful paintings, but he's physically bringing together New York City residents and aesthetes alike for a one-of-a-kind immersive art party," Schuster wrote.
Sadowsky, who told Schuster that he listens to music all day almost every day, describes his art as abstract expressionist paintings that have a narrative core inspired by music.
At Wheaton, the artist majored in film and new media studies. We asked him how his Wheaton education has supported him in pursuing his creative goals.
"I have been painting and making art my whole life. When I got to Wheaton I started to take it more seriously. While engaged with studio art classes, I took a painting class with Professor Patricia Stone that gave me confidence and a new love for painting," he said.
"After we did a lot of realism, we had a chance to pick our own project at the end of the semester and I painted an abstract bust. I fell in love with abstract art and have been focused on it ever since. One of the most influential classes that helped me develop my viewpoint was with a philosophy professor, John Partridge. The class was called 'Aesthetics.' It was a wonderful, eye-opening class," he said.
Sadowsky originally moved from Boston to New York City to pursue acting. He decided to become a full-time artist two years ago. So far, he has had six solo exhibitions and has been included in more than 12 group shows. (His work is on Instagram @animotisart.)
This summer, his paintings were exhibited in the NYC Culture Club gallery in the World Trade Center. For the July art party event, he collaborated with his designer brother, David Sadowsky, to bring new tessellated paintings to life with projectors—and, of course, lots of music.