Memories of Ruth Ann Stewart '63
"I've learned that people will forget what you said, people will forget what you did, but people will never forget how you made them feel."

Maya Angelou
By Lisa Webb '83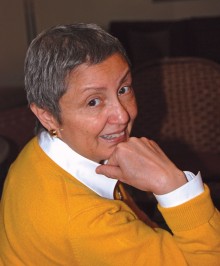 I don't remember the exact day I met Trustee Emerita Ruth Ann Stewart '63 at Wheaton, but I do remember how I felt after meeting her—deeply cared for, grateful and proud to be at Wheaton. That moment changed my life.
In 1979 during my freshman year, while Ruth Ann was on a trustee visit, she met with some of the African American students on campus. There were 38 of us there at the time and Wheaton was not what it is now. The thought of there ever being an African American president of the college was something we could never even imagine back then.
Ruth Ann listened to our concerns. I was struck by her confidence, poise, genuine concern for us and her no-nonsense approach. She understood what we were saying, and while she showed us compassion, she also challenged us to stay focused on why we were there. I was lucky enough to receive this lesson from her time and time again during my four years at Wheaton.
Ruth Ann and I connected that day. She came into my life when I really needed someone to believe in me.
During January break of my sophomore year, she invited me to do an internship with her at the New York Public Library, where she was assistant director of publications, and to stay with her in her home.
She had an amazing job and I could not have been more thrilled with the opportunity. Life in the fast lane with Ruth Ann was amazing but exhausting. Each day we would be in and out of cabs running from one meeting to the next. One day we would be at the Schomburg Center for Research in Black Culture in Harlem, the next meeting with a major book editor. By the end of our days together, I was so tired I could barely lift my head for dinner.
She was a bundle of energy. I wondered if I had what it would take to have the amazing career she had. She told me she believed I did. (Ruth Ann's career included being associate director of the Schomburg Center, assistant librarian for national programs at the Library of Congress, and a senior policy analyst in arts, humanities and social legislation at the Congressional Research Service. She was recognized as a pioneer in the field of public arts policy, and most recently was a research professor at the Center for Urban Policy Research at Rutgers University.)
Knowing Ruth Ann, my mentor and friend, gave me the strength to pursue my dreams of becoming a lifelong educator who gives back. I admired her so much, not only for what she achieved but also for what she so graciously gave to others. When I was at Wheaton, I could call her anytime and she would listen and give me the best advice.
On the Friday before Mother's Day this year, I heard Ruth Ann was very ill. I immediately sent her a card with a note telling her how much she has meant to me. I wish I had done so sooner. Sadly, she died on May 30 after a battle with cancer.
I know that I would not have a career in educational administration were it not for the love, encouragement and support of Ruth Ann. She held me up to the light. In doing so she has enabled me to shine the light on so many of the students I have worked with over the years who, like me, need to see their beauty in all of its glory.

Lisa Webb '83, who majored in sociology at Wheaton, has a master's degree in education from Harvard University and a doctorate in education from the University of San Francisco. She is the Berkeley site director for the Level Playing Field Institute, a nonprofit organization in Oakland, Calif.