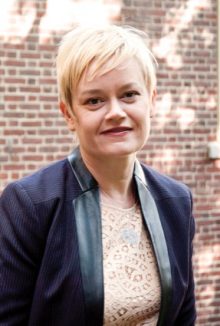 Museum visitors this spring got a chance to see something they don't often see, thanks to Associate Professor of Art History Ellen McBreen. She co-curated the exhibition "Matisse in the Studio," which ran at the Museum of Fine Arts, Boston, from April 9 through July 9, and will be at the Royal Academy in London from August 5 through November 12. She also co-edited an accompanying book. This is the first international exhibition to exclusively focus on the influence of Henri Matisse's (1869–1954) art objects and provide rare archival photographs of him in the studio. The objects are presented with the artwork. McBreen, the author of Matisse's Sculpture: The Pinup and the Primitive, has been working on the exhibition and its accompanying catalog for the past five years. We asked her about this project, which originated with her own research.
How did objects influence his view of the world?
"Matisse was a lifelong student of other cultures, and he constantly went to museums and exhibitions to nourish his eye. An exhibition of Islamic art held in Munich in 1911, for example, was an especially key event for him. Right afterward, he went to Spain to see the Alhambra and the Great Mosque at Córdoba. He often described how this exposure to various Islamic traditions, primarily from the Middle East and North Africa (for example Persian miniatures, textiles and metalwork), had profound consequences on his art, helping him to achieve a greater sense of space in it. This engagement with traditions outside of Europe helped Matisse to critically examine his own culture's assumptions about what art should be. Arguably, Matisse's art would not have been so revolutionary nor so influential without this lifelong curiosity."
How does this relate to what is going on in the world now?
"Right now, geographical borders are so much a part of our political conversations. We continue to hear broad, sweeping statements about other cultures, other regions, as if they were static entities. It has always struck me how the free circulation of objects and ideas throughout history has been a necessary constant for culture. There would be no modern art, no modernity for that matter, without it."
What excites you about this exhibition?
"Matisse is such a well-known artist, but I think our exhibition sheds new light on the way he worked. A few of the objects that will be shown are from private collections and have never been exhibited publicly. I'm excited for the potential of our research to be a reference that will be useful for future scholars and a source of enjoyment for others."
What do you hope viewers take away?
"I hope they will see that art is at its best when it is a global undertaking; and when artists take risks and experiment with new ideas. We tend to study culture by geographic region: our museums and universities are organized that way, because that's how our education and training are organized, too. Modern art has been one long, messy, hybrid experiment in mixing hierarchies and ideas. I hope that visitors will see that even one of the most French of all French artists was truly, as his friend Louis Aragon wrote, a 'citizen of the world.'"
Do you recall the first time you saw a Matisse?
"My mother took me to museums as a child, and I think the very first Matisse I saw must have been that beautiful painting of his wife in the kimono ('The Terrace') at the Isabella Stewart Gardner Museum. But to be honest, when I started out in art history, I mistakenly thought Matisse's work was too simple and apolitical. It wasn't until the end of graduate school that I started to appreciate the complexity of it, and that was because of his sculpture, which is what I eventually wrote my dissertation on. I was motivated by the fact that so few feminist scholars had written on how Matisse treated the female body in his work."
How does your Matisse research factor into your work at Wheaton?
"A great deal of work with art history students has been done in the years of preparation leading up to this exhibition and the related catalog. As far back as 2010–2011, I worked with Dania Piscetta '11, who wrote her honors thesis on Matisse's interest in Chinese culture, which is a theme we explore in 'Matisse and the Studio.' The last time I taught the seminar 'Matisse and Methods' we studied his appropriations from other media and other cultural traditions. Discussing those issues with students, and teaching some of the texts I was using to develop the ideas for the project, was formative. It helped me to figure out how to express them in an accessible, engaging way. I also worked with research assistants Sarah Estrela '15 and Allison Meyette '18, who are both specifically mentioned in the acknowledgments to the scholarly catalog that accompanies the exhibition. They were an enormous help."
The exhibition must have taken a lot of collaboration to pull off.
"The organization of an exhibition of this ambition and size [with over 40 lenders and two different venues on two different continents] is normally a full-time commitment, so I was pleased to be working with marvelous colleagues in both Boston and London. I may have traveled to about eight countries just for the loans alone. The project definitely expanded my research horizons."
In the news: