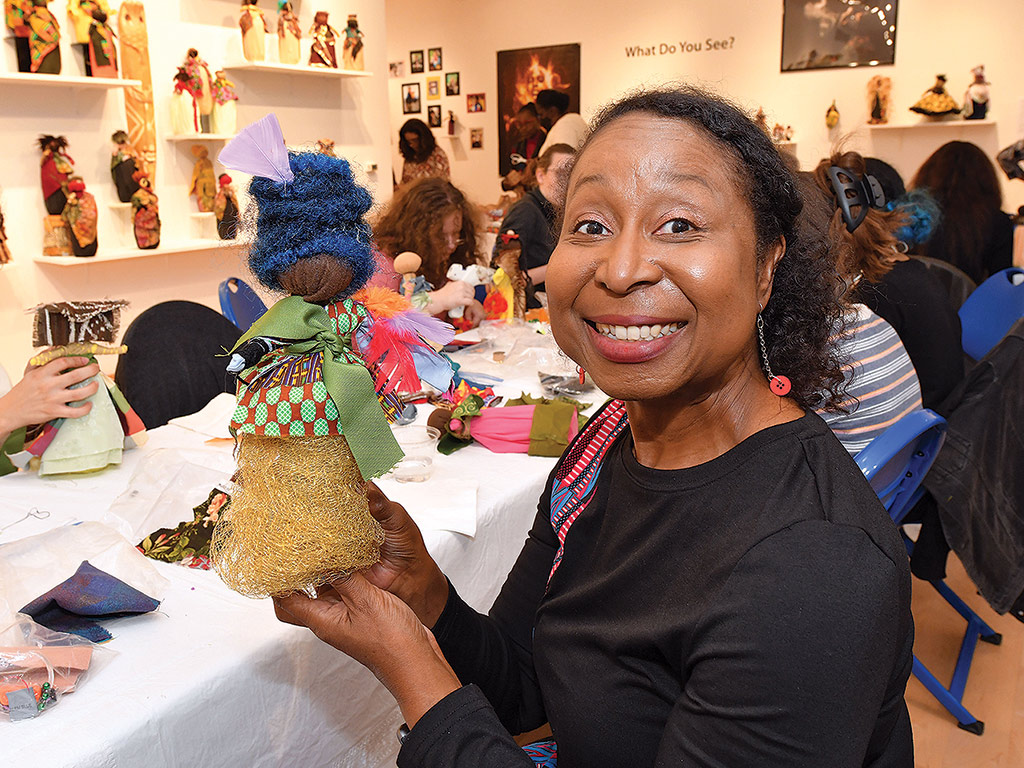 Students, staff and local residents walking into a brightly lit Beard and Weil Galleries one Thursday evening in November were greeted with a feast for the eyes and imagination. Long tables strewn with an explosion of fabric, yarn, buttons and an assortment of other crafting material invited the multigenerational group to come in, play and make a meaningful African wrap doll.
The workshop was offered in conjunction with the "What Only You Can Make: The Art of the African Wrap Doll" exhibition that ran during the fall semester, in partnership with the National Black Doll Museum of History and Culture.
Museum founders Debra Britt and Felicia Walker led participants, including myself, in creating an adaptation of dolls based on the techniques of a traditional art form rooted in 18th century African American culture and a specialty of the museum.
Britt is a masterful storyteller, who demonstrates the technique while sharing her story and that of the dolls. It was truly inspiring to listen to her talk about how her grandmother introduced the form to her as a way of helping her steel herself against hurtful comments she received while a young girl in school.
Her overall message encourages resilience and courage to know your worth. She presents this gift of empowerment in a tangible and creative way through the making of dolls that serve as reminders to trust and believe in oneself.
Check out the group photo of the workshop in Campus Scene on Page 19 and see a gallery of photos of the dolls created by participants. Each one is as individual and as beautiful as the makers themselves.
One of the best things about inspiration is the element of surprise; we never know when or where it will strike, or who will provide it. And even if it strikes in the same place, it can lead to many different destinations.
In this issue of the magazine, we have profiles of two alums that illustrate the point. William Richards '04 and Michael Sheehy '98 surprisingly both experienced "aha" moments in libraries. However, where they ended up professionally is very different.
And speaking of libraries, the Boston Public Library was one of the spots for our inspirational community to gather during a November cocktail party celebrating Wheaton's ninth president, Michaele Whelan, and our next chapter. The college also hosted get-togethers in Washington, D.C., and New York City as part of the ongoing Tradition and Transformation events.
It has been nice seeing so many smiling faces in photos around the country. Check out the cover story.
Enjoy.
Have a comment? Email us.