The perfectly pointed toes jutting up out of the water; the graceful arms creating rhythmic ripples; the carefully coiffed hair that stays in place—even while submerged. It all looks so effortlessly glamorous.
But any Wheaton College synchronized swimmer will tell you, it is hard work. Try lifting a teammate straight up out of the water without touching the pool floor or running upside down under water—and doing it so well that you win countless regional and national awards.
It truly is the ultimate sport, says synchro swim coach Rebecca Ercoli. "Every swimmer has to be at every practice so we can rehearse each count and movement until they become automatic. In this sport, there is no hiding or sitting on the bench; every swimmer is seen and judged. That's what makes it so exciting, watching a team come together, building trust and performing at the highest level possible."
Wheaton's team, the Tritons, has been doing all of this for decades. On Friday, September 25, and Saturday, September 26, the college and the Athletics Department will celebrate the 75th anniversary of the Tritons.
All synchro team alumnae and past coaches, including special guests Mary Kay Adams and Fran Simeone-Tocci, have been invited back to share in the celebration. The entire Wheaton community and local residents are also welcome.
The weekend will feature a networking brunch for current student-athletes and recruits to meet with alums to discuss their careers post-Wheaton, and a performance by the current nine-member synchro team on Saturday, September 26, from 4:30 to 5:30 p.m., which is open to the public.
As part of the celebration, Wheaton is starting a new community synchro swim team for ages 6 and up as well as a masters program for alumnae and other adults in the community who are interested in the sport. And faculty, staff, students and local residents are being encouraged to dive into the pool on Saturday after the show to try out synchronized swimming, from 6 to 6:45 p.m.
"Seventy-five years. What a big accomplishment for all our past, present and future swimmers," says Ercoli. "The change I've seen—not only on our team but also within the sport of synchro—has been quite amazing. It has transformed from what was once a water ballet into a fast-paced competitive sport, and Wheaton was around for most that history."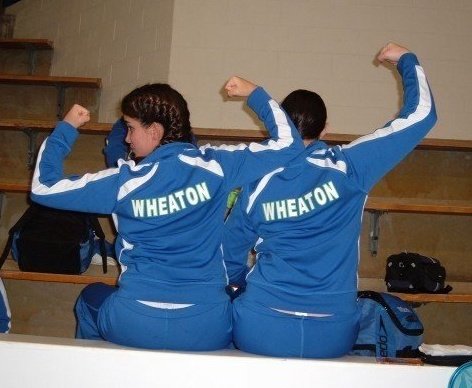 Jenna Swinkin '10, a registered nurse at Brigham and Women's Hospital, is looking forward to reconnecting with Triton alums at the celebration, if her work schedule allows. She was on the Wheaton team from 2006–2010, following in the pool steps of her sister, Sarah Swinkin '07, who also was on the team for four years.
"I formed some of my closest friendships in college because of synchro. I was recently a bridesmaid in the wedding of Laura Montes '10, who was an incoming freshman with me, and I now live in Boston with Kirsten Wendth '13, who was a freshman when I was a senior," says Swinkin, who majored in psychology and was also a Wheaton Athletic Mentor for three years.
"It was the love of the sport but, more important, the team that motivated me to wake up every morning at 5:30 to be jumping in the icy pool by 6 a.m. We worked incredibly hard, and it paid off at the meets. Those accomplishments meant so much to me. The dedication of the other girls and our coaches was inspiring. Wheaton synchro was also an amazing support system through the ups and downs of college. You could always turn to your teammates or coach if you needed a shoulder to lean on."
For Renata Paglio '07, an economics major who was on the team from 2003–2007, the artistic element of the sport resonated with her, and she welcomed the opportunity for personal growth.
"This was a fantastic outlet for me that allowed me to take some leadership roles, like leading a 'B team' my sophomore and junior year and serving as co-president of the Wheaton Athletic Mentors my senior year," she says.
"It is tremendously important to me to keep the spirit and history of the team alive," says Paglio, who works as project coordinator at Gartner, an information technology research and advisory company in Stamford, Conn. "The team provided me with so much while I was a student at Wheaton. I always look forward to coming back to campus for meets, and this event will be a great platform to reconnect with other alums and rehash great memories."
Event highlights
Saturday, September 26
Performance—4:30 to 5:30 p.m.
Try synchro—6 to 6:45 p.m.
More information here
Interesting facts
The pool bottom is off-limits during performances. Swimmers must continuously tread water to appear as though they are comfortably standing.
The sport takes an extreme amount of strength for the series of twists, toe points, splits and lifting teammates.
Synchronized swimmers spend up to six hours in the pool each day.
A combination of hot water and gelatin keeps hair in place during a performance.
Swimmers use a nose-clip to keep water out of their nose and always keep extras on their suits during swims.
The team trains for the unexpected, including not being able to hear the music or the wrong music being played.