New spaces enrich liberal arts through hands-on, high-tech learning
Christian Joachim '19 has always had the urge to make things.
As a young boy growing up in New Jersey, he learned this passion from his father, a plumber who immigrated to the U.S. from Trinidad and Tobago.
"I was always with him, just fiddling around. If he wasn't doing plumbing work he'd be working on his cars. I began to love building stuff," Joachim said.
Now a computer science major at Wheaton, Joachim is carrying on that tradition by building a drone—part of a collaborative, still-unfolding project that combines engineering with computer science, photography and digital artistry.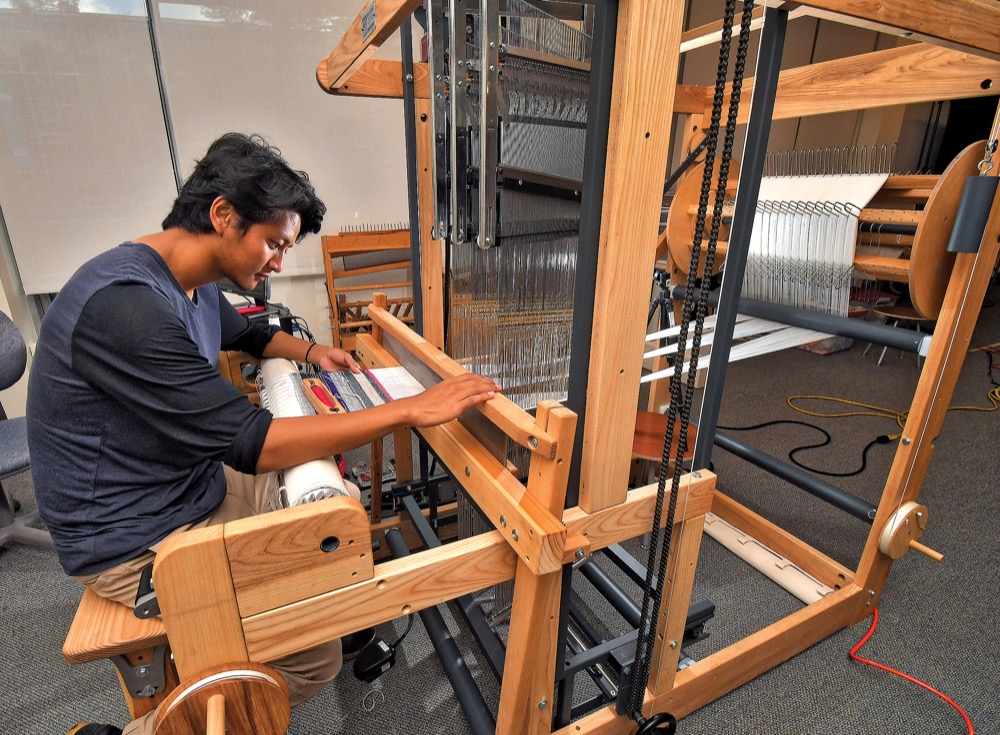 He is part of a growing community of Wheaton "makers" who are benefiting from the evolution of reimagined spaces on campus—spaces designed for bringing big ideas to life. The maker movement expands on Wheaton's commitment to active interdisciplinary learning and its goal of turning out well-rounded critical thinkers with career-ready skills and a knack for crafting innovative solutions to challenges of all kinds.
These new Wheaton "makerspaces" offer an impressive collection of equipment—from 3-D printers, virtual reality gear and computer-controlled milling and knitting machines to simple hand tools—as well as another valuable resource: room to work.
"You get inspired here; you get motivated. You see someone working on something, and maybe you have a project cooking in the back of your mind but you haven't gotten to it yet," Joachim said. "It makes you want to get to work."
Lab 213 is the largest and most eclectic feature in Wheaton's makerspace network. Officially opened last January on the second floor of the Science Center, Lab 213 expands on an idea that started about five years ago, in the Mars Center for Science and Technology research lab of Associate Professor of Computer Science Tom Armstrong.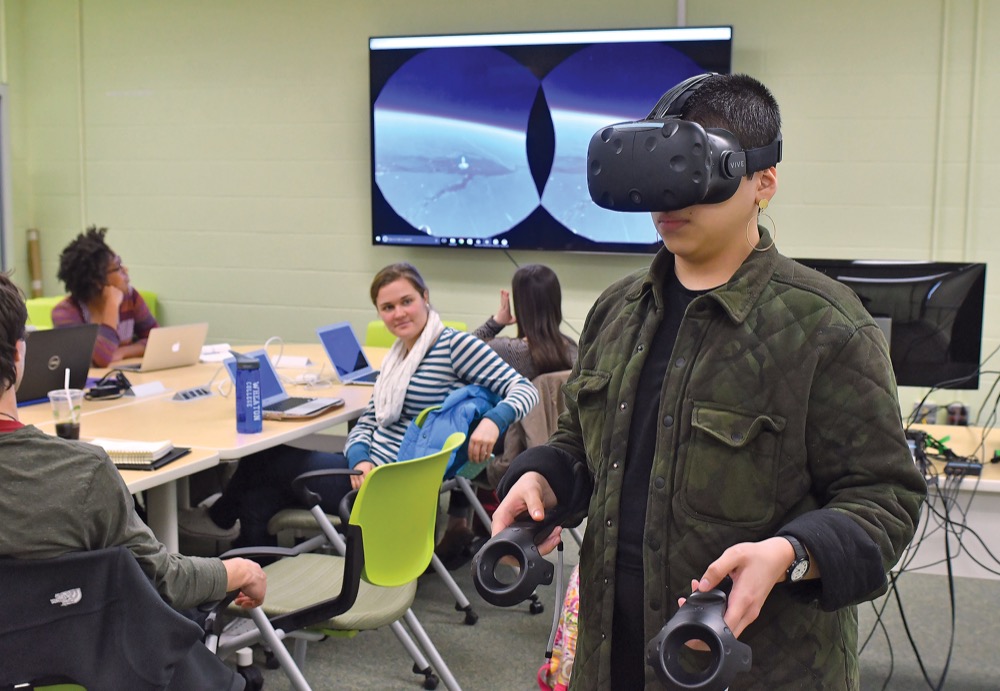 The Wheaton Autonomous Learning Lab, commonly known as WHALE Lab, and a second maker lab known as the FiberSpace have provided students with a place to explore and utilize high-tech tools, experiment with repurposed materials such as board games and Legos, and collaborate on a range of interdisciplinary projects, from hand-built drones to musical instruments.
Over the years, interest in makerspaces and the myriad opportunities these spaces provide have grown, and funding for collaborative maker projects, as well as impressive new equipment, has been made available, thanks to a private grant and the establishment of Wheaton's InterMedia Arts Group Innovation Network (IMAGINE).
Space to grow
Occupying two former classrooms, Lab 213 offers four times the space of the WHALE Lab, which has reverted back to a research lab.
"The WHALE Lab was really an office setting, where students could work with computers and digital video and 3-D printers and design, but there wasn't space available for 'dirty construction' or for bigger jobs," said Associate Professor of Physics Jason Goodman, who helps run Lab 213. "This space really expands the range of capabilities."
The new lab is part of a network of more than a dozen physical spaces across campus that promote the blending of art and technology. Among them is a new media and virtual reality classroom located in Meneely 201, known as the Humanities, Arts and Technology Creative Hub, or HATCH, and a new FiberSpace, located in Watson 138, which houses machines and tools for sewing, knitting and embroidery.
Lab 213 isn't a traditional lab. It is furnished with lab tables, but instead of holding rows of microscopes and glass beakers, these tables are covered with paper, plastic, metal, wood, computer circuitry and various other construction materials. On one counter sits a large red toolbox filled with hand tools. Throughout the room are several computers, two 3-D printers, a 3-D scanner and a laser cutter and engraver. In one corner there is a circle of comfortable gray chairs, set up near a wall-mounted television screen—a space to rest, to study, to observe or to plan the next project.
Across the hall is the Machine Shop, where students can access power tools and equipment, such as a five-axis, computer-controlled milling machine, which can carve nearly any shape imaginable out of soft wood or foam.
It's a space that seems more industrial arts than liberal arts. But like Wheaton's Connections curriculum, which links courses across disciplines, Lab 213 helps students forge connections between subjects, develop problem-solving skills and understand how pieces—pieces of information or pieces of construction—fit together. The lab's hands-on environment is a clear example of experiential learning—a key component of a Wheaton education.
"At Wheaton, makerspaces and maker culture reflect the historic and ongoing efforts of faculty, staff and students to engage in innovative, collaborative and flexible teaching and learning," said Shawn Christian, associate provost and associate professor of English, who provides administrative support for the IMAGINE network.
"IMAGINE facilitates the Connections component of our liberal arts curriculum by enabling faculty and students to deepen already existing links related to these areas or envision new ones, while using adapted spaces and new equipment to do so."
Creative collaboration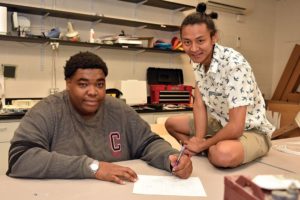 The open nature of Wheaton's makerspaces means they serve a wide range of people and projects, from class presentations to creative tinkering, to formalized research partnerships, such as the IMAGINE-funded Faculty-Student Special Interest Groups. Since the IMAGINE network was established, almost three years ago, its funding has supported 11 of these groups, representing 13 academic departments.
Joachim's efforts to build a drone is an example of the evolutionary and collaborative nature of maker projects. What began as a singular challenge has developed into a partnership with fellow computer science major Phuntsho Norbu '19. Like Joachim, Norbu has a passion for building things—an interest that led him to experiment with computer-aided drawing, or CAD, software to produce objects with a 3-D printer.
"I started looking at some CAD tutorials on YouTube, but the things people were making were simple, like a chair or a house. I wanted to make something that mattered to me," Norbu said.
So he created a 3-D model of a landmark building from his native Bhutan.
Now he is looking to expand on that idea with support from Joachim. After the drone is completed, the two plan to use it to take photographs of Wheaton buildings, then incorporate those photographs into CAD software to develop accurate, detailed 3-D printouts of the buildings. Their goal is to construct a miniature 3-D model of the Wheaton campus.
So far, they have used a few of Lab 213's tools for the project, but for Norbu and Joachim, the best part of Lab 213 is what's not there.
"This room is really huge and spacious; that's what I love. You need space when building stuff," Norbu said.
They also have used Lab 213 for classwork. For a final project in "Computer Organization" this past spring, Joachim and Norbu used marbles and cardboard to illustrate how a computer carries out instructions. The assignment also brought Katie Merin '17 and Samantha Yager '17 to the lab. They built a decimal converter out of marbles and plastic tubing—demonstrating how computers convert decimal numbers to binary code.
Merin spent her senior year working as a lab assistant in Lab 213, managing the space during open hours and helping others learn how to operate equipment.
"Using the makerspace helps you appreciate the things around you," said Merin, a mathematics and computer science double major. "There's something to be said for being aware of how an object is manufactured. Being creative is necessary in everything. Even in science and math, you want to think creatively, think outside the box."
In fall 2016, when the makerspace was unofficially open to students, Merin used the lab's resources to craft an art piece for class. In the final week before graduation, she was drawn back to the lab to complete a project she'd started out of curiosity—using a computer application to craft a puzzle, which she planned to print using the lab's laser cutter.
That curiosity—the desire to craft, create, construct or make—is pretty common, and not just among physics majors or art students, said Assistant Professor of Art Kelly Goff, who helps manage Lab 213.
"How often have you met a person of retirement age who says, 'I always wished I'd made …' or 'I have an idea for an invention'? People have an innate need to make things," Goff said.
In fall 2016, he challenged students in his "Sculpture I" class to do a "passion project," for which they could create anything they wanted using techniques they had learned.
"Probably half the class used this makerspace," Goff said. "They thought of this as a secondary resource to realize those projects, which were not specifically dictated by the curriculum. They immediately gravitated toward using newer technologies."
Traveling in place
Getting comfortable with cutting-edge tools and programs is yet another benefit of Wheaton's makerspaces—a lesson that's illustrated well in the new super-smart classroom known as the HATCH.
In this room, Wheaton students can float down the Amazon River, watch Pluto in orbit and visit hundreds of other fascinating destinations without leaving campus.
The room features two virtual reality platforms—HTC Vibe and Oculus Rift—that can immerse users in a variety of educational experiences, as well as two 85-inch, commercial-grade LED television monitors that allow others in the room to view what the person using VR is seeing.
The HATCH officially opened in January, though it was informally used as a digital humanities lab starting in the fall 2016 semester. Like Lab 213, the space has open hours that are managed by student workers.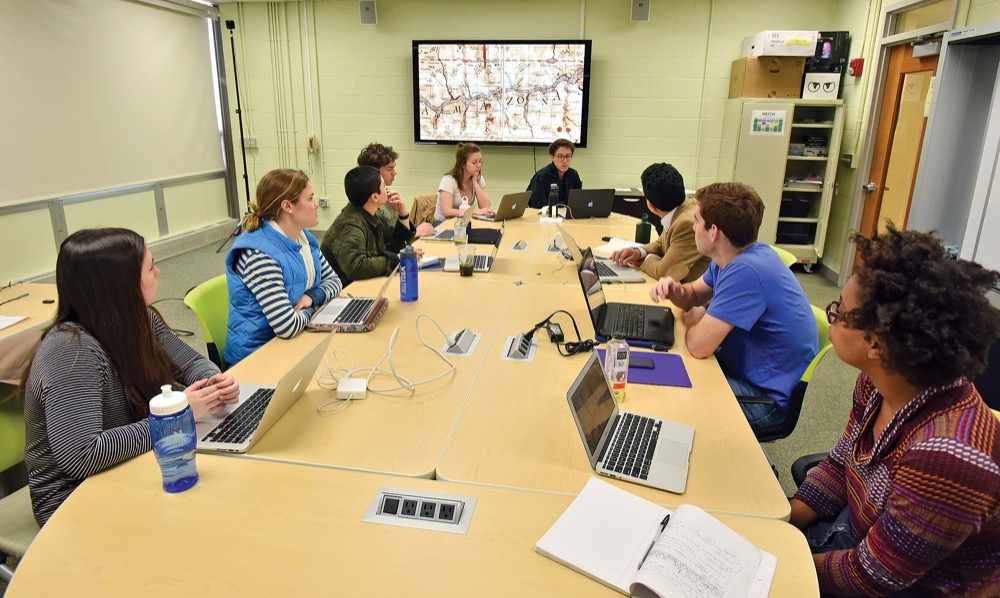 "It's exciting that Wheaton now has a collaborative workspace dedicated to digital research and creativity," said Assistant Professor of Filmmaking Patrick Johnson, who helps to oversee the HATCH and has used the room for his film and new media studies Senior Seminar and "Documentary Storytelling" classes. "Collaborative project-based learning is a critical part of the liberal arts experience, but it cannot exist solely in the classroom. There need to be spaces that foster learning communities outside of academic courses."
Associate Professor of Hispanic Studies Domingo Ledezma has discovered a way to make virtual reality an integral part of one of his courses—allowing students to experience another part of the world.
For his "Voyages, Navigations and Shipwrecks" course this spring, Ledezma had students read a 17th-century Spanish text—the first published account of a voyage along the entire Amazon River in South America—in relation to a manuscript map of the entire river made by a Jesuit missionary in 1691. Each student was assigned a section of the old map and a chapter of the book that described a particular area of the river. Using Google Maps editor and Google Earth, they mapped out and annotated their section, creating a modern itinerary that describes what a traveler would find there today. Then they explored the area using Google Earth VR, recording their virtual trips and sharing videos with the class.
"Google VR is like dreaming. Virtual reality tricks your brain to think that you are in that space," Ledezma said. "With all the information the students gathered, they created their own narrative and interactive map, through the experience of being in that space."
Ledezma believes that virtual reality, and other resources available in Wheaton makerspaces, will become more and more integrated into education.
"The students we have now hear about the technology, but they don't know how to fully interact with it. The students who will be coming in a couple of years will come here infused with all these technologies, and we won't have to show them how to use it but will instead guide them on how to gather information and create knowledge with it," he said. "I think that's where we are moving, and we have to be ready."
While Ledezma's students were traveling the Amazon River down on Earth, Jonathan Friedman '17 spent time exploring outer space, taking a closer look at the orbital relationship between Pluto and one of its moons, Charon.
With the aid of HATCH virtual reality equipment, Friedman built a student-initiated Connection between the "Spatial Dynamics" art course he took his freshman year at Wheaton and "The Solar System," an astronomy course he took in spring 2017. A business and management major with an art minor, Friedman said he enjoys exploring his creative side.
"I wanted to do a final project that related both courses and would allow students to understand how the virtual reality application can connect the arts and natural sciences," he said.
Working with Universe Sandbox 2, a computer application that simulates the physics of space, he recorded videos showing various perspectives of the Pluto-Charon relationship and shared the clips in class.
Friedman said he sees many applications for virtual reality in his planned career in marketing.
"Let's say you're doing some event design for a company, and they want to showcase a new car. You can use virtual reality to show a consumer what it feels like to drive that car," Friedman said. "There are so many things you can do with this technology. It's just such a new field; we're still trying to figure it out. But it helps that I know how to use it."
Still evolving
As these makerspaces approach a full year of being officially open to the Wheaton community, they will continue to evolve.
Johnson spent the summer developing ways to incorporate HATCH equipment even more in his teaching of film studies. This fall he is encouraging students to explore all of the makerspaces in a new First-Year Seminar (FYS).
"The FYS 'Creativity in the Digital Age' will make extensive use of the IMAGINE makerspaces, and hopefully inspire a new cohort of Wheaton makers," Johnson said.
Other faculty are finding interesting ways to incorporate these unique resources into the classroom as well. For example, in spring 2017 Assistant Professor of Business and Management Nancy Scott used the HATCH virtual reality equipment in her "Organizational Leadership" course, asking students to virtually travel to a place in their lives that helped shape them as leaders.
As individuals learn how to use the resources available in these spaces, they will share those models with others, helping to evolve the way everyone at the college learns, teaches and innovates, Christian said.
"I see these makerspaces at Wheaton fostering more robust making; furthering student-centered, collaborative learning and curricular integration; and making the interdisciplinary approach even more tangible," Christian said. "These spaces are poised to complement and further the ways that faculty, staff and students forge the liberal arts in the 21st century."