Making math fun through collaboration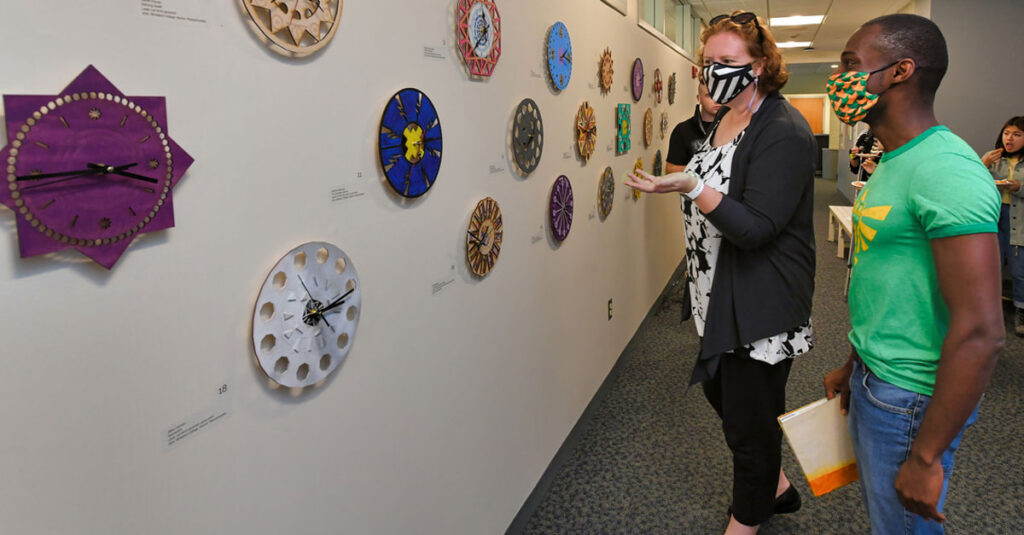 Geometry students get creative applying concepts in Innovation Spaces lab
Math can be challenging, but it also can be fun. Professor of Mathematics Rachelle DeCoste's fall semester "Geometry" course was both as it engaged students in hands-on learning and execution of concepts through a collaboration with Wheaton's Innovation Spaces and Programs.
DeCoste worked with Madison Dunaway, who was at the time coordinator of Innovation Spaces and Programs, to teach students to use OpenSCAD software, the laser cutter and 3D printers to design and produce physical objects. The goal was to help students develop their understanding of geometry as well as their technical skills.
Their creations, including 3D planters, laser-cut artistic clocks and imagined worlds (with accompanying written stories), were showcased in December during the "Geo Fab: Digital Worlds" exhibit in Watson Fine Arts, which had a pop-up gallery opening. Wheaton's Library Technology and Learning Committee awarded DeCoste academic innovation funds to support the cost of the makerspace materials used. View gallery below.
Because the 300-level "Geometry" course was not a prerequisite for anything else and not required for a major, DeCoste said she decided to change up her usual approach.
"I had hoped this would push the students out of their comfort zones in new ways, allow them to use some coding [some of them have had no experience with coding], and use the makerspace lab during the class, in hopes that they would use it in the future," DeCoste said.
Whitney O'Reardon '22, who trains students to use equipment and software in the makerspace, said she was drawn to the class because it seemed a perfect match for her skills, academic curiosity and the need to complete her minor in math.
For the final project, O'Reardon worked with two other students, Jillian Hanson '22 and Dylan Peczka '22, to create a wire and fabric sculpture of a "double-rooted tree."
"Our prompt for this was to design an imaginary world based on a geometry concept we learned about. The tree is an object from my group's world, which we imagined to have sort of two grounds where a tree could grow roots in either direction," O'Reardon said.
"Geometrically, this works because of an idea we learned about called 'gluing,' where one side of an object is attached to an opposite side to create an infinite loop. Making the sculpture was very fun, and we got to use a lot of creativity while doing so," she said.
Kobe Collison '23, a computer science major, like O'Reardon took "Geometry" to complete his minor in math.
As a final project, he worked with Nick Hughes '23 and Bret Lotti '23 to create a model of a roller-coaster that is encased in a 3-manifold, a three-dimensional space.
"I enjoyed the revisiting of terms thought of normally as common knowledge," Collison said. "It made me reconsider things as basic as 'what is a straight line?' and go against my intuition of how certain geometries should behave by exploring the implications of said definitions."
The "Geometry" course gave Eva Danielson '22, a math major, a final opportunity to take a class with DeCoste.
"She has been one of my favorite professors at Wheaton and I wanted to take another class with her as it's always a unique experience," Danielson said. "My favorite item in the pop-up gallery is my clock. …I most enjoyed the balance of pure math with the application to the physical creative projects we made."