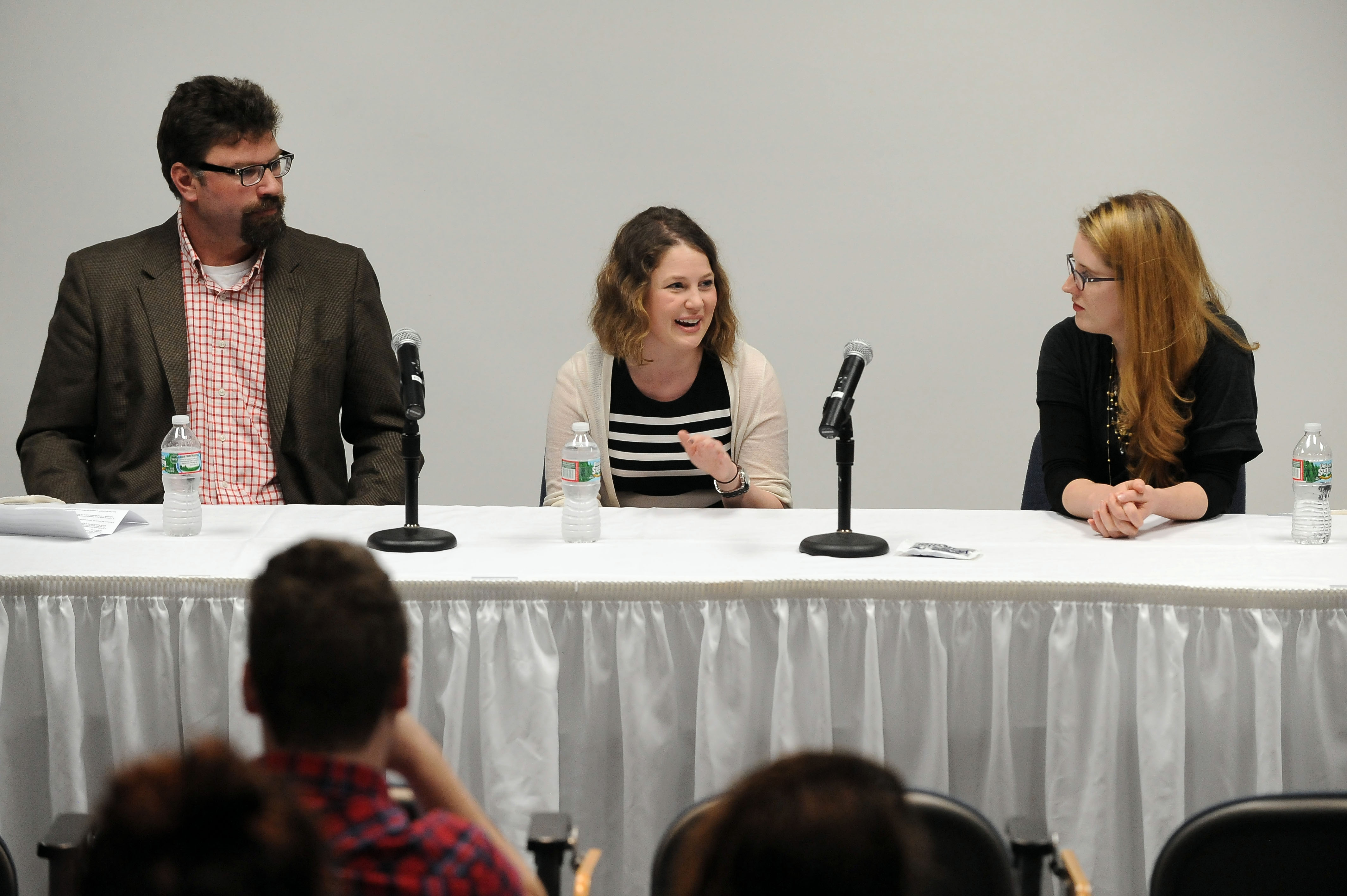 Film and new media studies wasn't a major at Wheaton College when David McKinley '95, Rachel Bowie '04 and Lisa Madison '05 were students. But they all ended up with successful media careers and they all say their liberal arts education helped them get there.
The three graduates were back on campus on Tuesday, April 8 to talk about their experiences during Wheaton's first LEAPS (Liberal Education And Professional Success) panel discussion. Sponsored by the Wheaton Institute for the Interdisciplinary Humanities (WIIH) and Wheaton's Film and New Media Studies program, LEAPS aims to give students insight into making the transition from liberal arts student to young professional, from Wheaton alums who not long ago were right where they are.
Associate Professor of Film Studies and English Josh Stenger said that the value of a college education these days is often measured by financial success, by how quickly graduates obtain gainful employment and how much they make. But that assessment doesn't take into account the importance of education itself and how it can be applied to a rewarding career.
"We recognize that both of these [ways of measuring college value] are important, and we wanted to try to find a forum that would acknowledge that," he said. "You need to have jobs that pay you enough to live the life you want when you're out of here, but you shouldn't be here if you also didn't want an education."
Learning how to talk
McKinley's path to a media career involved a few turns. After graduating from Wheaton with a music degree, he worked for a short time as a shantyman aboard a schooner in Maine, where he actually sang for his supper (making $100 a week). He then dabbled in sales before a tech recruiter friend helped him get a job in computers as a software developer and consultant.
"Here's where the whole liberal arts connection comes in," McKinley said. "It's not about the fact that I knew a guy who knew a guy. It's the fact that my very first job in tech was not about programming computers; it was not about being an expert in any one given technology. It was about talking to people."
His job required him to stand up in front of a group of people and present—a skill he said he learned as a music major at Wheaton.
"I've done all this really cool stuff," McKinley said, sharing stories about flying in a private jet and working on a yacht that had a helicopter. "The reason I've done it is not that I was the best engineer in the room, although admittedly I'm pretty damn good at that stuff. It's the fact that I'm able to present. I'm able to take business requirements and business talk and translate it into technical action and be a go-between, and that's something that liberal arts gives you that an engineering degree doesn't."
McKinley, who now works as chief technology officer at Oomph Inc. in Boston, said his Wheaton experience gave him another important gift: His wife. He met Leslie (Badham) McKinley '94 when he was a sophomore, and the two sang together in the chorale. They are now married with two children, ages 3 and 10.
The desire to learn
Bowie also flexed her vocal cords at Wheaton, as a member of the Wheatones a cappella group—an experience she happily shares with "everyone I know." She studied sociology at Wheaton but knew from the start that she wanted a career in magazine publishing. That goal almost led her away from Wheaton when, as a freshman, she applied to and was accepted at Emerson College in Boston to study journalism. Her English instructor, former alumnae/i magazine editor Jayne Iafrate, convinced Bowie to stay, saying that a liberal arts education would make her a better reporter.
"I am so thankful to this day that I took her advice and stayed at Wheaton," Bowie said. "I ended up going to Emerson to get my master's degree, but everything I do now involves skills I learned at Wheaton. You're in an environment where you're taught how to think. You're taught how to ask the appropriate questions when you're writing a story. That is so essential to everything I do."
She also credited her experience with the Wheaton Wire, which gave her a strong portfolio of writing samples.
While at Emerson studying print journalism, Bowie landed an internship with Boston Common magazine, which later turned into a job. But Bowie felt she belonged in New York City, so she moved there after finishing her master's, taking freelance assignments to make ends meet until she got a job. She now works as associate editor of digital editions for Good Housekeeping magazine.
While interviewing for the position, Bowie said she was honest about not having some of the necessary skills, such as video editing.
"My editor said, 'There's something about you that I know that you're going to want to learn it.' And I think that's what Wheaton gave me," Bowie said.
She has since learned those skills, and more, thanks in part to an educational stipend offered by her employer.
Having gumption
Inspired by her parents, who own and operate a winery in New Mexico, Madison has spent most of her career "purposefully avoiding having a boss." Three years ago, she co-founded a small production company in New York City, StoryKeep, which creates audio and video documentaries for families, capturing life histories, special events and other personal stories.
After graduating from Wheaton with an English degree, Madison ended up in Washington, D.C. where she worked as an administrative assistant for the American Institute of Architects. She didn't care for the job and, feeling directionless, thought back to her time at Wheaton.
"I remembered being down in the bowels of the library. Josh [Stenger] was teaching a class on [the film] 'Gilda,' and I was reading about the theory of film and totally having a blast over in my little corner of the library and realizing … you can really do anything that you put your mind to," Madison said.
She moved to New York, got a master's in media studies at The New School, and began working on documentary films for nonprofits, developing a strategy for promoting small films through the same Web platform used by political candidates during their campaigns. Through that work, she met her business partner, Jamie Yuenger, and eventually launched StoryKeep.
Starting a business and continually convincing clients to hire her to capture their personal stories has required a certain amount of what Madison calls "gumption."
"People believe what you say you do, and then you do it to back it up," she said. "I think Wheaton gave me that courage."
Though she is interested in pursuing more film documentary projects—she recently traveled to Vietnam for a film on sex trafficking—Madison said she truly enjoys working at StoryKeep.
"I love my job," she said. "I just love owning what I do."
Wheaton students live-Tweeted the event using their phones and computers and the hashtag #LEAPS and #fnm231 (the course number). Their stream of comments and callouts created a buzz on Twitter, with #LEAPS taking the No. 1 spot for several hours in the Top 20 Twitter trends for the Providence area on Tuesday, April 8.
Photos by Keith Nordstrom