Making fashion statements
Clinton O'Dell brings characters to life through designs
Whether on stage, television or the movie screen, characters depend on Clinton O'Dell, associate professor of theater and chair of the Theater and Dance Department. He designs and executes (sews, buys and/or rents) the clothing actors wear to bring characters to life, including in the feature films "Black Mass," "Ghostbusters" and "The Women," to name a few. Now in his 13th year at Wheaton, his handiwork will be on screen in the ION Television holiday movie "A Snow White Christmas," which debuts on December 9 at 9 p.m. (Pay close attention to the scene where the main character leaves a ballet performance; she's wearing a dress O'Dell made for a Wheaton production years ago.) We asked him about his work.
What led you to become a costume designer?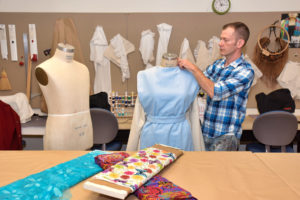 "I never intended to work in the theater. We had no theater program in my high school, and I had only seen two plays by the time I got to college. However, I have been drawing and painting my whole life, and I initially majored in studio art as an undergrad at West Virginia University. I took one costume design class in undergrad and I got hooked, so I studied both costume and scene design in my M.F.A. program. I realized that putting clothing on a human body is such an intimate way of communicating about a character. I've always had this love for the storytelling power of images. Every single item we see is telling us some sort of story about itself. Because visual elements are nonverbal, they can become such an intimate, visceral way of exchanging ideas and emotions, getting underneath the surface of things and digging out what might be hidden in a text. This is all especially true of clothing and costume. Costume and scene design allow me to tap into all of that. I get to connect to an audience, and "speak" to them about people and ideas, environments and circumstances. Costume and scene design let me create images that come alive and breathe and move in front of an audience."
Tell us about your current TV and film projects.
"In August, I costume designed my second film, a romantic little Christmas movie titled 'A Snow White Christmas.' It will be airing on ION Television this holiday season. I'm also working intermittently on a TV series for AMC, called 'NOS4A2,' which is filming in Rhode Island. I am what we call an 'ager' in the wardrobe department. We paint, sand, dye or airbrush clothes to make them look old or dirty, or just feel lived-in."
What has been the most fulfilling costume design work you have done at Wheaton?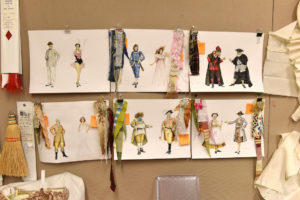 "That's almost impossible to answer. Each design is so different. I really like the projects that let me explore a new question, or a new technique. I love projects that get students excited, both as creators or audience members. There are moments where I'm in a fitting and the actor puts on the costume for the first time, and I can literally see a spark in their eyes. Suddenly that person understands that character in a new way because of those clothes. It happens all the time. And, occasionally, that actor might discover something new about her/himself. A confidence, a sense of humor, a wickedness. Something they didn't know was in them before. It changes how they carry themselves, what they present to the world. That is a really fulfilling part of my job."
 What are the biggest lessons you hope students interested in this work learn?
"I hope students look more deeply at the things they see and spend time really examining the reasons those things look the way they do. I hope they spend time really exploring their own responses to what they see, what they feel, what they think. I see a lot of students who believe they shouldn't explore theater or design because they don't have a great foundation in visual art. They say, 'Oh, I could never draw,' or 'I can't sew things or build things.' They discount their own potential. Then I see those same students surprise themselves by what they can eventually accomplish. More than anything, I hope this work provides students with moments where they realize that more is possible, that they are capable of so much more than they first thought. I hope they realize the potential that's already waiting inside them."
Does your design approach differ for theater vs. broadcast?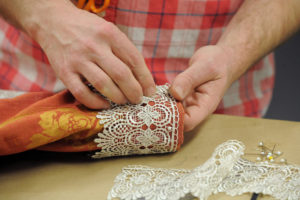 "There are really two phases to my process: the dreaming and the doing. The dreaming phase is sort of the same for film or theater. It always begins with the script, the text. I read it numerous times to try and tap all the emotional content as well as the practical questions. Who are they? Where are they? When is it happening? Where is the conflict coming from? Then there is a lot of research. I'm constantly collecting emotional inspiration research along with more concrete fact-based images so I can inform myself about the world we are creating. I have to do that first before I can even think about informing an audience. The 'doing'phase is very different for theater and film. Theater happens in real time. It happens in a sequential order. In film, everything is shot out of order and that is often determined by the availability of actors or certain locations. For example, on 'A Snow White Christmas,' Carolyn Hennesy [Victoria Snow in the movie] was only available for the first two weeks of filming, so we shot all her stuff first, including the end of the movie. That means you have to organize the clothes differently so they are ready when needed, whereas in theater every costume has the same opening night, so to speak. Also, with film you have the luxury of shooting it as many times as it takes to get it right. For costumes, that means you end up having multiples of the same costume so you can do it again and again on the same day. When I worked as an ager on 'Ghostbusters,' we had about 40 grey jumpsuits for the four main characters, which got progressively more beat up throughout the film."