Making connections in Madrid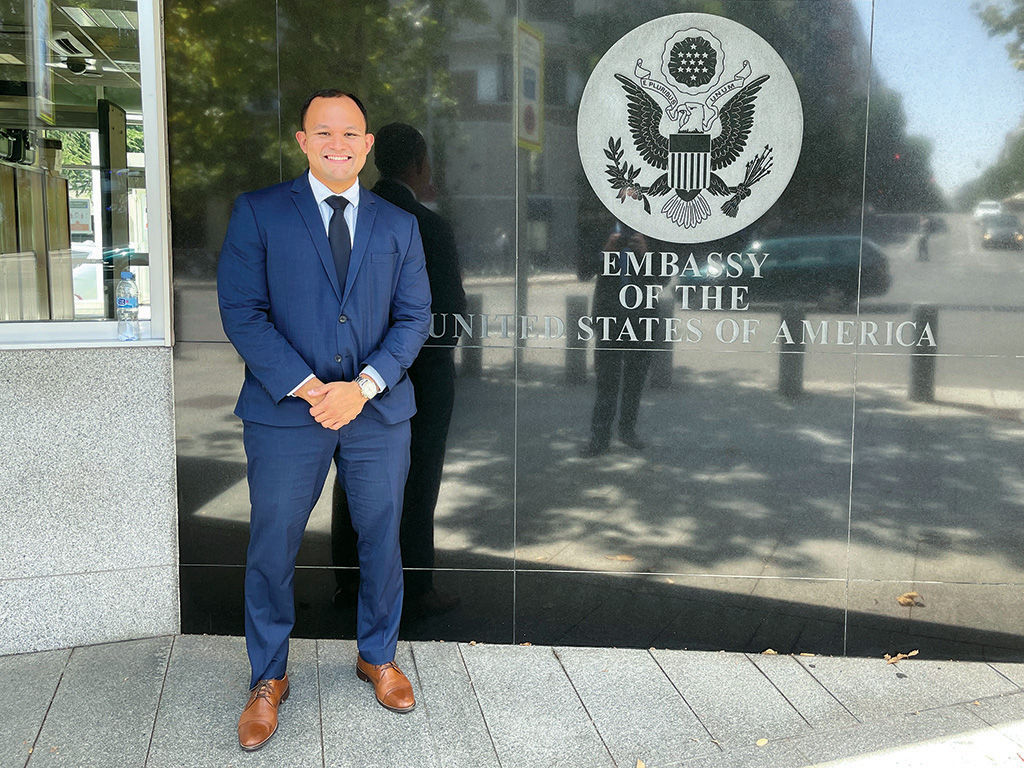 Alexis Nieves '14 builds relationships, advances U.S. interests as foreign service officer
By Sandy Coleman
Throughout his life, Alexis Nieves '14 has paid keen attention to inspiration as it has shown up in various ways, guiding him to his career in international relations.
He is a U.S. diplomat/foreign service officer currently assigned to the U.S. Embassy in Madrid, Spain. In his role, he represents the government and people of the United States by maintaining relationships with foreign countries and international organizations. The goal is to promote and protect U.S. political, economic and commercial interests overseas, fostering strong connections.
The journey to Spain began at home in Brooklyn, N.Y., where his mother was a daily reminder of all that is possible, and it winds through Wheaton, where his first international relations class fueled an interest in global interdependence and led him to double major in international relations and Hispanic studies.
Nieves's mother emigrated to the United States more than 30 years ago, fleeing civil war in El Salvador, he said during a Zoom interview one evening after walking home from his office at the embassy in downtown Madrid.
"Her story inspires me a lot. She came to the U.S. and began as a housekeeper, learned English and worked her way to becoming an educator. Seeing her trajectory and leadership by example has been a major source, if not the biggest source, of inspiration in my life," Nieves said.
"And, I think, it is only in the U.S. that the son of a migrant, whose first job in the U.S. was as a housekeeper, could go on to become a U.S. diplomat. And my story isn't special. It is America that makes it possible."
Nieves (who is fluent in Spanish and has a professional proficiency in French and Portuguese) tells this story as he talks about his work, his career path and why it was important for him to make a virtual visit back to Wheaton during the spring semester. At the invitation of Associate Professor of Hispanic studies Montserrat Pérez-Toribio, Nieves shared how he landed his job, provided advice and encouraged students to believe in all possibilities—paying forward inspiration.
Mission-driven work
Currently, Nieves serves as vice consul in Madrid. Foreign service officers are assigned to roles for two years in various countries. Job titles and responsibilities may change based on the assignment.
In addition to representing the United States, he also provides emergency and non-emergency services to American citizens and is charged with the adjudication of visas to foreign nationals and passports to American citizens as well as immigrant and non-immigrant visas. Prior to his Madrid assignment, he was the economic officer in the U.S. Embassy in Port au Prince, Haiti.
"I always wanted to serve my country and make a difference in people's lives. I wanted to be on the forefront of foreign policymaking and represent my country abroad," he said. "My mission in life is to leave this world a better place. I believe that my aspirations have to be broad enough to include the needs of others. Foreign service fits into this sense of self and mission because it is a career that affords me the opportunity to apply my professional and lived experiences to address the great challenges of our time—climate change, national security issues and so much more."
One of his proudest moments occurred at the start of the COVID-19 pandemic when he worked with officials in Haiti to help the U.S. solve a major shortage of medical personal protection equipment.
"Haiti is a country that has many factories where garments are produced," he said. "During the pandemic, working with colleagues, I led an initiative to encourage the Haitian government and factories to switch their production modules from producing garments to medical personal protective equipment for export to the U.S. For me, being able to contribute, even something as small as that, was something I felt proud of. Haitian factories ended up exporting more than 500,000 masks to the U.S."
More recently, starting in August, Nieves worked on the State Department's Afghanistan evacuation efforts at a Madrid military base that is serving as one of many transit sites. 
"I helped to facilitate the evacuation of Americans, their families, citizens of allied and partner nations, Afghans who have partnered with us over the last 20 years, and other Afghans at risk," Nieves said. "This is the sort of duty I signed up for five years ago when I pledged allegiance to America. This is the type of work that makes me proud to be a diplomat and contribute to changing lives."
A roundtrip ticket to Spain
Nieves studied abroad in Spain in 2013 with Programa de Estudios Hispánicos en Córdoba, a language and cultural immersion program at the University of Cordoba.
"What drew me to Spain was the culture, the language and the fact that my mom's great-grandfather was from here. It's one country I've always wanted to explore. For me, there is a lot about the country's values and lifestyles that speak to who I am. There is obviously a connection there with the Spanish language," he said.
His study abroad was a perfect complement to his Hispanic studies at Wheaton as well as a source of adventure to fulfill a long-held desire to explore the world.
While studying abroad in Spain he found out that he had won a Thomas R. Pickering Foreign Affairs Fellowship—the first student to do so in Wheaton history. The highly competitive program, funded by the U.S. Department of State, selects and prepares undergraduates who are interested in international relations and foreign service careers.
The fellowship provides professional development opportunities; covers the expense of graduate studies at designated institutions; and offers a domestic internship at the State Department in Washington, D.C.; and an international internship at a U.S. embassy, consulate or diplomatic mission around the globe. Fellows agree to a five-year minimum commitment as a foreign service officer.
"Coming back here [to Spain] as a diplomat is pretty awesome; it is coming full circle," said Nieves.
Because of his mother's story, he had an interest in the plight of immigrants in the U.S. that he pursued at Wheaton.
"I had an intellectual thirst to unravel why people decide to leave countries they consider home to travel and migrate to different countries in search of better economic opportunities," he said.
It was at Wheaton that Nieves discovered his passion for international relations and foreign policy.
"I wanted to understand how international events impacted us in the United States. I understood early on that we live in an interconnected world and that our future prosperity and security as a nation relies heavily on our ability to keep our diplomatic ties with other countries strong," he said.
That understanding was deepened in the class "U.S. Foreign Policy," taught by Professor of Political Science Darlene Boroviak. She remembers Nieves with the same amount of admiration he has for her.
"I was delighted to work with Alexis. It is one of the great pleasures of teaching to watch a student 'catch on fire,' and that is what I saw happening with Alexis in that course," Boroviak said. "I could see that he was discovering how his genuine interest in international affairs could be transformed into practical policy outcomes. In this course and in the 'International Law' course, Alexis stood out because of his cosmopolitan understanding of global issues and his enthusiasm for learning. I am sure this is what carried him through a challenging graduate program and into diplomatic work."
Nieves, who is a Posse Scholar, has a master's degree in international relations and national security studies from The Fletcher School of Law and Diplomacy at Tufts University.
A virtual visit to Norton
Nieves's passion for his field of study and his work came across loud and clear when he paid a virtual visit to Wheaton during the spring semester in Professor Pérez-Toribio's course "The Hispanic World: Spain."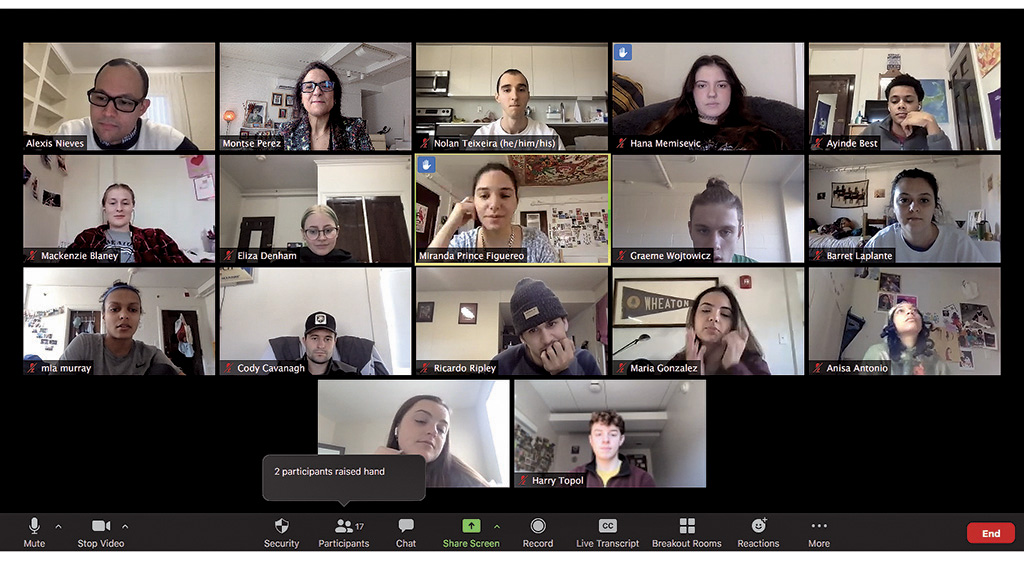 Pérez-Toribio invited a variety of guest speakers to encourage students to expand their knowledge of Spain's cultural diversity and practice their language skills with native and fluent Spanish speakers.
"Since many of our Hispanic studies majors and minors were not able to go abroad due to COVID-19, I thought it would be nice to bring Spain and the experiences of a group of Spanish citizens and residents to our classroom," said Pérez-Toribio, noting that Nieves presented in Spanish. "The ultimate goal was to provide a safe and comfortable virtual space where students could be curious, ask questions in Spanish and make connections with the materials learned in class."
Nieves was happy to accept the invitation to share his journey and Wheaton's role in his success. "It was a great opportunity to talk to [Pérez-Toribio's] students about how her class helped me improve my Spanish. Taking a class with her made me even more curious to go to Spain."
While in high school, Nieves didn't even think he would be able to afford college—until he won a Posse scholarship in 2010.
"That changed the course of my life. I can't imagine where I would be without that opportunity. I'd like to think with my work ethic that I would be somewhere, but I don't know if I would be where I am now," he said. "The Posse scholarship led me to Wheaton and then Wheaton just opened up a floodgate of opportunities and those opportunities led me to where I am today.
"Wheaton helps to cultivate your potential. It gives you the setting you need to think about the change you want to make in the world," he said. "Those classroom conversations, office hours with professors, the small student-to-faculty ratio and the academic environment really allowed me and others the space and the opportunity to really think and reflect on what kind of change we want to make in the world and the ways in which we are going to pursue our dreams and chase our goals."
He has kept in touch with many of his professors and often asks for advice. This time, he was providing advice to students.
"One of the biggest pieces of advice I give people all the time is to hone in on their public speaking and written communication skills because regardless of the job you have in the future, those skills go a long way," Nieves said.
"I told them to seek out opportunities for professional development and to network. I told them to embrace the feeling of discomfort, to put themselves in positions where they might be uncomfortable because those tend to be the positions where we grow the most. I think sometimes when you are really uncomfortable in a place or when you get outside of your comfort zone, as cliché as it sounds, it really pushes you and it really helps you grow," he said.
"The last piece of advice I gave them was to embrace adversity. There is no way of avoiding adversity. Adversity is a natural part of life, so we just have to learn how to embrace it and learn how to make the most of it and learn how to persevere."