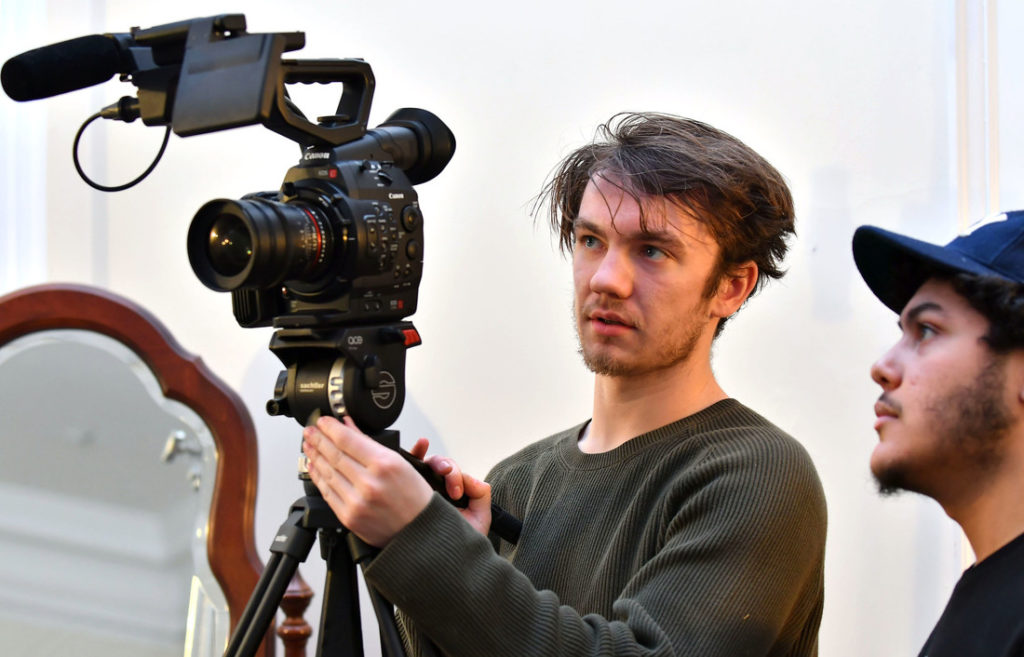 Michael Kristy '18 integrates feature film project into Wheaton education
Before arriving at Wheaton, Michael Kristy '18 set a goal of making one short film each year of college and a feature film his senior year.
And that's what he did. (Actually, he made eight.)
This spring, Kristy is wrapping up post-production work on his full-length feature film "Paint the Eyes First"—the first feature produced by a Wheaton film and new media studies major. The movie, a drama with some comedic elements, tells the story of James (played by Kristy), a young man battling drug addiction who finds himself homeless during a bitterly cold winter and is taken in by a young couple.
The film explores themes of family and friendship and attempts to put a human face to the very real U.S. opioid crisis, Kristy said.
"For a while I've wanted to show a drug addict in a film that was a real person you could care about and never expect he'd be coping with such a problem," Kristy said.
View photos from behind the scenes
He recruited 12 Wheaton students and two recent graduates to serve as actors, camera crew and in every other capacity, from costuming to scouting locations.
Film and new media studies major Izacco Lozon '20 was looking for a chance to get behind the camera his first year at Wheaton when he heard about Kristy's project. He served as key grip and first camera assistant, supporting the director of photography, Dominick Torres '20.
"The process has been exhilarating," Lozon said. "I learned something new every day."
Most of the movie was filmed over 20 days this past winter break, in Sandwich, Mass., and at the Thayer Performing Arts Center in Lancaster, Mass., with additional scenes filmed at Wheaton. The actors and crew packed eight pages of script into a workday (about twice the amount in half the time as a typical feature film, Kristy said).
"Production was very hard, constant work: we pulled some long days to get this project finished," actor Brendan Geiger '18 said. "It was challenging in so many unexpected ways, but at the end of the day it was super rewarding to sit down with Michael, look at the footage we got, and see how professional the whole thing looked."
Geiger, a double major in English and secondary education, played the role of Alex, the husband of Sam (played by Aileen Archambault '18). He also assisted with props and creating promotional art for the film.
This was Archambault's first time on a film set, and she found the experience both overwhelming and rewarding.
"One thing I underestimated was the amount of work that goes into one scene," said Archambault, a double major in psychology and women's and gender studies. "There were a lot of tough scenes, and being vulnerable in front of a group of people I was just getting to know was pretty scary, but that's what being a crew is all about."
Work on "Paint the Eyes First" began in fall 2016 when Kristy, then a junior, wrote the screenplay over Thanksgiving break, then presented it to Assistant Professor of Filmmaking Patrick Johnson for an independent study. That spring, Kristy and the other actors (Geiger, Archambault and Michael Sadowsky '18, who plays James's brother Noah) worked to hone their acting skills and develop their characters under the guidance of Wheaton theater professors Stephanie Daniels and David Fox.
Kristy also received help from Associate Professor of Music in Performance Earl Raney, who is writing the score for the film and offered a location for filming after the two worked together on Kristy's short film "The Mope."
In fall 2017, Kristy completed pre-production work during a Senior Seminar with Associate Professor of English Talitha Espiritu, who also serves as his academic advisor.
"The film is the culmination of Michael's creative development in the film and new media studies major, as a screenwriter-filmmaker-performer and as a creative entrepreneur," Espiritu said. "To make this film, not only did he have to push the limits of everything he's done thus far but he also had to learn on his feet how to raise the funds he needed to complete the film and to market it on social media."
This spring, Kristy is completing post-production on the film during another independent study with Johnson.
"A large part of my role has been to find ways to integrate the film into Michael's academic studies, offer script notes on the various drafts, and support the project with equipment," Johnson said. "When you have a student as independent and self-driven as Michael, you support them as much as they need and then get out of their way."
While the project is "incredibly ambitious" for an undergraduate, Johnson said he had full confidence in Kristy's abilities. And he could easily see the educational value of creating a full-length film.
"Filmmaking in general requires an incredibly broad range of skill sets. There are all the creative aspects: writing a script, breaking it down into visual shots, refining the story in editing, etc. There's also the project management side; recruiting crew, actors, locations, props and other resources. And you are constantly solving issues that arise, both in the logistics of the project and the creative constraints that emerge," Johnson said. "The process of making a film merges creativity, personal expression, logistics and real-world problem solving in a very dynamic way."
Kristy said he started making films around seventh grade, drawn in first by the chance to be in front of the camera and then by the opportunity to tell stories. He chose Wheaton so he could focus on both film and computer science (his second major), and because it offered him the flexibility and support to pursue his goals.
"If it wasn't a liberal arts college or it wasn't a college like Wheaton, where it's small enough that I know the professors, I don't think I'd be able to walk into Patrick's room and be like, 'Can my next four classes be a feature film?' and have him say, 'OK,'" Kristy said.
Though he is producing the movie in college, Kristy has tried to avoid labeling it a "student film"—seeking feedback online and in person that doesn't include that detail.
"The biggest compliment I ever got was when someone said that I forgot to list the rest of my crew in the credits [for a short film], when in reality there were really just two people on crew," he said. "I wanted to make a feature my senior year because I know with the caliber of talent at Wheaton we can make a film that can contend with anything."
Kristy plans to finish "Paint the Eyes First" this spring and to hold a premiere at Wheaton.
"Then moving on from that, we'll start to branch out to all the festivals, and then hopefully it will get picked up there, and then if it gets good reviews, it'll spread," Kristy said.