Making a difference in the COVID-19 fight
Professors, student sew face masks in effort to prevent spread of coronavirus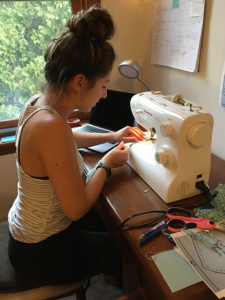 The Centers for Disease Control and Prevention has encouraged the use of cloth face coverings by everyone to help slow the spread of the coronavirus. A Wheaton College student and two faculty members are doing what they can to help by sewing face masks, underscoring the fact that everyone can play a lifesaving role during the current crisis.
Rebecca Livingston '20, a double major in business and management and elementary education, is sewing masks for medical professionals in western Massachusetts to help address equipment shortages. Associate Professor of Theater Design Clinton O'Dell is making masks for a Rhode Island rehabilitation facility and Associate Professor of Psychology Kathleen Morgan is making masks for the emergency room staff at Beth Israel Deaconess Hospital in Plymouth, Mass., where an alumna works as a nurse.
A news article inspired Livingston to get involved.
"Since the start of this pandemic, I have become slightly obsessed with the news. I found myself reading many articles about COVID-19 and our society's response to it," she said. "One night I landed upon an article about a community that was responding to the lack of PPE [personal protection equipment] in hospitals by sewing homemade masks. I was immediately intrigued and wondered if I could do the same for my community. I retrieved my dusty sewing machine from my basement, with the intention of relearning my sewing skills from my elective clothing classes in high school, in order to start mask production."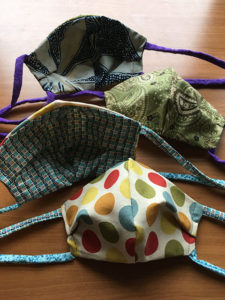 After a little practice and finding a pattern online, Livingston began making masks. So far, she has created 25 cloth masks that are designed for medical professionals to wear over N95 masks to make them reusable during the supply shortage. She dropped off her first batch at a designated location in the South Hadley, Mass., area, and she plans to make more as long as there is a need.
Livingston spends a few hours a day prepping and sewing in an assembly-line fashion, using fabric that she bought a few years ago. A family friend also gave her fabric.
"I have been staying in touch with many of my family members who are still working as essential workers during this pandemic, so, I know firsthand about their worries and fears due to their own lack of PPE," she said. "I know that this fear reverberates across the country, so, if I can help reduce this in my own community in a small way, I am eager to do so. Working with artistic mediums from fabrics to ceramics is something I have always enjoyed. To be able to donate my time and work for such an important cause gives me great joy.
O'Dell is sewing masks for Phoenix House, which he saw was seeking help via a Facebook post. Phoenix House, an outpatient and residential treatment facility with several locations in Rhode Island and elsewhere, provides care for those struggling with substance abuse.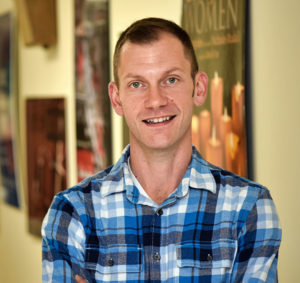 "I had already been thinking about the difficulty that social isolation presents for anyone moving through an addiction/recovery scenario. For people who are experiencing addiction issues or are doing the hard work of recovery, isolation can be a big pitfall—and a dangerous one," O'Dell said. "Knowing that so many people depend on the face-to-face connection and communal interaction of recovery programs in order to find their way through the process, I had been worrying how those folks would navigate a world where isolation is dangerous in one way and socialization was dangerous in a different way."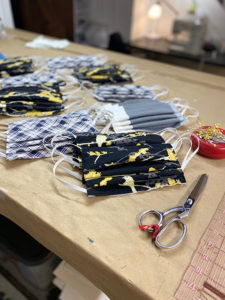 O'Dell, a costume designer who has done work for TV and feature-length movies, used the fabric he happened to have on hand. So far, he has made 40 cotton masks for Phoenix House. He recently acquired 50 yards of elastic, which should be enough for about 100 more masks, he said.
"It's so easy to slip into a feeling of helplessness. It's easy to think that because one isn't a doctor or nurse or trained health care provider, then there is not much one can do to be useful," he acknowledged. "I certainly thought that—what good is a costume designer in a global pandemic? But I just happen to be an artist with a lucky skill set who knows how to make some things that people have a real need for right now."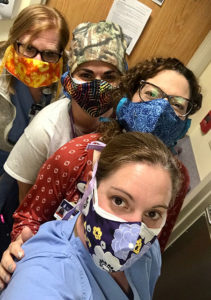 In addition to making masks for family, friends and others who request them, Professor Morgan has been making masks for the emergency room staff at Beth Israel Deaconess, where Alexandra Lund '13 works as a nurse.
"Sewing is what I do when I am not teaching, grading or working on other Wheaton projects. I feel a deep responsibility to those who are putting their lives on the line for us every day and I will keep making masks and sending them to Beth Israel until Alexandra tells me I can stop," said Morgan, who also now is working on surgical caps.
Lund said the professor, who was her advisor and research supervisor, has become a lifelong dear friend. "She is passionate about helping her students succeed—during their time at Wheaton and beyond," said Lund, who majored in psychobiology. "Her skill with a sewing machine has provided myself and my coworkers protective equipment that is both high quality and beautiful—something that has made our days a little brighter during this not-so-bright time."