Makeover for Peacock Pond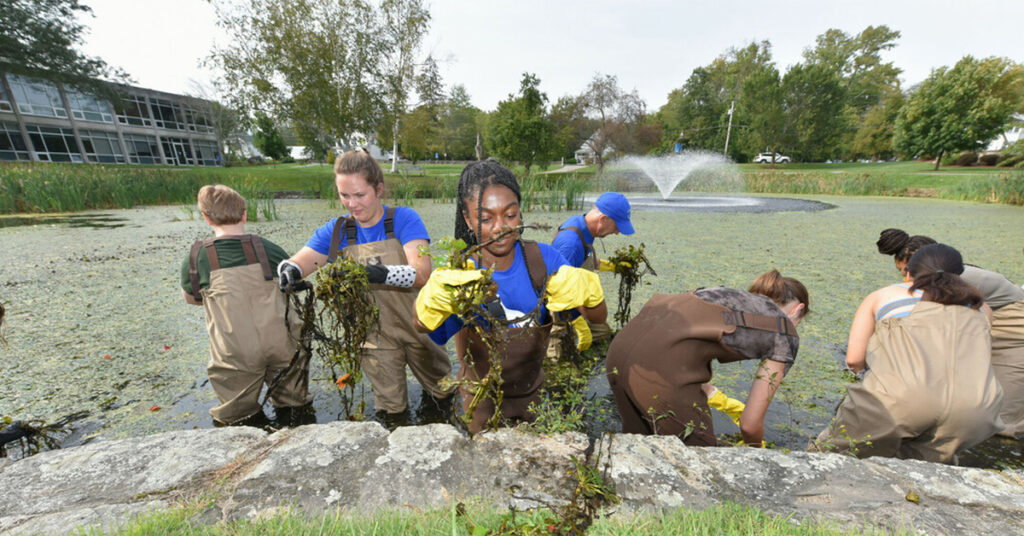 Student-led cleanup targets invasive plant
The unseasonably hot day on Wednesday, September 15, provided the perfect backdrop for taking a plunge into Peacock Pond. But the Wheaton students who ventured into these waters in rubber boots and waders had a more pressing mission at hand: removing stubborn, invasive plants. Image gallery below.
Sophomore Abigail "Abby" Tinkham, who organized the cleanup, said she first noticed the non-native invasive water chestnuts in August during lunch breaks when sitting on a bench near the pond. As a resident advisor, she had returned to campus early to prepare for arriving students.
"It looked pretty bad, so I reached out to [Instructor of Biology] Deborah Cato to see if there was anything we could do," said Tinkham, who is double majoring in biology and English.
After a chain of email communications with students, faculty and staff, an effort was underway to clear out the water chestnut that was damaging the ecosystem of the pond.
This was the second time that a group of students has donned waders to pull out the water chestnut using their hands, rakes and other tools. Earlier this month, Tinkham said about 70 students cleaned the eastern end of the pond, and the resulting piles of the plant took hours to remove.
This time, the students received a little help from a friend. President Dennis M. Hanno arrived with specially-made T-shirts labeled "Peacock Pond Cleanup Crew" and suited up to join the effort.
"It was really nice to see the physical progress we made after many hours of work. It's good motivation," Tinkham said.
Cato said that the cleanup would not have happened without Tinkham's initiative and the volunteer efforts of so many students.
"It was hard physical work that was eagerly done," Cato said.
She also thanked the groundskeeping crew—in particular Mark Flanagan, who serves as acting lead for grounds—for their work picking up and removing the piles of plant debris.
"That's a lot of work. It takes a community to make it work. And Wheaton works," Cato said.