Maintaining mental health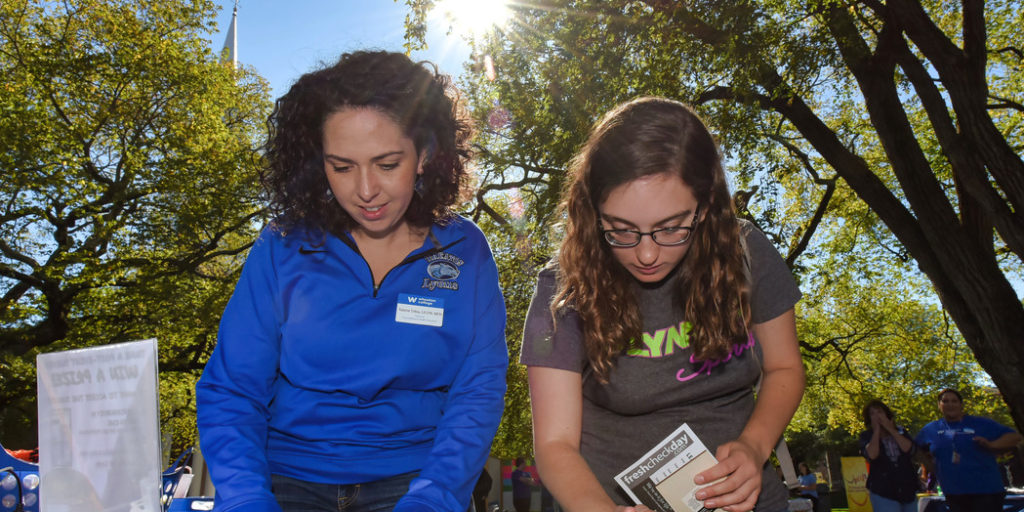 Counseling center director offers advice on wellness during challenging times
Valerie Tobia '07, director of Counseling and Health Services at Wheaton, oversees all aspects of Wheaton College's Counseling Center, including programming, outreach, training and the providing of and coordination of services for students. Although the college has switched to remote operations because of COVID-19, Tobia is still working to support students during this challenging time. Magazine editor Sandy Coleman asked her a few questions about best practices for maintaining mental wellness.
How are you feeling right now since the change in operations on campus and beyond?
"From a public health perspective, going remote and enforcing social distancing was the right—although very difficult—move to make for the college. This is also sad as it changes many things for students, faculty and staff and inherently brings about a sense of uncertainty, loss and worry. Personally, I am hoping that we all can stay safe, follow the social distancing so that individuals who are asymptomatic [not showing symptoms] do not pass on the virus to their loved ones, and the virus can be contained as soon as possible so that we can all be back on campus together."
Do you have a sense of the range of feelings students may be experiencing right now?
"The global and very personal impact of COVID-19 is something that evokes many feelings in all of us. This is not the way any of us imagined the semester going at Wheaton. I would imagine the whole spectrum of feelings would be washing over everyone at this time—loss, uncertainty, fear, anxiety, depression, concern. This situation will affect each of us differently due to our circumstances, privileges, access to needed resources and personal needs. Thus, I encourage students to reach out to friends, trusted individuals and professionals for support if they need it. This is an anxiety-provoking time for everyone, and we're all in this together as a Wheaton community and as a world. Even though we are physically not together, the way we will get through this is by relying on and supporting one another when we need it."
What advice would you give to students regarding dealing with a sense of loss or disappointment?
"Loss and disappointment regarding this sudden, unexpected and unwelcome change are normal and totally expected. Sometimes reminding ourselves that it is OK to feel these emotions, and giving ourselves permission to sit with our feelings, can be powerful and important. When students are feeling a sense of loss, a suggestion might be to connect via social media—using Facetime, Google Hangouts, Zoom—to see one another, celebrate milestones and birthdays, and recreate Wheaton traditions from afar."
What do you recommend for trying to maintain a sense of normalcy?
"First, realizing that there isn't a lot of normalcy right now and trying to figure out what a "new normal" looks like for you as an individual can help with coping. It can be really helpful to set up a schedule for your day that includes downtime, outside time, school work and eating. It's also important to not lose sight of basic self-care like showering, brushing teeth, eating, drinking water and getting outside, which can be the first things to go when we're feeling stressed and overwhelmed and contained."
What services can be offered by the Counseling Center right now?
"Due to legal, ethical and licensure requirements, as the college is in remote operation, we are unable to offer face to face or telehealth services at this time. That being said, we do have a 24/7 resource for all students. The Counseling Center's After-Hours Support is available until we are open again for in-person services. Students can access this by calling the Counseling Center (508-286-3905) and following the voicemail prompts to speak with a clinician. No problem is too big or too small for this service. However, it is not ongoing therapy; it is like an urgent care appointment to help you manage in the moment. I hope that students take advantage of this resource as many times as they need it. No matter where someone is located, as a Wheaton student they are able to access this at any time of day or night and someone will answer to support you. Additionally, the Counseling Center has a Facebook Page and an Instagram account that will be posting tips for managing during the COVID-19 pandemic and remote operations."
If students need help, what do you recommend they do?
"If students need help the first and most important thing is to tell someone and reach out for help. If a student is looking for in-person therapy, we recommend connecting with great resources such as Psychology Today (a national website that gives information about therapists and psychiatrists that individuals can narrow down based on location, insurance and many other specifications). They can also call the member services number on the back of their health insurance card or go to their health insurance website to find providers in their area. For emergencies, we recommend students call 911 or make arrangements to get to the nearest emergency room, where the most appropriate level of care can be provided."