Maeve Vallely Bartlett oversees state's energy, environmental affairs agency
When Maeve Vallely Bartlett, Class of 1980, was pursuing an English major at Wheaton College, she never thought her path would bring her to a state government office. But here she is on Beacon Hill in Boston—serving as Massachusetts Secretary of Energy and Environmental Affairs.
She was appointed to the post by Governor Deval Patrick in June 2014 after serving as undersecretary for the previous year. Massachusetts is the first state in the nation to combine energy and environmental agencies under one cabinet secretary with the shared mission of bringing clean energy technology to market, curbing greenhouse gas emissions and cutting energy costs.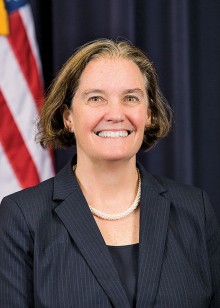 In her new role, Bartlett oversees policies and programs to secure energy and protect natural resources in the state.
"What we do is incredibly important to me, and it is absolutely necessary for the next generation," she says. "I'm proud to be a part of what we've done here."
The road to cabinet secretary has been a winding one that has included stints as a writer, which she always envisioned herself being (she still keeps a copy of Strunk and White's The Elements of Style in her office); law school at Suffolk University; and more than 20 years of experience in the environmental field working in state and federal government. She has served as environment undersecretary, assistant secretary for transportation planning, assistant general manager for environmental compliance at the Massachusetts Bay Transportation Authority, and general counsel for Energy and Environmental Affairs. She has also served as senior enforcement counsel at the U.S. Environmental Protection Agency.
Secretary Bartlett now juggles a range of issues as she leads the departments of Agricultural Resources, Conservation and Recreation, Environmental Protection, Energy Resources, Fish and Game, and Public Utilities.
"It's a lot to tackle each day," admits Bartlett. "But I believe in what I'm doing and am fortunate to have a seat at the table, figuring out solutions to some of the most pressing challenges we face."
Those challenges include everything from climate change and energy constraints to supporting the fishing and agriculture industries. Bartlett appears up for it all: A July Boston Globe story about her appointment noted that "colleagues, environmental advocates, and even business-world adversaries praise Bartlett as a knowledgeable negotiator who prefers solutions over posturing."
The governor, in a press release, also highlighted her energy for the job: "Maeve brings a tremendous amount of passion and experience to this work and knows the important role it plays in every citizen's life."
One of those roles is providing land and recreation for residents to enjoy. As part of the accomplishments she's helped engineer, she points to $360 million spent to protect more than 125,000 acres of land and the creation or renovation of 190 parks.
"That's near and dear to my heart," says the mother of twin 11-year-old girls. "So many families and people in the state can't afford fancy vacations, so to provide open space for camping, canoeing, kayaking and hiking near where they live is one of the most rewarding parts of my job."
Though her background is in environmental issues, Bartlett has quickly learned to navigate the world of energy in her new role. She says she has seen firsthand the economic and environmental benefits of renewable energy as her office advocates for expanded solar and wind in Massachusetts, including the nation's first offshore wind farm, Cape Wind.
"It's all about figuring appropriate scale and place. We've got to reach greenhouse gas reduction goals to combat climate change and huge storm events. We need to get offshore wind power into the grid," she says.
Negotiating the details of sensitive energy issues is part of her job, and an essential tool for doing that well is clear communication, a skill cultivated through her liberal arts education at Wheaton and one she needs every day, she says.
"My liberal arts education has served me so well. It allowed me to explore my love of learning and strengthen a broad range of communication skills, and that's key, no matter where your path takes you."
After her graduation from Wheaton, Bartlett's passion for the written word led her right into a job in trade magazines at Cahners Publishing. She started as a secretary, working up to assistant editor and writer. She then moved into the financial sector, writing newsletters and prospectuses.
However, she said, "I felt there was something else for me, something more." So her career focus began to shift toward the environmental field amid growing concerns in the state about hazardous waste and landfill issues.
Her first job in the environmental field was with Governor Michael Dukakis, as "assistant to the assistant to the assistant of the legislative director," she says with a smile. "But I liked it; it gave me an interest in law."
During Governor William Weld's administration, she worked for a state senator who was chair of the natural resources committee, going to Suffolk University at night to earn her law degree and graduating in 1994.
In her office is proof of lives past and present, including model railroad cars from her stint as assistant general manager for environmental compliance with the Massachusetts Bay Transportation Authority, photos and plaster handprints of her girls, along with maps of Greece and Ireland—odes to her and her lawyer husband's heritage.
With the long hours she works, Bartlett admits that raising a family is a question of balance. She and her husband make it a priority and find time to attend their daughters' events.
As for what's next, Bartlett says she is focused on racing to the finish line with Governor Patrick, whose term ends in January, to get as much done as possible. She plans to stay involved in the environmental issues that are important to her wherever her path leads next.
By Paul Kandarian
Photos by Eric Haynes/Governor's Office