Three alums begin careers as OB-GYNs together at hospital
It's six o'clock on a winter night at the University of Massachusetts Memorial Medical Center in Worcester. Elizabeth McKay Drumm '08, dressed in a white lab coat with a stethoscope slung around her neck, steps into the main lobby. The first-year OB-GYN resident, who will be at the teaching hospital until about 7 a.m. the next day, has no idea whether her overnight shift will be quiet or full of electronic pages from the emergency room.
Around the same time, the daytime shift is ending for Tara Slivinski Chute '06 and Briana Jackson Huguenel '08. The two senior OB-GYN residents both have had long but very differently colored days. Chute, in her fourth year as a resident, has had a tough one; she had to diagnose a miscarriage that morning. Huguenel, in her third year, has had one of the best; she delivered a pair of twins that afternoon. The babies were born early, and the second arrived feet first, but Huguenel delivered them safely despite the unexpected challenge.
At Wheaton, the three shared a few classes together and had some mutual friends. Now, their busy schedules leave little time for traditional friendships outside of work, but the three have developed a special bond—working together to deliver babies and perform surgeries as they begin their professional medical careers at the same place. On this particular night, for a little while anyway, all three have made the time to sit down together at a cafe table in the hospital's main lobby to talk about how they all ended up training together in the same program, and the role Wheaton has played in leading them to their love of labor and women's health.
Making connections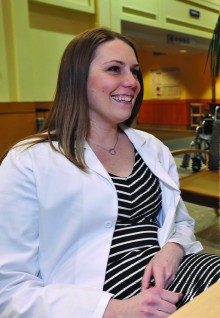 Chute had determined by her freshman year of high school that she wanted to be a physician. Volunteering and shadowing doctors in several hospitals as she moved to different Massachusetts towns, she knew that she wanted to work with patients and use her talent in science and math.
As a first-generation college student, she chose to attend Wheaton because she wanted one-on-one support as she aimed for medical school. She attended medical school at the University of Massachusetts in Worcester, and, impressed by the excellent faculty, she chose to complete her residency at UMass Memorial.
She didn't realize that her decision would pave the road for two former Wheaton classmates who would soon be considering the program.
"A few months after I started my residency, when Briana applied, I was working on the night shift but made time to meet with her before heading into work that evening," Chute says. "I had known her in college and knew she was a hardworking person with a great attitude and personality."
Huguenel was coming to Worcester from medical school at the University of Connecticut: "I had to tear myself away from the conversation to let her get to work but left my interview the next day with a huge smile on my face."
Soon after, Drumm came to UMass Memorial during her last year of medical school at Rocky Vista University College of Osteopathic Medicine in Colorado for an audition rotation—an experience allowing medical students to try working at different training hospitals. She liked the match.
Life as a resident
A typical workweek clocks in at 60 to 70 hours, with residents covering 13-hour shifts during the week and, most weekends, a 24-hour shift when "on-call."
Teams, mixing residents of different years and medical students, spend five-week rotations covering the many different areas in obstetrics and gynecology, ranging from prenatal care, labor and delivery, to gynecological exams, surgeries and cancer treatments. With medical students on their teams, residents are often teaching while providing care.
"Typically you come in and 'round'—see patients, assess their overnight events and current physical exam, and write a note—and then you either spend the day in the clinic, operating room or on the labor and delivery floor," Chute explains.
And the residents don't count on any regular breaks—they're often interrupted by a page from the emergency room or a baby who wants to be born now.
Their busy schedules don't always overlap, and between the long shifts and family time—all three are married, and Chute has a baby daughter—there is little room for socializing outside of work. But sometimes they're lucky enough to be on the same team for a five-week period, or end up on call together during the weekends. (They've even ended up sleeping at the hospital during snowstorms.)
Huguenel says, "As you're working with people, especially in situations with high stress, you learn to trust people over time. But I think having known each other from before, we had a level of trust already, so we were pretty quickly able to build on that."
"I think we have similar temperaments too, and we communicate well and work really well together, all three of us," adds Chute. As a chief resident, Chute oversees her teams and helps them develop their plans to care for patients.
"When you're on a 24-hour call and it's the middle of the night and you have some down time, it's fun to reminisce about Wheaton stuff, too," Huguenel adds.
Take a deep breath
A resident OB-GYN juggles a variety of roles, from seeing patients at a clinic to making quick decisions in an operating room. Some tasks are extremely difficult emotionally: delivering bad news about the health of a fetus, or diagnosing cancer. Others are exciting: delivering babies, or performing a challenging operation that takes quick, creative thinking.
It takes a certain kind of person to thrive in such a fast-paced, high-stress environment. In her first months of residency, Drumm has learned a lot about handling emergencies.
"I think a lot of us in this field run on adrenaline," Drumm says. "We try to follow this advice: When something bad happens, check your own pulse first."
Performing music in college helped Drumm learn how to perform under pressure. She has a background in opera singing, and performed onstage regularly while at Wheaton. "When you stand up there on stage and look out over a sea of faces, you have to have a certain demeanor and presence that says, 'OK, I can do this.' I think that helped me to learn how to deal with this environment."
As well as being a discipline, performing helped Drumm learn how to live a balanced lifestyle. "With such a focus on being pre-med, it was hard for me to take time to develop other areas in my life. I loved putting the time and energy into a piece of music, sharing something beautiful and really special to me with others."
Drumm's love of music brought her to Ethiopia between her junior and senior years, where she taught music and English to children as a Davis International Fellow. While enriching her musical background, the experience also strengthened her desire to advocate for women while pursuing her medical career.
"I remember the shock I felt when I learned that I couldn't leave my host family's house at night without a male," she says. "I felt very dependent and tied to the men in my home. Women always walked together in pairs or groups, even during the day. I had, until that point, not even remotely contemplated my independence growing up in the U.S. I learned that gender inequality was a real and very tangible issue."
After attending medical school on the West Coast, Drumm is happy to be closer to home—the Cape Cod town of Brewster—and lives with her husband, Brandon Drumm '07, a physics major at Wheaton who now works as a mechanical engineer.
Working with women
All three alums chose obstetrics and gynecology because they love working with women. They're inspired by the diverse stories they hear every day, and love being a part of women's life-changing moments, especially childbirth.
Huguenel has been fascinated by women's health ever since elementary school. Growing up in Redding, Conn., she loved riding her family's horses and thought about becoming a large-animal veterinarian, but learning about the reproductive system in school set her in a new direction.
"The first experience I had relating to women's health was in fifth grade, when a snarky classmate made fun of me for not knowing what a period was," she remembers. "It made me curious to learn as much as I could, from puberty to childbirth."
Seeing how difficult it was for her classmates to ask questions in sexual education and biology classes, she decided to encourage a "safe space" for talking about sexual health—a goal that drove her through college and beyond. She trained as an emergency medical technician in high school and entered college knowing that she wanted to go to medical school.
"I've grown up around strong women who have been incredible role models my whole life. Having the opportunity to see women through difficult times in their lives, whether they are exciting, terrifying, or both, has been a natural progression for me," Huguenel says. "I have learned so much from my patients and love being part of their story. Even though not every outcome is good, building relationships with patients makes me feel privileged to help them get through that critical time."
One of those strong women was Huguenel's grandmother, Mary Rhodes Glendinning '42.
"She is definitely a hero of mine. She played a major role in encouraging me to go to Wheaton, and always told me what a cherished time of her life that experience was."
Glendinning, who passed away while Huguenel was in medical school, established the Rhodes Endowed Scholarship and donated the Rhodes commuter lounge in the Balfour-Hood Center.
Huguenel is married to a classmate from medical school, Colin Huguenel, who is finishing his final year of residency in emergency medicine at Beth Israel Deaconess Medical Center in Boston.
Next steps
The residents share an easy familiarity as they sit around the table, laughing together while talking about the trials they've shared, from late nights with patients in labor to challenging surgeries.
Looking back on her four years at UMass Memorial, Chute sees another challenge to working as a medical resident.
"It's one of the few jobs where you're able to do the job, but you're not fully ready. My husband, Adam, is a mechanic, and when he applies for a job, he has the skill set he needs already. Obviously, you learn a bit more here and there, but he is fully capable of doing his job. When you start residency, you really have to rely on other people and work as a team. You're qualified because of your education, but you certainly don't have the experience you need. It's an entire learning process."
With just 14 weeks left of her residency (at the time of the interview), Chute has accepted a position as a general OB-GYN at Cape Cod Hospital. She feels well prepared for her new job but still expects a similar challenge.
"They say that during your first year of attending, you still learn so much. There are some medical conditions you'll just not have seen within four years of residency. Here, I'm surrounded by so much support, but I won't be surrounded by sub-specialists in the field there. So you have to call to consult others and do the right thing, but you also have to have confidence in your own knowledge and skill set."
Though excited to be moving on, Chute will miss her Wheaton friends.
"I'm trying to get Briana to come to the Cape," she says, and the others burst out laughing. "It hasn't worked yet, but I'm trying! Liz, too. Her family's on the Cape. I'm trying to pull them with me."
They're still laughing as they pile into the elevator together.
Keith Nordstrom photos