Listen to understand rather than to respond
Ishaan Madan '22
Biochemistry major 
Marshall Center intergroup dialogue facilitator
Describe your role as a facilitator.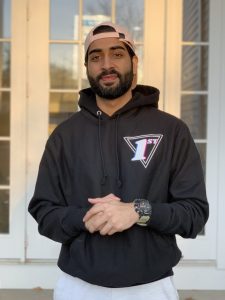 "We work with another person to research and plan out weekly dialogues before co-facilitating with a small group of people. A lot of time goes into understanding the overall theme and then boiling it down into 10 dialogue discussions. Each dialogue session runs for an hour in which we introduce the topic, present informational videos, lead activities, hold discussions, and relate it to the overall theme and its relevance in our lives. As dialogue facilitators, it is our responsibility to ensure that the conversations are flowing in a healthy way. We do so by dedicating our first session to introductions and setting some expectations and boundaries as a group. Overall, dialogue facilitation is more than just leading discussions. It includes dedicated time to research, planning, collaborating and creating a safe environment."
Why did you want to be a facilitator?
"The Marshall Center hosted a dialogue facilitation training that I attended in fall 2020. During the training, we had the opportunity to collaborate with another peer to plan out a dialogue session. I thoroughly enjoyed the entire process and learned a lot. I wanted to continue to develop my communication and public speaking skills while gaining a better understanding of current world issues and how they affect us. When I found out there was an opening, I jumped at the opportunity, and here I am."
What led you to choose your major?
"I am a biochemistry major with minors in astronomy and physics. I have had a passion for science from a young age and always wanted to work at a space organization like NASA to contribute to humanity through research."
Have you had any difficult conversations that didn't go well but were good learning experiences?
"A recurring challenge is figuring out how to support people around me. Taking the most recent example, a family member shared some thoughts regarding a situation, and I immediately jumped in to offer solutions to the problem. The person started to get annoyed and felt as if I wasn't trying to understand or empathize with the situation, even though I believed that is what I was doing. Looking back, I recognize that before I head into a conversation like that, I should ask the other person whether they're looking for me to listen or advise. Support looks different for everyone, and it is crucial to learn what that looks like for individuals. I try to incorporate this mindset in my dialogues by listening to understand rather than listening to respond."
What advice do you have regarding successfully navigating tough talks?
"It is essential to hold the conversation in a safe space among individuals who are open to learning and having discussions. There needs to be time dedicated to set some boundaries and expectations to create a safer environment. For example, the one-mic rule ensures everyone gets their time to express their thoughts without interruptions or feeling attacked. Also, there should be a focus on some team-building activities throughout dialogue to allow folks to know each other on a deeper level rather than just scratching the surface. As humans, we are more likely to present our views in front of folks that we feel more comfortable with, and team activities provide a foundation to create that sense of community and comfort. Avoid using derogatory terminology and addressing people disrespectfully. It is essential to keep in mind that we form our opinions based on many factors; we are not inherently born with them. We shouldn't be disregarding any ideas simply because we may disagree with them."
How will the experience as a facilitator help you in the future?
"I hope to absorb knowledge and skills to apply in my future work. Learning how to hold conversations about hot-topic issues will help me create a more inclusive environment. My public speaking and communication skills are directly applicable to my research in the sciences, allowing me to express my ideas effectively."
How does this role connect to your educational experience at Wheaton?
"Being a scientist at a liberal arts institution allows me to take a more holistic approach to my education. I get the opportunity to align myself with like-minded individuals outside my field of study and we learn from each other. Being a dialogue facilitator pushes me to continually step out of my comfort zone and participate in difficult conversations, which inevitably leads to growth."
Madan is a member of the Paraíso Latino dance group; vice president of the Pre-Health Society; co-president of the First-Gen theme house; and currently involved in interdisciplinary research with Professor of Chemistry M. Thandi Buthelezi and Professor of Physics John Collins. 
Read about other Marshall Center intergroup dialogue facilitators.