Senior wins grant to bring potable water to Guatemalan village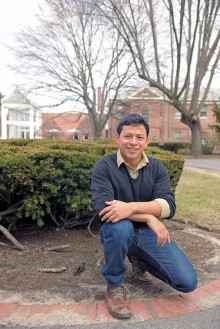 A small village in Guatemala got potable water this summer, thanks to Jorge Clemente de Leon Miranda '14. He won a $10,000 award from Projects for Peace to distribute water filters and to help villagers develop plans for replacing the filters on an annual basis.
"It is important that communities realize that they can bring change to themselves by effectively using the resources they already own," de Leon Miranda said in his proposal.
A native of Guatemala, de Leon Miranda distributed inexpensive water filters in El Coyol that can produce as much as five gallons of purified water daily. In addition, he hosted a series of workshops and social events, partly inspired by his work as a resident advisor at Wheaton, to educate the people about how to use the filters and the importance of potable water.
The grant for the work comes from Projects for Peace, which provides funding for grassroots projects developed by students at colleges and universities that participate in the Davis United World Colleges program. The initiative was launched in 2007 by the late Kathryn Wasserman Davis, a noted philanthropist and the mother of Wheaton Trustee Emerita Diana Davis Spencer '60, to support peace-promoting summer projects.
A graduate of the United World College school in Costa Rica and a Davis United World College Scholar at Wheaton, de Leon Miranda did not have to look far from his home to find his project. Members of his mother's family still live in El Coyol, a village of 35 families located close to the border with El Salvador.
The village suffers from a polluted water supply. Water that runs through El Coyol has already been used to wash clothing and as a garbage dump by other communities. The village's residents run the risk of contracting water-borne diseases such as cholera if the water is used untreated.
"It is heartbreaking to realize that something vital that we take for granted every day isn't there for these people," said de Leon Miranda, who notes that his parents have also worked to support the community, offering interest-free loans to villagers for farming equipment and buying produce at market price.
The economics major's internship experiences influenced the design of his project. He said that interning with Community Enterprise Solutions, a nonprofit that promotes sustainable development projects, inspired him to come up with the concept of a "savings group." The group will collect small amounts of money from each family to fund the replacement of water filters each year.
He credits two classes he took at Wheaton for helping him develop the skills needed for his project: "Enterprising Non-Profits: An Introduction to Social Entrepreneurship" with Associate Professor of Economics Russell Williams and "Economic Development" with Professor of Economics Brenda Wyss.
"The classes helped me understand the limitations of a project of this kind, and provided me with critical-thinking skills and the framework that I needed to develop the project," he said.
"I discovered [during my internship with Community Enterprise Solutions] that in order to have the greatest success in a project of this kind you need to have three things in mind: that any individual is smart and makes rational choices, that there is a culture that one needs to respect and understand, and finally, that everyone likes fun activities.
—AdamKilduff'16