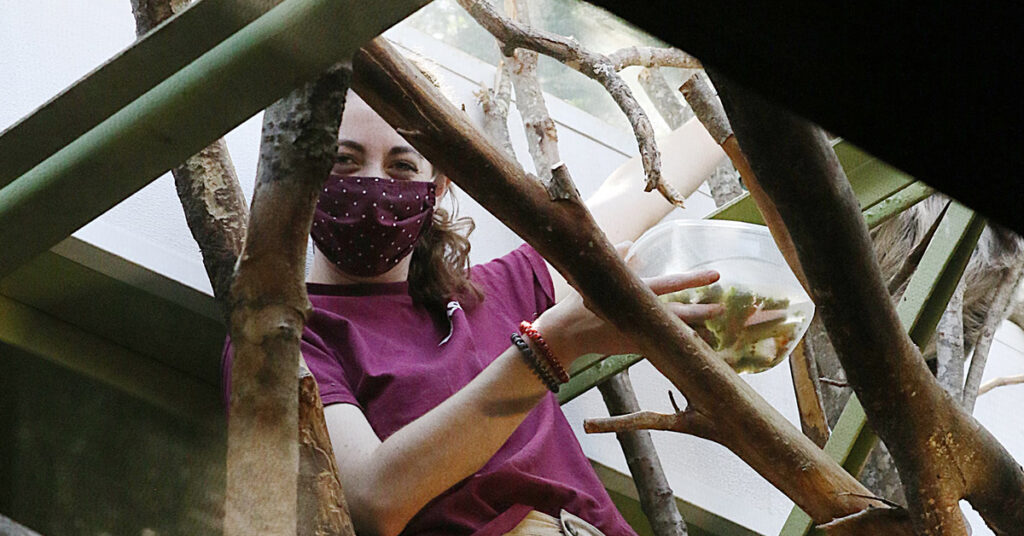 Internship offers up-close look at career in animal care
Rachel Paré '22 got a taste of a career as a zookeeper during her summer-long internship at Buttonwood Park Zoo in New Bedford, Mass.
Paré, who is majoring in psychology, served as an intern for the zoo's Rainforest, Rivers and Reefs section, helping care for monkeys, sloths, fish, birds, tortoises, turtles, lizards and other South American species. She also provided guest interaction and education.
Her daily duties included husbandry tasks, such as feeding the animals, cleaning the exhibits, creating enrichment for the monkeys and assisting zookeepers with medical check-ups. She staffed the touch tank, where the public interacts with chain dogfish sharks, sea stars, sea urchins and crabs.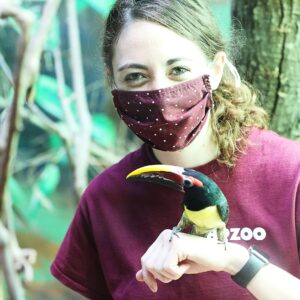 "Many of the animals had special conditions, some limitations and deformities that may have put them at risk had they been in the wild. I saw how well these animals were being treated and how much the staff truly cared for them. Experiencing this firsthand made me realize that zoos can be the best case scenario for many animals, for conservation and educating the public," Paré said.
Part of her internship experience involved creating a final project. She chose to design and build an enrichment item for the Pygmy Marmosets, who are the smallest monkeys in the world.
"Because of what I observed with these specific monkeys and how they interacted with their environment and other exhibits, I decided to build something for them that they could explore. I worked on this project on my own throughout the duration of my internship," she said.
Paré's favorite moment occurred when she was feeding sloths, Bernie and Sandy.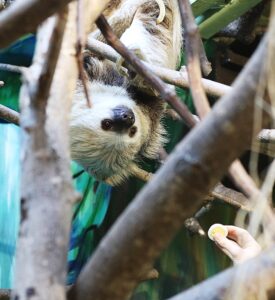 "I remember thinking how incredible that was. The brand new baby sloth, maybe a few weeks old at this time, also was present and it occurred to me that I was actually hand-feeding three sloths. These beautiful, rare, unique creatures trusted me, needed me and did not have boundaries. I felt I had a bond with them. I knew them and their specific personalities. It was a very special moment for me that I will cherish forever," she said.
The internship complemented her liberal arts education at Wheaton, Paré said.
"In my psychology classes, I have learned what makes humans react the way they do and I am learning how humans relate to animals, which pairs nicely with my animal behavior classes," she said.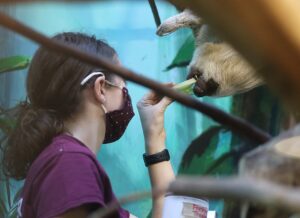 "Next semester I will be taking 'Laboratory and Animal Communication and Cognition,' which I am looking forward to connecting with this experience at the zoo. During my experience, I was able to see how the sloths and monkeys reacted to different stimuli. I was able to observe their everyday behavior and I am so eager to relate this hands-on experience to my upcoming animal behavior classes," she said.
The internship has encouraged Paré to consider zookeeping as a profession.
"I really do feel like I made a difference in these animals' lives during my short time there. I enjoyed interacting with guests as well. A highlight for me was overhearing a little girl saying, 'I want to be just like her when I grow up,'" Paré said. "This internship was the best experience I have had in my life thus far."
Rachel Paré '22 is president of Lymin' Lyons and a member of the ultimate Frisbee team.