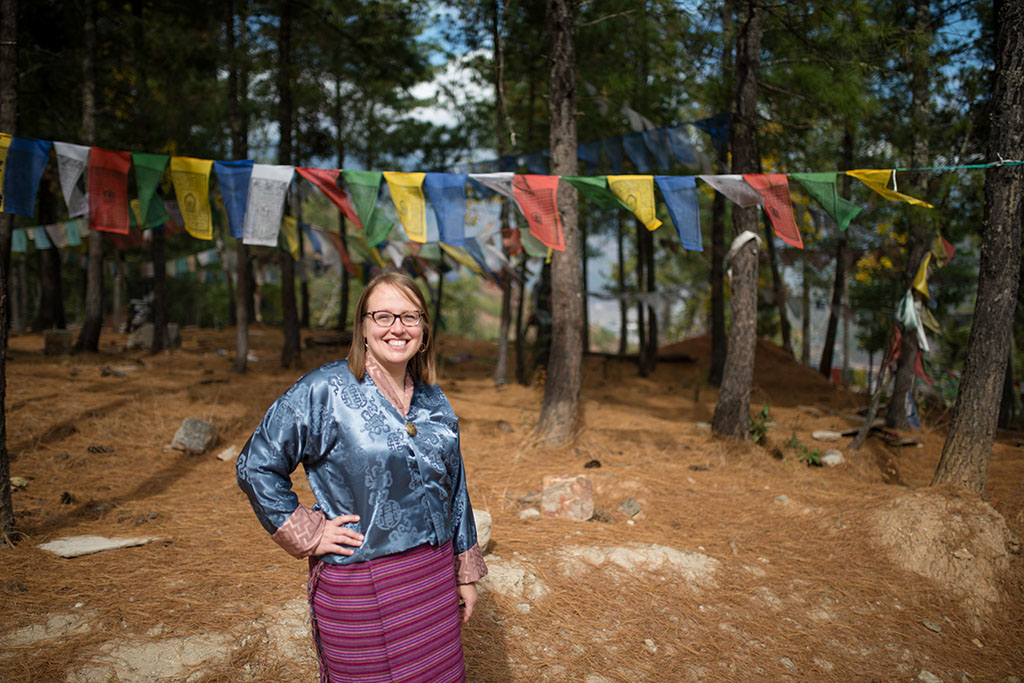 Professor shares transformative impact of study abroad experience in the Himalayas
Associate Professor of History Dana Polanichka spent the fall 2019 semester as the resident director of the Wheaton in Bhutan program, her second time in the position. The study abroad program is a partnership between Wheaton College and Royal Thimphu College that provides a rare opportunity for learning and cultural exchange in a country to which few have access. In Bhutan, Polanichka taught two classes, participated in a class and learned Dzongkha (the official language of Bhutan) alongside the 12 Wheaton study abroad students. She also presented a lecture on her research, which focuses on the political and cultural history of early medieval Europe, and volunteered at the Bhutan Nuns Foundation helping to organize an international conference and assisting a staff member with building an educational training program. We asked the professor about what she learned while in Bhutan and what she hopes to bring back to campus:
How has Bhutan shaped your outlook and how does that inform your work with students?
"The country's commitment to Gross National Happiness—a holistic development plan that encompasses not just economic development, but also environmental conservation, culture, good governance, and sustainable and equitable socio-economic development—is personally, politically and socially inspiring.
Bhutan has widened my daily and my long-term outlooks by consistently inspiring me not to focus on myself first and foremost (or solely), but rather to consider the entire community, whether local or global. I am consistently reminded that I am just one small piece of a much larger puzzle. I am hopeful that it is helping me to remove some of the ego that is naturally involved in any academic's work (for example, when I am delivering a lecture or am engaging in research) and instead to focus on my community of students and colleagues.
Moreover, spending so much time in a different country and culture reminds me of the diverse experiences and obstacles that my students bring to the classroom, experiences and obstacles that might not always be immediately evident to me as their professor. I am constantly reminded that I need to explore what lies below the surface and bring compassion and an open mind to every interaction.
I am really looking forward to the lessons I will gain from teaching Bhutanese students at RTC in the spring 2020 semester as I continue here on the first half of my post-tenure sabbatical. I will teach a history course to Bhutanese students at Royal Thimphu College and lead the history program.
For the last decade, I have been teaching Wheaton students and grown acclimated to our campus culture. The opportunity to teach in such a different setting will force me to rethink how I approach students and topics in the history classroom and thus enhance my teaching. I am confident I will gain experiences that will improve my work in Wheaton classrooms, even though I don't yet know what those experiences and lessons will be."
What were the biggest lessons you learned in Bhutan?
"Two lessons: patience and gratitude.
Life in Bhutan is neither as fast nor as efficient nor as organized as my life in the United States, and that can be incredibly frustrating for someone with my (American, type-A) disposition. I'm still learning how to breathe, relax and remember that, as a road sign in Bhutan says, 'Nature doesn't hurry, yet everything is accomplished.'
I am also reminded on a daily basis of the abundance and ease of life in the United States—and that we humans, especially we Americans, need so much less than we have. These quotidien reminders make me grateful for all that I have, both here in Bhutan and back in the States."
What do you hope students gain from studying in Bhutan?
"I hope students studying in Bhutan take away from the program cross-cultural understanding and empathy. My students here in Bhutan have again and again practiced compassion, rather than judgment, when confronted with beliefs and customs different from their own. This ability to approach others with kindness, compassion, open-mindedness and a desire to learn—rather than with cynicism or bias—is crucial to the well-being of both the students themselves and our global world. Indeed, cross-cultural understanding and empathy are the most important lessons that any liberal arts college can teach, and study abroad offers the ideal means of learning those lessons."