History professor Alex Bloom discusses tumultuous year on Ohio public radio show
Professor of History Alex Bloom talked about the events of 1968, and where the U.S. is 50 years later, in a June 11 interview on WOSU Radio in Columbus, Ohio.
The host of "All Sides With Ann Fisher," a two-hour daily public affairs talk show, spoke with Bloom and two other historians about 1968's place in history and some of the major events that occurred that year, including the Tet Offensive in Vietnam, the assassinations of Martin Luther King Jr. and Robert F. Kennedy and the student riots in Paris.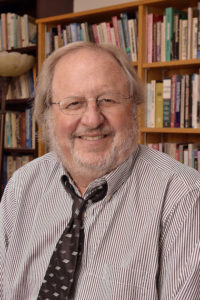 Bloom has discussed the 1960s era at length in two published books, Long Time Gone: Sixties America Then and Now and Takin' it to the Streets: A Sixties Reader (now in its third edition), as well as in the First-Year Seminar, "1968: The Year The World Exploded."
Discussing why the year was so pivotal, Bloom told Fisher, "Nineteen-sixty-eight is, I think, the most amazing year of the 20th century. If you took a calendar and just went month by month, there's some extraordinary event that happens—or more than one—every month."
Fisher asked Bloom what he tells his students, whose parents may not even have been born in 1968, about why the events of that year matter today.
"Some of the issues that were discussed [in 1968] are still relevant, not just in the sense that we're still talking about race questions or we're still talking about the potentiality of war or struggles within the political sphere, but, literally, some of these things have continued on. They're not just equivalent; they're direct descendants of it."
He discussed with Fisher and her other guests the many ways that ideas of that time were interconnected, with people speaking out all over the world in similar ways, and how new changes in technology were allowing people to know quickly what was going on outside their communities.
The late '60s also marked a change in public trust in systems of law and government—a steady decline that has mostly remained, according to national surveys, to modern day, Bloom noted.
Listen to the full interview at radio.wosu.org.