Leading the way, helping researchers
Their fellow attendees may not have realized it, but an event at Washington, D.C.'s Kennedy Center last April included an impromptu meeting of two former presidents: Bill Clinton and Michael Zwolinski '08, who was president of the Student Government Association during his senior year at Wheaton.
"It was a thrill to meet the former president," Zwolinski said. "He's as engaging in person as people say."
The occasion was a fundraiser to benefit the University of Texas MD Anderson Cancer Center, with Clinton as one of the headliners. Zwolinski was there along with his colleagues from ACT for NIH: Advancing Cures Today. The nonprofit, nonpartisan advocacy group is pushing Congress to restore funding to the National Institutes of Health. The group's founder and chairman is on the MD Anderson board.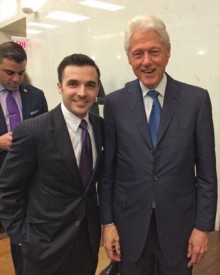 "After the main event was over, we expected President Clinton would leave," Zwolinski said. "Instead, he came and visited with us for a long while. He was very generous with his time."
Zwolinski, a 29-year-old Massachusetts native, moved to the nation's capital after Wheaton to pursue his passion for politics. After working on campaigns and on Capitol Hill, he took a job at the trade association for college public-health programs; when his boss there was tapped to launch ACT for NIH, he asked Zwolinski to join him as its managing director.
ACT for NIH says federal funding for medical research has fallen nearly 25 percent since 2003, when adjusted for inflation. Zwolinski spends his days meeting with members of Congress and their staffers, tracking legislation, and working with others in the health advocacy community—all in an effort to reverse the trend.
"We're trying to restore the budget so that researchers in companies and universities across the country have the resources they need to find cures for cancer and Alzheimer's and diabetes and you name it, and hopefully help countless patients and their families," Zwolinski said.
"I'm not a scientist; at Wheaton I didn't spend too much time in the Science Center," he said. "I don't have the skills to solve these problems in the lab. But I do have the experience to help researchers get the funding they need so their labs can find cures, and that's the small way I can contribute."
Zwolinski said his experiences at Wheaton—from SGA and the Roosevelt Institution to courses with the late professors Jerry Murphy and Jay Goodman—were crucial in preparing him for the work he does today. At least once a week, he said, he recalls lessons learned in a class Murphy taught about how to write public policy documents.
"I had a lot of pretty incredible opportunities at Wheaton to start to learn how to do this, which is what I love to do," he said. "It has helped me hugely—probably in more ways than I could even count or recognize."