Leading innovation and growth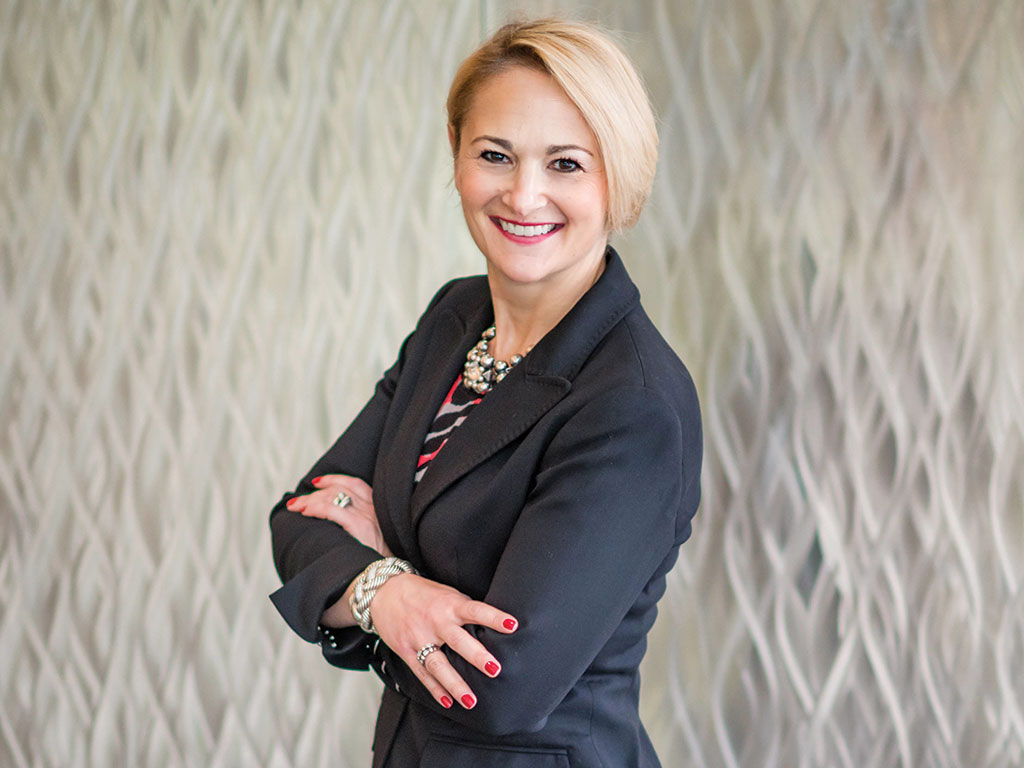 Ivana Magovčević-Liebisch thrives on challenge in biopharmaceutical field
Ivana Magovčević-Liebisch '89 has compiled a long list of accomplishments over two decades as a biotechnology executive. But when you ask her about those successes, she is quick to share the credit.
"If you're the smartest person in the room, you're in the wrong room," she said. "That's how I like to operate. I always hire people who are going to challenge, who are going to ask questions, who are going to be inquisitive."
Now Magovčević-Liebisch is building a new team to tackle a new challenge: helping Ipsen, a leading French drugmaker, become a bigger player in the biopharmaceutical industry by developing new drugs to treat cancer and rare diseases. The company hired her as its executive vice president and chief business officer last spring, shortly before it announced plans to establish its new North American headquarters in Cambridge, Mass.
Magovčević-Liebisch will play a pivotal role "in the next phase of Ipsen's transformation," CEO David Meek said in announcing her hiring, praising her "strong track record in corporate business development."
Her task: find outside partners, such as smaller companies or academic research institutions, and build a pipeline that will achieve Ipsen's new goal of bringing to market at least one new product or meaningful indication every year. The company has set aside more than $1 billion for the effort.
"The buck stops with us," she said. "And I kind of like that. I like that challenge. That's why I took this job—because it's not an easy thing to do."
Magovčević-Liebisch is well-prepared for the challenge. During two decades in the biotech industry, she has spearheaded more than $5 billion in business transactions, taking on increasingly senior roles at a series of prominent companies. A key reason for her success is her unusual resumé, combining science degrees from Wheaton and Harvard with a law degree from Suffolk University, as well as extensive experience in business development.
Henry Blair, the biotech pioneer who co-founded industry giant Genzyme, recruited Magovčević-Liebisch to another of his companies, Dyax Corp., in 2001. She spent a dozen years there, playing an integral role in bringing its first Food and Drug Administration (FDA)-approved drug to market, and left not long before the company was sold for roughly $6 billion.
Blair predicts even bigger things down the road for his one-time protégé, citing her intelligence, drive and resourcefulness. "Ultimately she'll end up running a company," he said. "She has all the makings of being a good CEO."
Magovčević-Liebisch, who lives with her husband and two school-age children outside Boston, already has a high profile. In 2008, she received a leadership award from the Boston group Women Entrepreneurs in Science and Technology, and last year she returned to Wheaton to speak at the college's inaugural Summit for Women in STEM.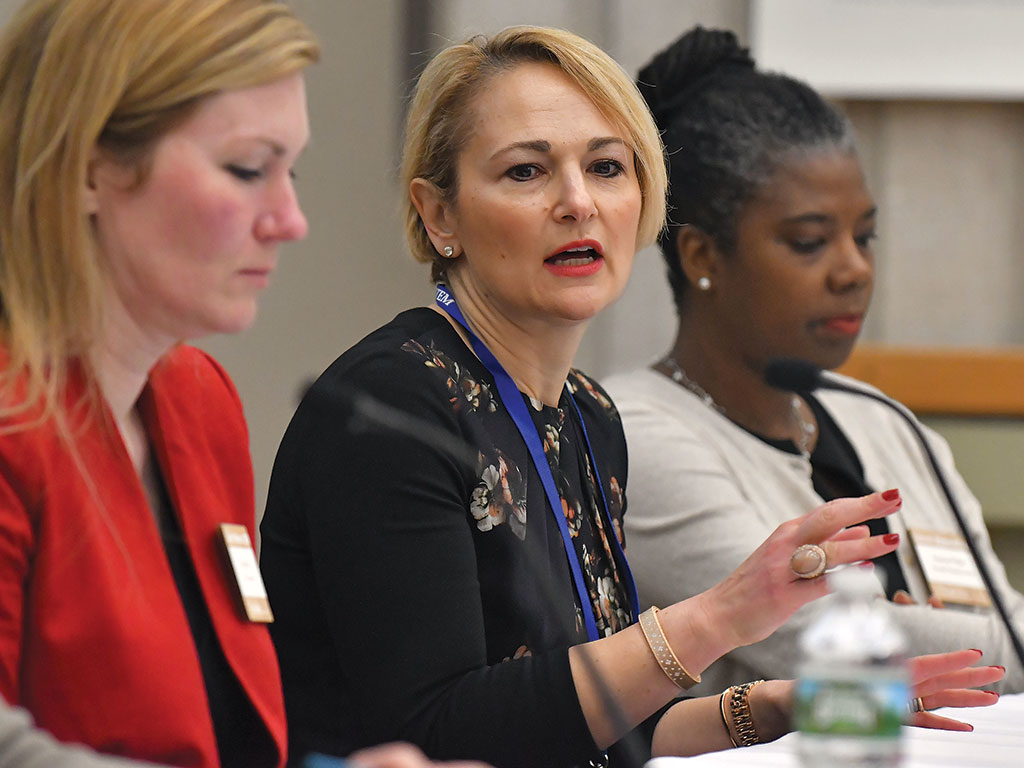 Associate Professor of Mathematics Rachelle DeCoste, who organized the Wheaton STEM conference with Assistant Professor of Biology Laura Ekstrom, said they invited Magovčević-Liebisch to speak because they view her not only as a successful alumna but as a trailblazer.
"She provided great, no-nonsense advice to the students as to how difficult the path might be for women in STEM to reach the top of their fields, while also offering encouragement that it is possible," DeCoste said. "She recognized and validated the challenges that are unique to women in male-dominated fields."
Magovčević-Liebisch also currently serves on the boards of two companies as well as a number of prominent institutions, including Suffolk, Beth Israel Deaconess Medical Center, the Boston Museum of Science and the Boston Ballet.
"Ivana is an extraordinary ambassador for the organization, both as an individual contributor and a voice for the ballet in the corporate community. Her enthusiasm for the art form is contagious," Meredith "Max" Hodges, the Boston Ballet's executive director, said in an email. The chairman of Suffolk's board has called her "a role model for our aspiring students focused on the sciences, intellectual property and the biotechnology industry."
It's clear Magovčević-Liebisch doesn't have a lot of downtime. "I'm extremely busy, but I love it," she said. "It keeps me on my toes. It keeps my brain working."
Following in family footsteps
Magovčević-Liebisch (pronounced "ma-GOV-dih-vitch LEEB-itch") grew up during the Cold War in Belgrade, Yugoslavia (now Serbia). It was a Communist country but not behind the Iron Curtain, allowing her family to travel and giving her early exposure to Western culture.
Still, she said, "my father's goal in life was to get us out of there." A lawyer and businessman, he traveled regularly to the United States, and came to appreciate the country for its commitment to individual freedoms and social mobility. In 1981, the family moved to Lisbon, Portugal, so Ivana and her sister could attend the American International School there.
While science ran in the family— her mother was a chemical engineer— Magovčević-Liebisch initially had no desire to pursue it herself, nurturing dreams of becoming a fashion designer. (Her father ruled that out.) During high school, though, she became fascinated with genetics and decided to follow in her mother's footsteps.
Ivana had never heard of Wheaton until she attended a college fair in Madrid, where recruiters from the school made a positive impression on her. She applied and, despite never having set foot on campus, accepted after being offered a generous scholarship. She landed in New York City in the late summer of 1985, then traveled to Norton, Mass., with her father so he could drop her off. (They missed the campus on their first drive by.)
"Sweetheart," he told her before departing, "you've got to deliver."
Wheaton was "a culture shock" for the young Ivana, she said, but it turned out to be "a great fit." She appreciated the college's small size and supportive atmosphere, and she was grateful that her professors were willing to challenge her when they saw she wanted more, even creating a special course on genetics for her during her senior year.
"I had opportunities I might not have had in a much bigger school," she said.
A formative influence on Ivana was now-retired chemistry professor Elita Pastra-Landis, who bonded with her student over having also come to Wheaton from another country (in her case, Greece) as an undergraduate.
"Ivana was really the best kind of student, in retrospect—not always when you have them," Pastra-Landis said, laughing. "A very strong student can be easy if they do it your way. She wouldn't do it your way. She would do it her way. As it should be."
Ivana could take criticism, Pastra-Landis said, but would judge the critique for herself before accepting it. "That combination of being strong-minded and also flexible, and judging a comment before she accepted it even though it came from the teacher—I think that's the kind of person who goes on to become who she is, who doesn't just accept directions blindly," she said.
Ivana's senior thesis exemplified her self-direction and enterprise, as well as her budding interest in the intersection of science and commerce. Rather than do the project on campus, Magovčević-Liebisch connected with a company called Integrated Genetics that was doing "very cutting-edge work" on transgenic mice, Pastra-Landis recalled. "She used techniques we really didn't have at Wheaton then," she said.
Magovčević-Liebisch graduated with a bachelor's in biology and chemistry, then enrolled at Harvard to pursue a Ph.D. in genetics. (Characteristically, she completed her doctoral program in just five years, rather than the usual seven.) While her love for science never wavered, over time she decided that academic work in a laboratory was not her strength; instead, she found herself attracted to business. After Harvard, she decided to enroll at Suffolk University Law School; unable to afford the tuition on her own, she took a job as a technical specialist at a patent law firm that paid for her degree in high technology law.
Magovčević-Liebisch began her biopharma career in 1998 at a Cambridge company called Transkaryotic Therapies. In 2001, however, she was approached about joining Dyax. Initially hesitant, she went to lunch with Henry Blair—and by the time the meal was over, she took the job.
"Dyax was instrumental to who I am today," she said. "When you're in a small company you get to wear a lot of hats, and I was always willing to work hard, stay late. Whenever Henry said, 'Who wants to do this?' I would raise my hand. So he kept giving me more and more responsibility. And this is one thing that I always say really helped me: I was willing to take risks. I was willing to stretch myself."
Blair said, "We desperately needed someone to take on the patent situation, and she came along and just had the perfect background, with her Ph.D. and her law degree in patents. She's very, very talented. … She's very, very good at follow-through. I never had to ask Ivana to do something twice."
At Dyax, Magovčević-Liebisch achieved what she still cites as her proudest professional accomplishment: getting the drug Kalbitor, a treatment for a rare form of severe swelling, from the lab into FDA trials and finally to patients. That included putting in place a unique partnership with Walgreens to ensure the drug could be administered properly.
"I'm all about results, and I like to make a difference," she said. "That was the best thing that ever happened to my life. You're doing something for people who are in desperate need. Having a patient come and hug you and tell you that we changed their life was an incredible experience."
It also cemented Magovčević-Liebisch's passion for the research field she is now championing at Ipsen.
"These are rare diseases, often misdiagnosed," she said. "These people live terrible lives. It takes them sometimes decades to get properly diagnosed. And so to be able to actually help them and see how their quality of life changes and how they don't live in a constant fear of having another attack of swelling … was just incredible."
After 12 years at Dyax, Magovčević-Liebisch was recruited to join Teva Pharmaceuticals, a large Israeli company where she spent four years as head of global business development.
"I would characterize her ability as remarkable," said Jeremy Levin, who hired her when he was Teva's CEO after she impressed him at an industry conference in Europe.
Following Teva she spent a year at Axcella, a startup in Cambridge, before joining Ipsen.
Figuring out the way forward
Ipsen is a sizable company—its annual revenue tops $2 billion, and it has about 5,400 employees worldwide—but it is far smaller than pharmaceutical giants like Pfizer or Merck. Magovčević-Liebisch sees that as an advantage, giving Ipsen more flexibility and avoiding the pressure to only focus on billion-dollar blockbuster drug candidates.
There are a host of small companies studying potential treatments for the more than 7,000 rare diseases that scientists have identified, but startups often lack the resources to see their work through. That is where Ipsen aims to come in, providing resources and expertise to navigate the complex and costly process of getting a drug from the lab to world markets.
"Speed is critical," Magovčević-Liebisch said. "The patients cannot wait. We bring all the resources to help partner with these companies to do that quickly and smartly." She added, "Science is the beginning; without science, nothing happens. But that's just the beginning."
Magovčević-Liebisch said her team will fan out across the globe to find the most promising research. "I love to be surrounded with people who bring solutions," she said. "I always tell people when they tell me it cannot be done, I say, 'I can put 10 people in your seat and they can tell me it cannot be done. You're here because we've got to figure this out.'"
Levin, the former Teva CEO, said he has no doubt Magovčević-Liebisch will succeed.
"Ivana came to this country," he said. "She put herself through university. She put herself through a Ph.D. And she—by herself, without any support of anybody, without asking for any favors from anybody—has risen in this industry. That is a wonderful story of how immigrants, and in this case somebody from Europe, can come to this country and can build a career, one which is an extraordinarily bright one, [through] sheer determination to make something of herself in this country. That is a tribute to who she is."
For her part, Magovčević-Liebisch remains grateful to her adopted home.
"What is so wonderful about this country— people are welcoming," she said. "It doesn't matter where you come from. It's what you do and who you are as a person. And it has been like that my entire career."