Leading in supporting roles
Recent graduates guide Wheaton initiatives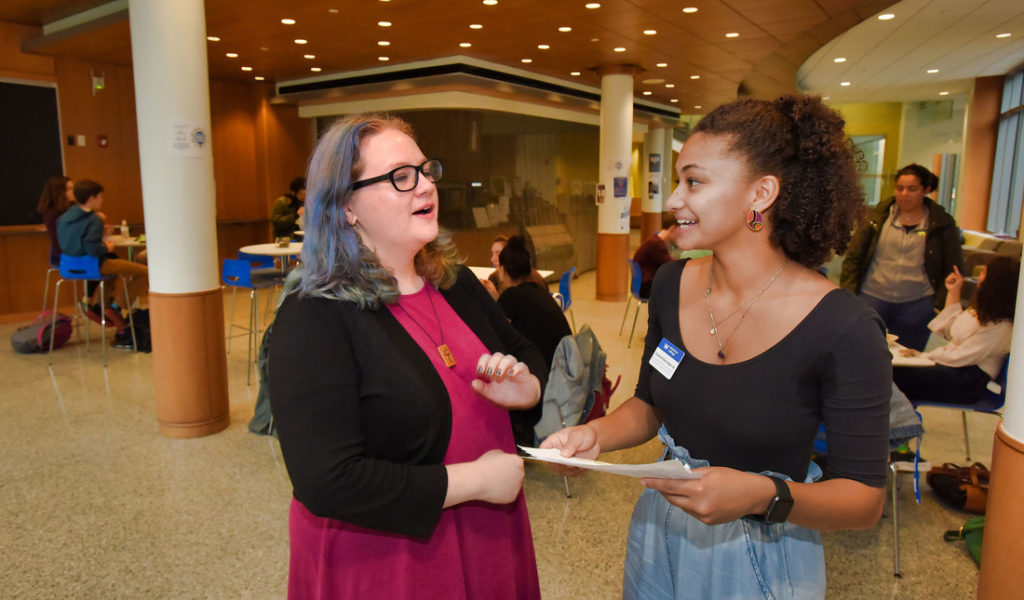 Wheaton has started a new partnership with the Attleboro (Mass.) YMCA aimed at local youth and is continuing to build upon on a recent program supporting first-generation college students. At the helm of these initiatives are two recent graduates, Caleigh Grogan '18 and Jasmine Silva-Jones '18.
Grogan, a religion major, is strengthening the relationship between Wheaton and the Attleboro YMCA by expanding mentorship and leadership programs, and Silva-Jones is leading the college's first-generation program. Both are in one-year AmeriCorps positions funded through a grant from Campus Compact of Southern New England and working in their roles for the Center for Social Justice and Community Impact, located on campus in Cole Memorial Chapel.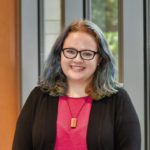 Grogan, who served as an intern for the Wheaton Center for Spiritual and Religious Life during her senior year at Wheaton, is collaborating with the YMCA on several initiatives. One of the initiatives is the Reach and Rise mentoring program, which pairs middle school students who are struggling emotionally, socially and/or academically with a team of mentors to provide guidance, support and self-esteem building.
So far, Grogan has been focusing on recruiting Wheaton staff, students and faculty mentors for a new Reach and Rise group for Norton middle school students that will meet here on campus.
"In addition to expanding the reach of these programs, I am helping to evaluate the programs by collecting and analyzing data to improve them in the future. Also, I get to support some of the other initiatives of the Wheaton Social Justice and Community Impact Center," she said.
"Giving back to my community was a part of my upbringing, and I love my Wheaton community, so the opportunity to do service that benefits the college and the surrounding community is perfect," said Grogan, who plans to get a master's degree in divinity and eventually become a Unitarian Universalist minister.
Silva-Jones, a studio art major and first-generation college graduate, is focusing on building Wheaton's capacity to increase academic success, persistence and retention among first-generation college students while strengthening the culture of civic and community engagement on campus.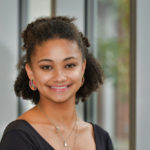 As a student at Wheaton, Silva-Jones was heavily involved in many organizations and leadership roles, including as the Programming Activities Council chair and as a member of the Black Student Association and the Student Art League. She also played on the women's rugby team for four years and worked in the Student Activities, Involvement and Leadership (SAIL) Office as the art intern responsible for creating the campus chalkboard announcements weekly in Balfour and Chase Dining Hall.
"Getting the opportunity to lead such diverse groups of students across a vast array of clubs and organizations was something that I did not take for granted," Silva-Jones said. "I knew that, if done well, all students would be able to enjoy immersive experiences that bring different kinds of individuals together to create a more connected space and, ultimately, a sense of belonging."
She hopes to do the same in her new role and has already started building community through monthly theme-based Taco Tuesday events that, in addition to offering a good meal, provide networking opportunities and relevant programming to address the challenges faced by those who are the first in their immediate family to attend college. (The Taco Tuesday held on October 2 focused on how to navigate difficult conversations when returning home for break.)
"My main focus this year is to start a peer mentor program for first-gen students to learn from each other's experiences and help each other succeed," she said.
Meg Kirkpatrick, associate provost and associate professor of psychology and neuroscience, and Cassandra "Cassie" Peltola '14, assistant director of community service and engagement, originally initiated the work on first-generation awareness at Wheaton a couple of years ago. Alexander Gim-Fain '17 previously served in the one-year AmeriCorps role, working in collaboration with many campus partners, including Alumni Relations, the Office of Academic Affairs, the Office of the Provost.