New trustee board chair and Alumni Association president named
Volunteering for their alma mater has become a way of life for two of Wheaton's biggest boosters, who recently were named to key leadership positions at the college.
The new Board of Trustees chair is Janet Lindholm Lebovitz '72, whose service to the college is approaching five decades; the new president of the Alumni Association is Joshua Bauchner '95, a New York litigation attorney whose love for jurisprudence was influenced by his time at Wheaton. Giving back is a familiar refrain.
"Wheaton is extremely fortunate to have talented and dedicated alumni like Janet and Josh who are ready to help guide the college toward achieving its goals as a top liberal arts college," President Dennis M. Hanno says. "I'm looking forward to working with both of them and their colleagues to continue Wheaton's amazing momentum."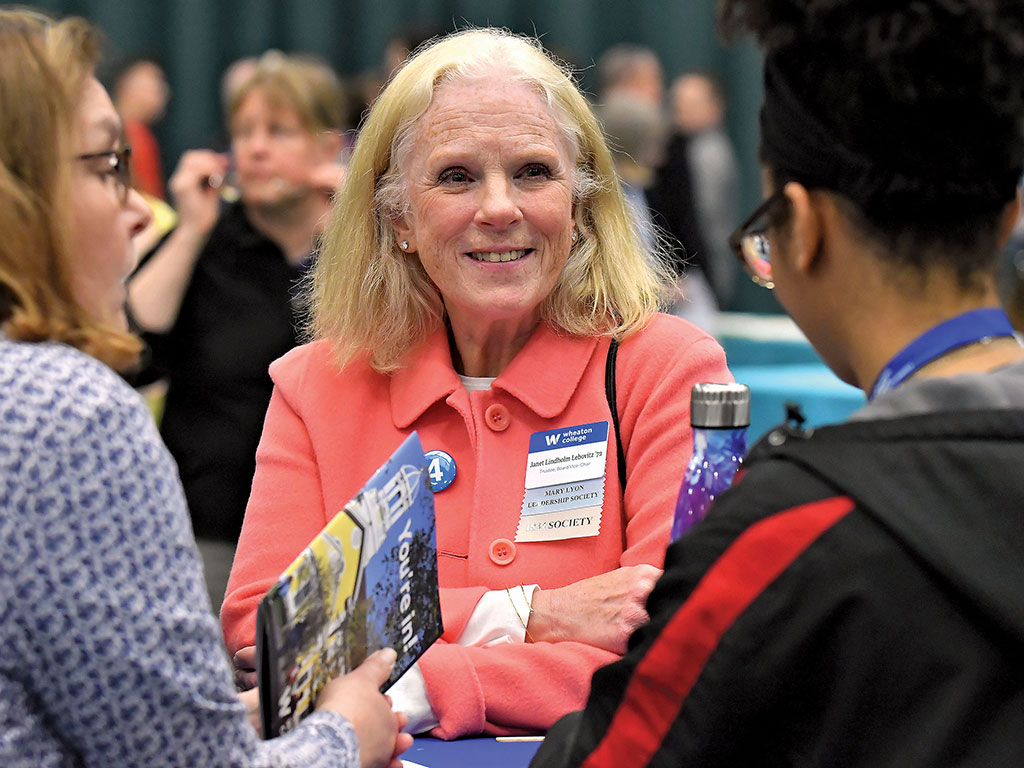 Janet Lindholm Lebovitz '72
At age 9, Janet Lindholm Lebovitz '72 spent occasional Saturdays shadowing her dad at the Kansas City, Kan., manufacturing plant he ran for household products giant Colgate-Palmolive.
Off the assembly line came endless tubes of toothpaste, soap and bottles of shampoo. The sight never failed to impress the inquisitive youngster.
"That experience did two things for me," Lebovitz says. "It exposed me to the world of business, but also, my father was modeling for me that there was no reason that I couldn't do that kind of work, too."
And she would. After Wheaton, Lebovitz worked for several years before attending the Tuck School of Business at Dartmouth College and receiving her M.B.A. She then held positions with several businesses before joining Citicorp, where she was a vice president of new product development in the consumer banking division. With a growing family, Lebovitz retired from corporate life and put her skills to work in the nonprofit arena, including at Wheaton.
Now she has stepped into a new role—this one particularly gratifying. On
July 1, she became the chair of the Wheaton Board of Trustees, taking over the position from Nancy Pearlstine Conger '67.
Lebovitz, previously a vice chair, has served on the board since 2010, having been involved in a number of critical committees, including serving as chair of the Reach and Reputation Committee and, most recently, as a member of the Executive Committee. She also is a longstanding member of the Investment and Philanthropy committees.
Thirty-two alumni, parents and friends of Wheaton serve on the Board of Trustees, which supports the president and the administration while engaging in meaningful discussions about strategic issues facing the college.
"Janet is the consummate alum and trustee," says Conger, whose term ended June 30. "Her leadership skills are extraordinary and her warmth and welcoming nature make us all thrilled that she will be leading the board. Wheaton is in great hands."
Lebovitz says she welcomes the chance to serve as chair.
Among the issues she hopes to tackle with her board colleagues is understanding what the shrinking teen demographic means for enrollment and discussing future fundraising strategies that consider nontraditional approaches and revenue sources.
According to a 2017 report from the National Student Clearinghouse Research Center, enrollments at undergraduate colleges and universities have shrunk over the past five years. A decline in birthrates (which means fewer teenagers bound for college) has partly contributed to that.
One key to continuing the college's success in drawing students lies in broadening the reach to attract prospective students. "There's opportunity internationally that will require us to continue to build Wheaton's reputation abroad," Lebovitz says.
She also is ready to address the challenge of liberal arts colleges increasingly being asked to explain their effectiveness to prospective students and their parents.
"There is much more focus on return on investment," she says. "We have parents who are saying, 'If my child is going to come to your school … talk about what they're going to come away with. Are they going to be able to find a job or go to graduate school?' Fortunately, Wheaton has some very powerful statistics in that area."
And there are plenty of examples of how the college has impacted lives, says Lebovitz, noting that Wheaton was a transformative experience in her own life. "It gave me the opportunity not only to get a great education but also to find myself as an individual, and develop self-confidence. Then I took what I'd learned at Wheaton and Tuck and put it to practical good use, first in the world of work and next in the community."
A math and economics major, Lebovitz and a classmate were the first to earn an interdepartmental degree in the two subject areas. She loved math in high school, taking an extra-credit advanced math class "just for fun."
She was drawn to economics because much of economics is data- and math-driven and it seemed like a more practical application of the theoretical math she learned in the classroom.
A quiet and serious student in Norton, Lebovitz never sat in the front row, instead absorbing the experiences from a distance, which gradually gave way as her confidence climbed. She grew up in Madison, Conn., where she was one of 100 students in her high school graduating class and enrolled at the college on the strength of its academics and because of the small class sizes.
"My four years at Wheaton gave me an opportunity to understand and develop what I brought to the table in the classroom," she says. "It allowed me to have my opinions matter. All of those things contributed to my sense of self and the feeling that there was value to what I brought to organizations. Wheaton ignited that spark for me."
Her selection by trustee colleagues builds on her 47 years of volunteer service to the college, starting immediately after graduation when she was a class fund agent. A friend enlisted her support and Lebovitz, buoyed by the experience, was compelled to continue serving the institution. She has never stopped.
"I stayed in touch with classmates and I stayed in touch with the college," she says. "The satisfaction from those connections has only grown over time."
These days Lebovitz lives with Peter, her husband of 40 years, in Fairfield County, Conn., where she continues a hobby that she took up shortly after graduating from Wheaton: ice dancing.
"Like many people, whether you're a runner, a swimmer, a tennis player, you get hooked on it," she says. For many years Lebovitz skated competitively, and she has gold medal-certification from the U.S. Figure Skating Association that speaks to her prowess.
As for her role on the board, jumps and spins will not be required.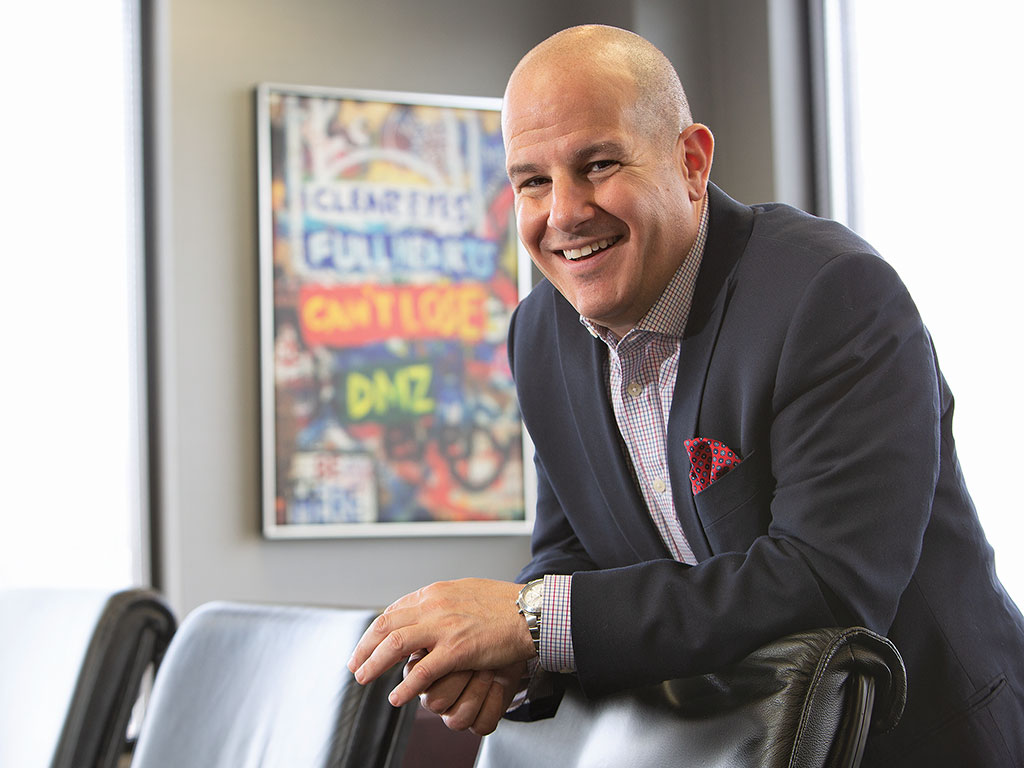 Joshua Bauchner '95
When Joshua Bauchner graduated from Wheaton in 1995, the college had a network of 14,000 alumni.
Nearly a quarter-century later, the total is at 18,000 and growing.
As the new president of the Alumni Association and head of the Alumni Board of Directors, Bauchner is looking to ignite new enthusiasm among those graduates across the generational divide.
He envisions social media playing a big role in doing so, as well as tailoring and targeting programming to fit the varied needs of different classes.
"We need to do more work toward recognizing that a programmatic event that might appeal to the Class of 1972 is not going to appeal to the Class of 2002 or 2012," he says. "It was a little easier back in the day to plan an event that would engage three decades worth of alumni, but that doesn't work anymore."
In the digital era, when alumni cohorts, especially more recent classes, count on online access to stay in touch with their alma mater, the use of social channels provides a key opportunity to reach graduates.
Bauchner, who will begin his alumni leadership role in the fall, says he will use social media as a primary tool to engage alumni who have lost touch with Wheaton.
"We need to do a better job of understanding where their interests lie, and what they're looking for from their engagement with the college," he says. "I'd like to see a far more engaged association across every demographic population, where they all feel that special connection to Wheaton."
Bauchner's volunteer activities run deep: he has been active in the New York City Alumni Club, and he has served the association as a class officer, vice president of the Alumni Board of Directors and as an alumni trustee from 2008 through 2012.
"Josh has a long history of dedicated service to Wheaton and the alumni community," says outgoing Alumni Association President Jane Martin '74, whose term ends in October. "He understands deeply what makes our college special and what our alumni value most about their association with Wheaton and with each other."
Bauchner, a partner and co-chair of the litigation department at Ansell Grimm & Aaron, PC, practicing in New York and New Jersey, graduated cum laude with a political science degree. He is motivated by the great education he got at Wheaton and the "incredible" faculty with whom he worked, he says.
Now, it's time to give back.
"I thrived at Wheaton," he says. "I capitalized on opportunities that came my way, and I took great pleasure in them. Additionally, Wheaton gave me lifelong friends. Most of my adult life, in one shape or another, has been impacted by my experience at the college."
A twist of fate brought him to campus in the first place. Growing up near New Haven, Conn., Bauchner says he wasn't serious about academics in high school, even though college was on his radar. A guidance counselor gave him college materials that he stored in his locker.
Returning later to the locker, "a Wheaton application fell out," he recalls. Taking it as a sign, Bauchner completed the application during the lunch period. He ultimately was accepted, and he accepted the admission offer during the early-decision window.
The opportunity felt right. "I fell in love with the campus when I visited, and I had a very nice interview," he says. "It was a very attractive proposition."
At Wheaton, Bauchner developed a relationship with the late Jay Goodman, professor of political science. Goodman taught legal studies courses on Wednesday nights, going over case books with students. ("It was a thrill," Bauchner says, "and it certainly prepared me for going to law school a couple of years later.") Bauchner got his law degree, magna cum laude, at Brooklyn Law School.
"I called upon Dr. Goodman any number of times later in life for advice," Bauchner says. "Any time I had the opportunity to see him on campus, or when he was visiting the city, we always sat and talked."
Bauchner jokes that he decided he wanted to become a lawyer in elementary school, when a janitor told his parents that his loquaciousness made him a natural fit for the field. The law, he says, provides a constant opportunity to learn. He also is drawn to the profession for another reason.
"I like to fight, I like to debate," he says. "I like being in the hot seat in front of a judge, having to answer questions. It's the thrill of the game, pinning people to the wall in a deposition, if appropriate."
These days Bauchner is on the leading edge of a new legal discipline: cannabis law. As New Jersey expands its medical marijuana program, Bauchner is representing more than a dozen clients who are seeking a license to run cannabis businesses.
He often writes about cannabis law and has been outspoken on the issue at many events and forums, including at symposia held at the New Jersey Performing Arts Center, in Newark, where more than 1,000 people attended to hear him speak on the subject.
He developed his legal acumen, in part, at Wheaton, where Bauchner, as chair of the Educational Council for the Student Government Association, worked with the Committee on Educational Policy, which oversees and develops policies concerning Wheaton's curriculum. The committee considers proposals to change programs and add new majors or minors.
"I attended faculty meetings and represented student interests," he says. "It certainly enabled me to develop the confidence to stand up and formulate a compelling argument to advocate for an issue I believe in. It gave me a lot of the tools that I then took to law school and beyond."
In his newest role with the college, Bauchner is hoping to give alumni a reason to nurture their relationship with Wheaton.
"For some people, it's staying connected with their classmates," he says. "For other people, it's about career opportunity or advancement. There's a tremendous diversity of interests, and we need to figure out a way to engage all of those interests, as that benefits both the alumni and the college."