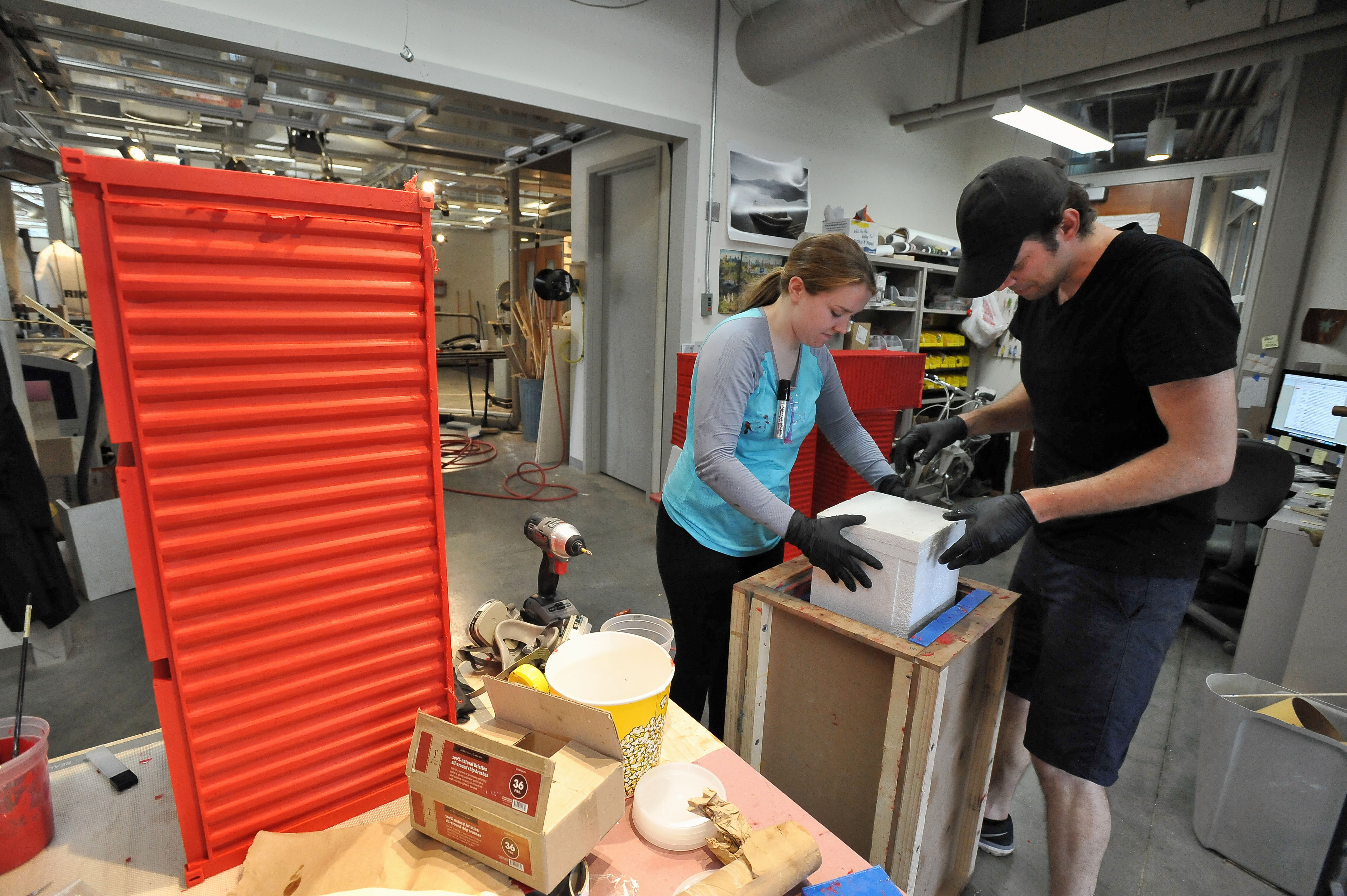 Visitors to the Boston Convention and Exhibition Center this fall will be able to view the latest work by Assistant Professor of Art and Art History Kelly Goff as well as interact with it.
The 30 soft foam shipping containers in Goff's "Lawn Containers"—ranging from 2 1/2 feet to 5 feet in length—can be stacked, piled and even sat upon. The piece is one of nine large-scale installations featured in an outdoor exhibition space known as the D Street ArtLAB.
"I had imagined the containers would be appealing to children in particular because of the bright colors and soft texture, but I was absolutely shocked at how people remain captivated for significant lengths of time," Goff said of seeing people interact with his artwork. "We saw kids as young as two playing for hours."
Goff was invited to participate after curator Kate Gilbert saw a smaller version of his sculpture in the Wheaton faculty show "P3SF" last fall.
The inspiration for both projects stems from a lifelong fascination with shipping containers. Goff grew up on the island of Curaçao, near one of the largest dry docks in the Caribbean.
"As an object, the shipping container contributes more than any other single force to shaping the global structure of our economy," he said.
Although the containers have become largely standardized, allowing boxes from all over the world, containing all sorts of cargo, to fit together for transportation and storage, their details can vary by company and country of origin.
"I see them when I'm driving by on the interstate and I notice the differences, how some have a kind of scalloped edge and some have a more straight edge. What you're seeing [in 'Lawn Containers'] is an amalgamation of my favorite parts," he said.
Thinking outside the box
As part of an interactive outdoor display, the containers needed to be lightweight yet very durable, as well as fade-proof and waterproof. Goff enlisted the help of two studio art majors, Jack Brotherton '17 and Charlotte Hall '17, for the project, receiving financial support from the Student-Faculty Research Fund and Hall's Balfour Scholar internship stipend. Together, they constructed two wooden boxes and a silicone rubber skin in two sizes, which they then lined the boxes with to create a mold into which they would pour the urethane foam.
But there was a problem.
"We were pouring five cubic feet of 15-times-expanding urethane foam at one time. It was like a slightly slow explosion. At one point, it was blowing out the side and shooting all over the workbench," Goff said.
He consulted with Associate Professor of Chemistry Laura Muller for advice on how to control the expansion. The solution was to pour the foam in small increments, but that came with its own issue: inconsistent coloring of the container's exterior.
"Then I discovered this urethane rubber. It's UV-stable and oxidation-resistant, and it's clear, so you can tint it any color," Goff said. "We brushed two coats of color into the rubber then assembled the mold, poured in the urethane foam and dropped a Styrofoam core in the center, and then the foam rose up around it. We did that in increments until it was closed off, and then we capped it."
The capping fell to Goff, and it was a tricky job; cap the mold at the wrong time, and the whole cast—an entire day's work—could be ruined. As Hall put it: "The last five minutes of the day were always the most stressful."
A big job
The lengthy process and curing time meant Goff and his students could produce one large and one small container every day, weather permitting—too cold or too humid, and the materials didn't cooperate.
The work was also very physical. The team had to lift and move the 70-pound rubber skin as well as the heavy wooden mold, assemble and disassemble the box daily and clean up the final pieces with scissors and razor blades. They also constructed a large wooden shed to hold the containers when the D Street ArtLAB was closed.
"This is the biggest, most visible, most involved and most complicated mold I've made," Goff said. "I couldn't have done it without Charlotte and Jack. They've been a dream team."
Brotherton said it was great to work so closely with both a professional artist and another aspiring artist, Hall, and to see how much self-discipline the job requires.
"This was an incredible chance for me to learn as much as possible about the large-scale mold-making process for any future endeavors I may have as an aspiring sculptor," he said.
Though challenging, Hall said she liked working in an unusual medium.
"Normally, when you paint a picture, your material—paint—is already made for you. It's so much fun having control over all aspects of your piece, including the making of your material—watching Part B mixed with a filler (a liquid and a fluffy solid) become a cookie dough consistency, which then became a stretchy, tough solid when added to Part A," she said.
Hall also enjoyed the rhythm of the work, spending eight or more hours in the sculpture studio daily.
"For a few weeks we worked into the weekends, and I absolutely loved it," she said. "Working with Kelly was the first job I ever had in the art world. I was on such a learning curve every single day, and I found it extremely satisfying."
"Lawn Containers" was installed in early July and, along with the rest of the D Street ArtLAB's "WonderLAND" exhibition, will be on display Thursday through Sunday from 12–6 p.m. through October 11, 2015.