Anne Crosman '66 leads laughter groups in Arizona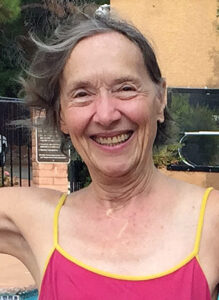 Getting together in groups to laugh is a great way to reduce stress and experience a buzz from endorphins, the feel-good hormone, according to Anne Crosman '66, a certified laughter leader with World Laughter Tour—a company that promotes laughter therapy.
Crosman, who travels across Arizona to lead groups, describes the process: "Three or more people gather in a circle, and greet each other with a 'namaste' in the Hindu tradition. They then do several minutes of deep breathing, followed by a series of mild laughter exercises, based on exercises developed by Madan Kataria, founder of Laughter Yoga in India. Each exercise lasts one minute. We do 10 to 15 exercises, with a small rest in between. My favorite exercise is extending a hand, greeting each person by shaking hands and saying, 'Alo-ha, ha, ha, ha, ha.' Another exercise is waddling about like a penguin, all the time saying, 'Ha, ha, ha, ha, ha.'
"At the end of each exercise, everyone claps and yells, 'Ho, ho, ha, ha, ha'—and repeats that twice, ending with 'yaaa.' The brain does not know the difference between 'fake' or manufactured laughter and spontaneous laughter. It reacts the same way that it would if the person laughed uproariously at a joke or funny situation. It's good fun and great therapy. I love it."
There has been no stop to the laughter during the era of COVID-19. Groups meet either on Zoom or in-person, in parks, with proper social distancing, said Crosman, who majored in English at Wheaton.