Language, literature and reality
English major Eric Esten '16 is one of 20 undergraduates nationwide selected to receive a 2015 Beinecke Scholarship, a $34,000 award for graduate school.
The Beinecke Scholarship program provides substantial scholarships to support graduate education for exceptional students in the arts, humanities and social sciences who plan to pursue doctoral studies in their areas of interest.
"We should be most proud [of Eric's selection] since the Beinecke is extremely competitive," said Alex Trayford, associate dean and chief advising officer at Wheaton. "The foundation allows only 125 'Beinecke schools' to nominate one student to compete each year for just 20 awards.
"Even more impressive is that Wheaton students have now won five Beineckes in the last nine years. This is the second year in a row … a pretty major accomplishment," Trayford said.
A Balfour Scholar and a recipient of the Nancy and William Conger Wheaton Fund Scholarship, Esten plans to use the Beinecke award to further his study of modern literature, with a particular emphasis on gender and sexuality as well as the ways in which language shapes perceptions of the world.
"I read James Joyce's Ulysses over winter break my sophomore year and became enamoured of the author's style and subject matter," said Esten, who has loved reading from an early age." The work seemingly captured all that fascinated me about language, specifically, the notion that it could change perception and belief. Throughout the text, Joyce constantly confronts convention in not only language but life itself."
The Irish author's groundbreaking novel will serve as the topic for Esten's senior honors thesis, which he is working on this summer while studying in Dublin with support from the college's Davis International Fellows program. He will conduct research at the National Library of Ireland and take a one-week course on James Joyce offered by University College Dublin. His sojourn in Ireland follows a year spent studying at the University of Oxford.
Esten's thesis topic and his graduate school plans build on his interest in the ways in which language both reflects perspectives on the world and the power of words to change our understanding of reality, an idea that he grew to appreciate in a 19th century literature course taught by Wheaton professor James Byrne.
"Funnily enough, the worst grade I've ever gotten at Wheaton was in that course," Esten said. "It was the first time I really remember being challenged in an English class, and it forced me to dig deeper, ask better questions and, plainly, adjust my style of writing so that it would be more analytical, more clear and, most importantly, more cogent."
The challenge of the material, and the insights it offered, inspired Esten to settle on majoring in English and to dig deeper into the topic. It also led him to an internship with the Library of Congress in Washington, D.C.—an opportunity he identified and secured with guidance from Ben Chalot, associate director for Career Services in the Filene Center—during which he developed the skills necessary for broad cultural studies of the type that will be necessary for his senior thesis.
"Much of the criticism on Ulysses is concerned with the idea of its ideological subversion [of Irish culture], but there is a lack of writing on what, specifically, it is subverting," said Esten, who plans to spend the summer researching early 20th century Irish society and culture. "Essentially, the idea is that you cannot call something 'polemical' or 'revolutionary' if you can't identify what it's countering."
Following his summer in Ireland, Esten will return to campus to complete his senior thesis project and his senior year at Wheaton, and he will begin applying to graduate schools. The University of California at Berkeley is currently his top choice, but he also is considering Stanford, the University of Pennsylvania, Harvard and Oxford.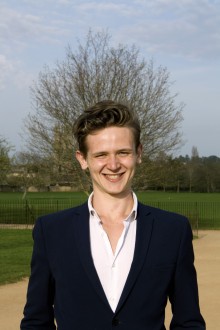 ---
From the archives
Scholarly license
Sarah Estrela '15, who studied the cross-cultural influences of Western art, wins the 2014 Beinecke Scholarship.
More >>