Community Service Council commits not-so-random acts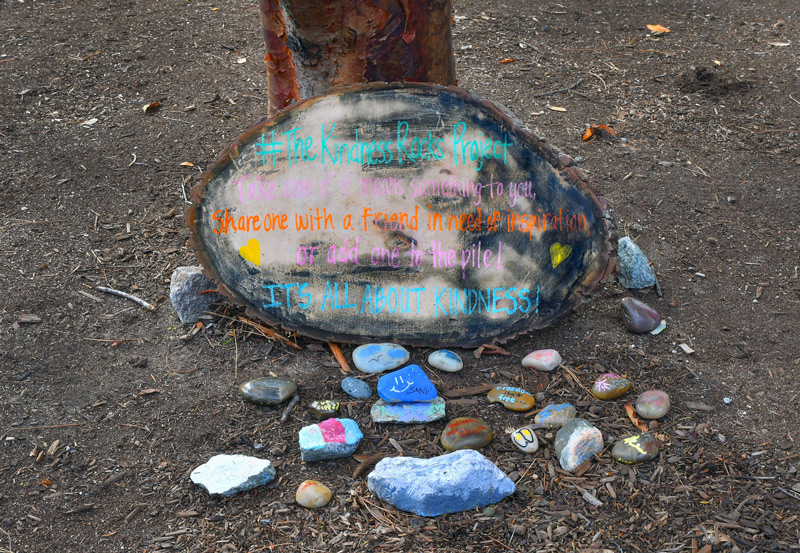 There are many ways to reach out and help. The members of Wheaton's Community Service Council are seeking out those opportunities, creating their own and encouraging others to do the same.
One of the council's recent initiatives is a rock garden near the Madeleine Clark Wallace Library, where the group is cultivating kindness.
The kindness rock garden, beneath a tree, includes a sign instructing those who approach to take one of the rocks, which all have encouraging words painted on them, and give it to someone for inspiration, or bring a rock and leave it for others to share. At Fall Fest in October, the council supplied paint and rocks for the campus community to create rocks to contribute.
"The Kindness Rocks Project was started by a woman on Cape Cod, with a goal of spreading inspiration and motivation to unsuspecting recipients," said Keaton Schrank '19, service council president. "There are now kindness rock gardens all over the world. When I ran across this project online, I knew that we had to join in on the movement. So we got our club members to paint rocks at one of our weekly meetings and created a garden here on campus."
"We were looking to spread kindness and positivity within the Wheaton community in a new kind of way," she said. "If even one person finds joy from this project or is inspired to complete their own random act of kindness, then we consider it a success."
Currently, there is only one rock garden on campus, but depending on feedback, the council may consider expanding the project to multiple locations.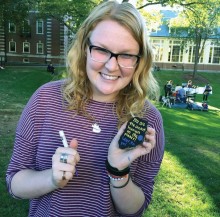 The service council, which has 20 members, is trying to be more active this year through a variety of new projects and service opportunities. Members volunteer at events, food banks and various organizations, including Cupboard of Kindness, the Norton Public Library, Attleboro YMCA, J.C. Solmonese Elementary School, and the Greater Boston Food Bank. On campus, they collaborate with the Office of Service, Spirituality and Social Responsibility, aiming to create a stronger community by spreading positivity and presenting students with opportunities for service and engagement.
Schrank said the council is currently working with the local senior center on a plan for Wheaton students to teach classes on-site, ranging from art to science. The council is also planning a Random Acts of Kindness Day for Wheaton in connection with National Random Acts of Kindness Day, which is on February 17, to encourage students, faculty and staff members to carry out a variety of random acts of kindness.
"We are striving to make a difference in the world, one service project at a time," said Schrank, an environmental science and Italian studies double major who envisions community service as a big part of her future.