Khrystian King '95 in Wall Street Journal
Story includes his role in Worcester addressing racial justice
Finding common ground when tensions are heated on two sides of an issue—especially when the divide is over race, violence and institutional structures—is complicated, difficult work and often leaves all involved not fully satisfied with the results. However, Worcester City Councilor-At-Large Khrystian "Khrys" King '95 has been committed to doing what is necessary to work with officials in his city toward racial justice, equity and unity.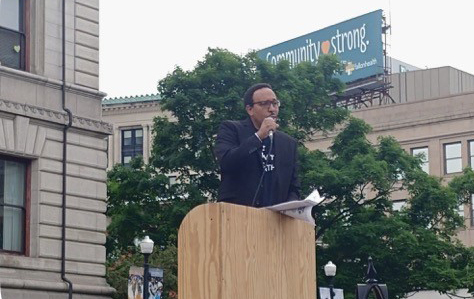 On Dec. 11, 2020, The Wall Street Journal took a long, deep dive into what trying to make progress looks like, in the article "A Local Police Chief Struggles to Bridge 2020's Bitter Divisions: Worcester, Mass., Chief Steven Sargent stood between residents seeking to revamp the police department and those angry over claims the institution was racist."
King's work, as well as that of other officials, was part of the exploration. (A  Wall Street Journal log-in is required required to read the story.)
The Worcester police chief and city leaders have been working together to try to mend divisions among residents. According to the Wall Street Journal article, King, "one of three people of color on the 11-member city council, said some residents wanted to dissolve the Worcester police department and others called it the best in the country. He, too, was caught in the middle, criticized by constituents who said he didn't push hard enough to change the department and threatened by others for trying."
In addition to being a city councilor, King is a social worker in the Worcester office of the Massachusetts Department of Children and Families. He says he has used all of his experiences as well as his educational background to help find balance and provide insight in challenging public conversations about what changes are necessary for improvement.
King, who majored in social psychology at Wheaton and was a student-athlete on the basketball team, received an honorary degree from Wheaton in 2020. He earned a master's degree in social work from Simmons College as well as a public management and leadership certificate from the Sawyer Business School at Suffolk University in 2014.
"The skills I learned at both the Moakley Center [at Suffolk] and Wheaton have shaped me as a city councilor and leader at the Department of Children and Families. I've been able to apply these real-life, real-time skills in a practical way in Worcester," he said.