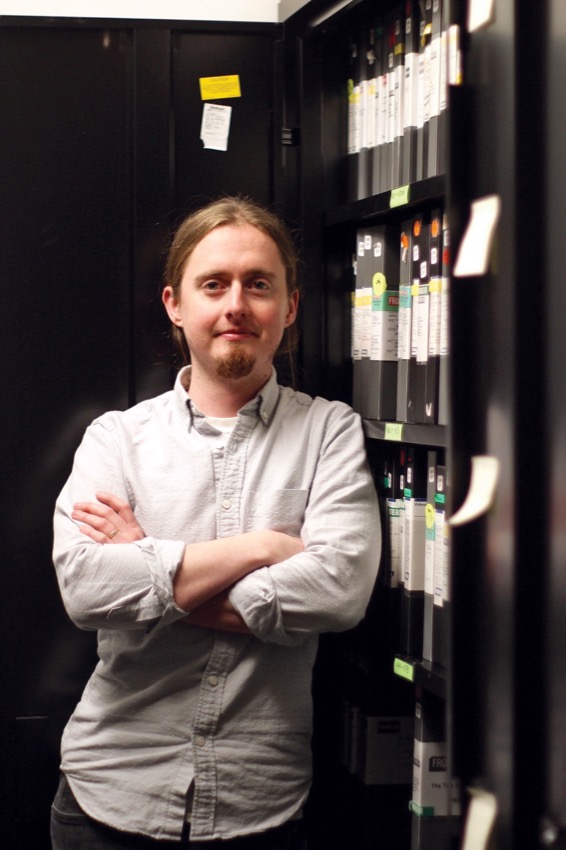 A fascination for the past and the artifacts of transpired times enveloped John Campopiano '08 at a young age.
He recalls his parents engaging in typical activities like photo taking and video recording, but they also participated in genealogical projects and supported local historical organizations as members of the Roger Williams Family Association and the Newport Historical Society.
"Material objects of importance to my family were usually saved—over generations—as were accompanying stories about their origins. I developed an understanding of myself and my place in the world through these objects and stories," he said.
As digital records manager at "FRONTLINE"—an investigative journalism show produced by WGBH-TV, a local PBS station—Campopiano continues to devote himself to preservation.
At "FRONTLINE," he oversees the collection, preservation of and future access to media assets associated with its films. That includes interviews, b-roll and stock footage, still photographs, appearance releases, third-party licenses and interview transcripts—as well as the complex databases that store them.
In his role, Campopiano interfaces with staff throughout departments in the organization, including the social media and marketing team, archivists and attorneys. "This kind of exposure has helped me understand the daily functions of 'FRONTLINE' on a macro level, which gives what I do much more meaning," he said.
Campopiano's work at "FRONTLINE" is just one way he dedicates himself to preserving the past.
In 2015, he founded the organization New England Media and Memory Coalition, which is dedicated to shining a light on the people, places, organizations and events that connect to media, memory and (mainly New England) culture.
"I realized there weren't any readily available resources documenting the numerous projects and people in the New England area who share an interest in all things media and memory," he said.
One of Campopiano's preservation projects ended up becoming a documentary film.
A few years ago, he and his friend explored the local people and places featured in the 1989 film "Pet Sematary," which was based on Stephen King's best-selling novel of the same name. The film was shot in Maine.
"As we met more people with stories and items to share, what originally felt like an oral history project suddenly began taking the shape of a film," he said.
The duo wrote and directed a feature-length documentary about not only the film, but also the book and its subsequent cult following. In January 2017, it had theatrical premieres in Boston and Cambridge as well as Ellsworth, Maine, and it is now being distributed, digitally, by Terror Films and later in 2017 by Synapse Films on Blu-ray and DVD.
At Wheaton, Campopiano's preservation focus was music. He pursued an independent major in ethnomusicology (the study of music of different cultures), and thrived under the guidance of professors Matthew Allen, Julie Searles, Bruce Owens and M. Gabriela Torres, he said.
Torres worked with him on his senior thesis project, which explored the changing contexts within which collectors and sellers of vinyl records understand their acquisition of music collections.
"I remember enjoying peculiar moments of delight as he put together ideas in unusually creative ways while also taking the craft of thinking about culture seriously," Torres said. "He is the kind of student one always wishes would come back to visit, if only to get another chance to hear what he is thinking about now."
Campopiano went on to earn his master's in library science from Simmons College.
Pursuing an independent major at Wheaton helped Campopiano pave his own path—a fact he is careful to remember.
"I have sensed a pattern in my life of designing my own path and working with people outside my traditional field. I'm sure that my work as an independent major forged that path," he said.